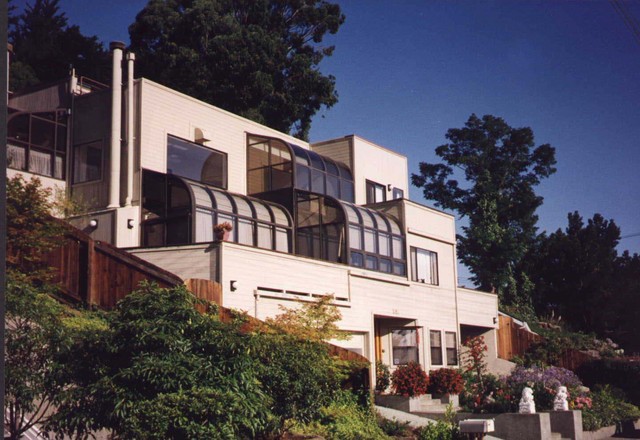 L.A. Paul & Associates, Architecture and Planning
l . a .  p a u l  &  a s s o c i a t e s Havanan Residence "Feng-suei" Style Sausalito, California   Exterior Interior   East meets West in this exciting, contemporary single-family residence high in the hills of Sausalito , California . Marrying modern building technology with philosophical principles from the Orient was the challenge posed by the owners, a young, professional couple. They asked that their home be designed according to 'Feng-suei' (Wind and Water), ancient Buddhist ideals for living, take maximum advantage of their panoramic views while respecting their neighbors', and that the house become one with the site. The solution took final shape after a year of study, exploring various alternatives with the owners and their Feng-suei consultant, who analyzed every aspect of the design for its favorable and unfavorable influences. The architect, becoming familiar with this philosophy, quickly realized that many of those same principles are ones embodied in classic architectural design, albeit from a different approach. Due to stringent zoning restrictions for a small, hillside lot, the house is only 2,600 sq. ft. on three levels, though appearing much larger. The lower level contains the formal entry, a guest suite, and the 500 sq. ft. garage. The generous entry stairway leads to the intermediate level above, with living, dining, kitchen, pantry and laundry. Another monumental stair leads to the upper level, with the master suite, two additional bedrooms and a fourth bath. The master suite is oriented to a rear garden, connected by the adjacent sunroom (for the owners' orchids) and has a superb view across the double-height living room to the panorama of upper San Francisco Bay . This dramatic view is the focus of the entire house, emphasized and enhanced by the extraordinary, two-story, "waterfall" solarium that articulates the entire house.
Temas de fotos relacionados
Lo que dicen los usuarios:

Kathryn se ha añadido esto a Sunrooms: Bringing the Outdoors In
15 de octubre de 2009
Here's another look at a sunroom from the outside looking in. This shows how you can choose an exterior design for your sunroom that's completely modern and very interesting. The indoor effect - lots of light - is still the same but the exterior appeal is totally different.