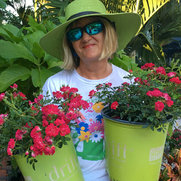 Siobhan's Magical Garden Transformations
9 premios Houzz
4 insignias Houzz
Contacto:
Siobhan Nehin
Tarpon Springs, FL 34689
Coste medio de los trabajos:
15.000 USD - 200.000 USD
Garden Consultations- $175 for 2 hrs., for drive time over 45 minutes- $225 ( 1.5hr. drive time, I can give you a price) 3D Master Plans- start at $425 for a SIMPLE front yard (just plants) and $500 for a simple backyard. Complex Master Plans with multiple components such as pools, pavers and structures range from $1500 to $5000 +. Specialty Gardening & Patio Transformations- $50/hr potted containers, small beds & shopping for plants. Interior design for outdoor rooms.
https://www.houzz.es/pro/siobhanqueeenogreen copiada al portapapeles
Encuentra Paisajistas y diseño de jardines para hacer realidad tu proyecto
¿Cansado de leer todos los tutoriales de bricolaje? Estamos para ayudarte. En Houzz contamos con más de 1 millón de profesionales del hogar, por lo que encontrarás al Paisajistas y diseño de jardines de confianza adecuado para tu proyecto en Tarpon Springs.
Lee valoraciones de particulares como tú en Tarpon Springs
Lee las valoraciones de los propietarios antes de contratar a un Paisajistas y diseño de jardines que te ayude con un proyecto en Tarpon Springs. Si tiene preguntas, lee las valoraciones de otros propietarios o dirígete a la sección de consejos para obtener una segunda opinión.
Contacta fácilmente con Paisajistas y diseño de jardines
Si estás navegando por Houzz y tienes a un profesional en mente, te darás cuenta que solicitar un presupuesto es más fácil que nunca. Desde tu panel de control podrás administrar todas las solicitudes que mandaste a Paisajistas y diseño de jardines.
Paisajistas y diseñadores de jardines en España