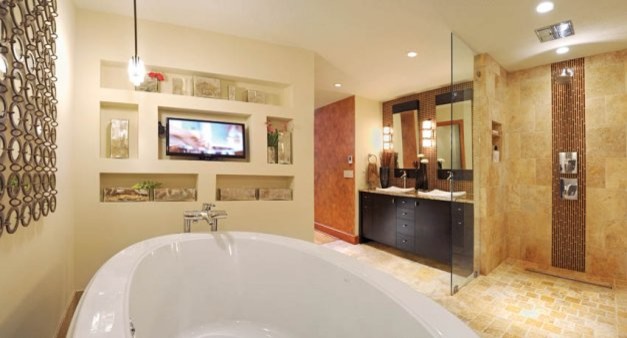 Ketron Custom Builders
"I knew from the beginning I wanted to remodel the master bathroom," recalls Janie Kantner. Janie and her husband John moved to their Canal Winchester home in 1999. "We put it off and did other things first, then about two years ago we decided to remodel the master bath."

The design process began with Travis and Shari Ketron of Ketron Custom Builders in Granville, a relationship more than 10 years in the making. "They had done several other remodeling projects in our house," Janie says of the Ketrons, "and we loved their work. They really had a sense of what I liked, even if I couldn't verbalize it very well."

Understanding her home and design taste, the Ketrons collaborated with Janie and worked to realize her vision for a new master bath.

"A natural feel, spa-like and luxurious," is how Janie describes what she wanted. The design process started with the selection of travertine tiles for the shower area. "I like a somewhat rustic, Tuscan feel. Travis brought out pictures and materials. Since he had done so many projects with us, he knew what to show me," explains Janie.

The travertine brings a natural presence with cream and rust tones, natural pits and divots, and rugged edges. Contrast is introduced with deep red tiles covering the vanity backsplash and the toilet room's back wall, and accenting the travertine tiles in the shower. Adding to the bath's natural feel is the granite vanity with rust, brown and cream tones and the dark wood cabinetry.

Without adding any square footage to the space, opening up the modest sized room as much as possible while adding a separate room for the toilet presented a design challenge.

"We had no options to make the space bigger because of the way other things are in the house," Janie explains. Travis adds, "To open the area up, we had to do a major layout change and reorganize different things to open it up visually."

Working within the existing space, the toilet was moved from the middle of the room to a corner and enclosed with an opaque glass door to maintain openness. Next, creating what Janie and Travis call an "open wet area" that houses the shower with floor to ceiling travertine tiles and no door or enclosure on one end and a freestanding soaking tub on the other, gave the space a free-flowing feel.

"We envisioned the whole bathtub and shower area as a wet zone, and that took us to the open shower concept. Visually it would look bigger with no doors, and the shower is deep so water does not come out," adds Janie.

A thick new wall in the tub area serves double duty by enclosing the new toilet room and providing shelf space facing the tub via rectangular recesses cut into the wall. Janie comments about achieving the shelf space, "I wanted seamless, but I knew I wanted a television in there, so a wall with cutouts was perfect."

Another element of spa-like ambience is a cozy feel in the tub area achieved with lighting. Travis explains, "We wanted the tub to have its own niche, and it came together with the lighting package. Natural light wasn't a necessity."

Initially, Janie wanted a window put in over the tub, yet decided against it when faced with how to maintain privacy and a clean look.

"The bathroom is on the first floor, so we'd have to put so much covering on a window or put it up so high, I didn't like the look of it. That's how we came up with having a big art piece with lighting on either side instead," she says. "We didn't really need natural light in there. Now it feels like a cocoon, like a spa."

Pleased with the entire end result, Janie concludes, "It's a very serene and comforting space. I'm taking a bath almost nightly."
Resources:
Designer and contractor: Ketron Custom Builders; Cabinetry: Walnut, custom built by Ketron Custom Builders; Flooring: Tumbled travertine, The Hamilton Parker Company; Shower and /or tub: Bain Ultra Sanos, Carr Supply; Countertops: Hurricane Gold granite, Modlich Stoneworks; Sinks: Kohler DemiLav Wading Pool, Carr Supply; Faucets: Kohler Symbol, Carr Supply; Wall tile: Sonoma Tilemakers, The Hamilton Parker Company; Lighting: Hubbardton Forge Exos, Northern Lighting; Paint: Benjamin Moore

Photo by Daniel Feldkamp of Visual Edge Imaging.
Temas de fotos relacionados
Cuartos de baño con colores similares