Badly Botched Tile Job in Master Bathroom Remodel
Over the last 5 months, we've been working on our master bath renovation. As I explaned in [this post showing the completed bathroom[(https://www.houzz.com/discussions/gorgeous-spa-master-bathroom-remodel-from-botched-to-beautiful-dsvw-vd~4080528), our original contractor that did the job botched the tile terribly! It looked like a bad DIY project, which is not what you want when hiring a supposed professional.
When our original contractor was working on the tile and was "finished", we thought it looked bad, but this was our first major renovation, so we wanted validation that the tile work was a mess. So, I came to Houzz and searched "botched tile job" and found a few posts asking whether their tile was botched or not.
I thought I'd do a post to show how our first contractor did such a terrible job on our tile install. We had to rip all his work out and start from the beginning. The second tile guy did a fantastic job.
I'm posting side-by-side pictures of the botched job (by the old contractor) on the left next to the correct, beautiful work (by the new contractor) on the right.
I hope this will help someone else when they are wondering if their tile work is going badly. If it looks anything like what we went through, then YES it's going badly.
This photo is not of the tile, it's of the shower pan. But the shower pan is the foundation for the shower floor, so a messy pan could end up with uneven or cracked shower floor tiles. If the foundation is a mess, you know you're in trouble from the get go! We didn't realize how bad the first contractor's shower pan was until we saw the shower pan done by the second tile guy (his was a thing of beauty).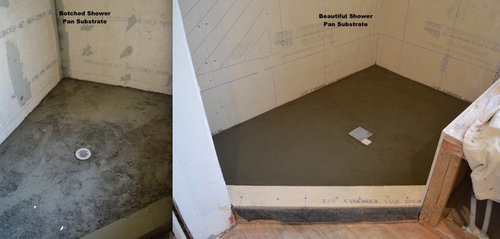 This next photo shows the shower floor tile that went on top of that pan. The first contractor's shower floor was so uneven and messy, it actually hurt your bare feet to stand on it.

Speaking of the shower floor, our first contractor also took some terrible shortcuts. Instead of grouting the shower floor where it meets the curb and the shower walls, he just caulked it. Not only was his caulk job a mess (looked like toothpaste all over), but this shortcut would allow for water to leak out and we'd be in the same boat in a few months, having to replace a leaky shower. This infuriated us as it was really a shady shortcut.

The other issue we had, is the first contractor used Bostik's Quartzlock2 urethane-based grout. The instructions are very specific on this grout and you have to clean it as you go. You also should seal any porous or textured tiles beforehand. Our first contractor did not do any of this, so the entire bathroom was covered with this horrible grout haze. NOTHING would get it off (we even tried Blaze which is recommended by Bostik). Our shower and floor tile looked like it had milk splattered all over it. Our brand new mosaic tile looked like it had years of hard water stains on it.
Here's the stains on the mosaic tile: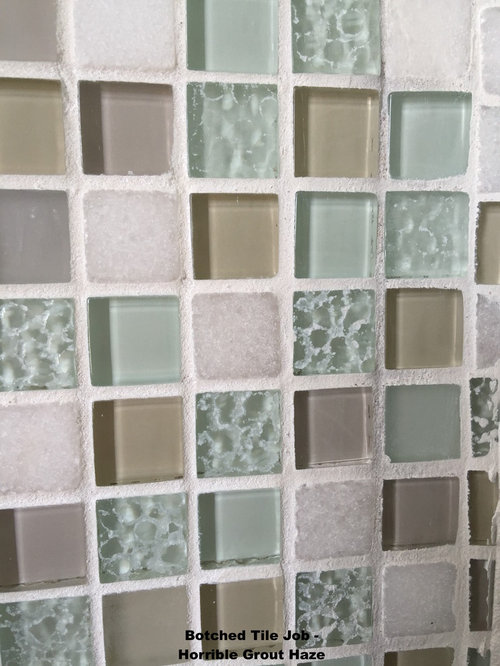 You can see the grout haze staining on the walls and in the corner of the shower floor here:

On the mosaic tile, you can see how wavy and crooked the tile installation was. Plus the mess on the wall niche: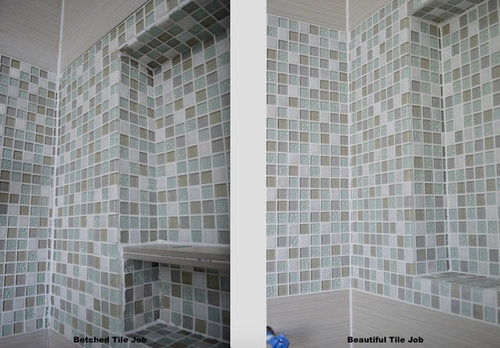 Here's some close-up photos of the niches in the shower: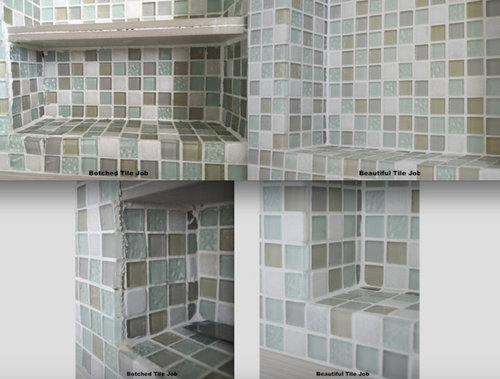 We had drooping tiles...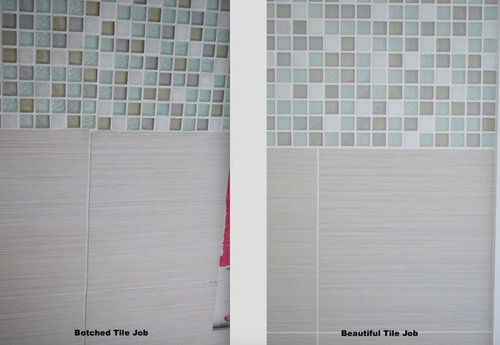 ... and terrible tile cuts (plus more grout haze!).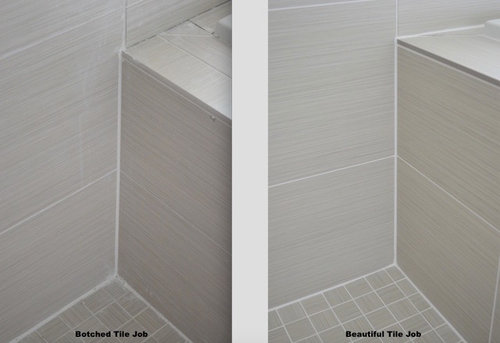 Last, but certainly not least, the main floor of the bathroom was a disaster. The tiles were all uneven and crooked. We installed heated floors under these tiles and the original contractor installed those incorrectly as well. All of it had to be ripped out and re-done. Very sad!

These photos are just the tip of the iceburg. But, now our bathroom is [finished[(https://www.houzz.com/discussions/gorgeous-spa-master-bathroom-remodel-from-botched-to-beautiful-dsvw-vd~4080528) the right way and the bad contractor's terrible work is becoming a distant memory.
I hope our experience helps someone else to know when their job is going badly.