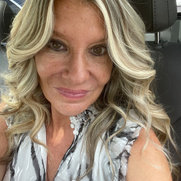 Lori Kasten@Closet Factory
4 premios Houzz
4 insignias Houzz
Contacto:
Lori Kasten
1650 S Powerline Rd
Deerfield Beach, FL 33442
Coste medio de los trabajos:
$2500 - $100,000
I am happy to meet or speak with prospective customers regarding their storage neeeds, solutions, and dreams.
https://www.houzz.es/pro/lorikasten copiada al portapapeles
I have been designing closets and custom cabinetry for over 25 years. I have been told by my clients over and over again the passion for what I do shines from inception to completion. By tuning in to the client's needs and wants, the goal of beautiful functional solutions is achieved. The Closet Factory and our team is by far the most superior company in the industry from the standpoint of workmanship, product and service!
Servicios prestados:
Closet Design, Closet Organization, Custom Cabinets, Custom Walk-in Closets, Downsizing, Space Planning
Zonas de trabajo
Boca Del Mar, Boca Pointe, Boca Raton, Coconut Creek, Coral Springs, Deerfield Beach, Delray Beach, Fort Lauderdale, Ft Lauderdale, Ft. Lauderdale, Hamptons at Boca Raton, Highland Beach, Hillsboro Beach, Hillsboro Pines, Lauderdale-by-the-Sea, Lighthouse Point, Margate, Mission Bay, Oakland Park, Palm Aire, Parkland, Pompano Beach, Pompano Beach Highlands, Sea Ranch Lakes, Sunrise, Tamarac, Whisper Walk, Mira Lago, Water Crest, Heron Bay, Parkland Golf and Country, The Oaks, Old Palm, Mirasol, La Lac, St Andrews, Broken Sound, Polo Club, Boca West, Boca Grove, Four Seasons
Premios:
3 million platinum award
Escribe una valoración
69 valoraciones para Lori Kasten@Closet Factory
Usuario de Houzz-609784302
We had looked into various options for our closets and our entertainment center. Lori was the ONLY one who was able to put our thoughts onto paper. The closets are stunning and efficient use of space and our entertainment center is stunning. Better then we could ever imagine. She worked with us on every aspect and the crew that's been to our home was nothing short or respectful and clean.
I had an unbelievable experience with Lori!! She transformed my closet into a modern, elegant, and perfect place for all of my clothes, shoes and bags! She was there for me every step of the way and was so detailed and knowledgable about her craft. I also ended up doing a spectacular tv unit with her that really made my family room look finished. I am so happy with her work!!! Highly recommend

Lori designed a Murphy bed system paired with some built-in cabinets and floating shelves for one room in our house, and we were so happy with that, we brought her back to design our kids' closets and our our two walk-in closets in the master. They are absolutely gorgeous! Lots of terrific features and special add-ons that are proving to be as functional as they are beautiful. These were just several small projects in a major renovation of a house that had abandoned for three years, so we've been making LOTS of changes, but the closets may possibly be the very best part of the whole thing!
Lori was amazing! My husband and I were so impressed with how quickly she drew up plans for our master closets. She utilized all the space perfectly and put together a two toned closet that looks very unique. We will definitely use her for more projects in the future.
We recently completed our garage with Closet Factory of Deerfield Beach, Fl. As an interior designer I've had the opportunity to work with many installers but the Closet Factory offered everything from flooring options to custom cabinetry. One stop shopping!. The entire process was seamless from the initial consultation with Lori Kasten to the completion of the amazing flooring and cabinets. Everything exceeded my high expectations. We are absolutely thrilled with the end product. I highly recommend The Closet Factory for ANY project .
The Closet Factory is my "go to" for closets,pantrys, and garage, bathroom vanities and laundry room. I used them for 2 houses that I have lived in and a condo my mom lives in, using them since 2007. Lori Kasten is #1 in designing and creating for the space needed. The Closet Factory is professional, fast and friendly. I highly recommend.
27 de Julio de 2020
Última modificación:

28 de Julio de 2020
Had a great experience from designing to installation. A bathroom vanity and wall cabinet. Lori and the whole team great to work with.

Lori Kasten was a pleasure to Work with. She took our ideas, improved them and came up with the perfect designs for our Custom closets and wall unit. She is very knowledgeable and professional, I highly recommend her and the Closet Factory!!
We had Lori from the Closet Factory design a bathroom linen closet and a his and hers master closet. Both came out exactly as we wanted. She is very attentive to your style and is amazing at working with the space. What started as an odd shaped closet turned into the closet of my dreams. The installation team was respectful of time and space. Overall the company was a pleasure to work with.

The Closet Factory and Lori Kasten were referred to me by my friend who has the identical house layout to mine. As a sales individual myself, I hold referrals in high regard. I called Lori to discuss work in both my laundry room and closet. I was extremely happy with the quality of the work that was done and Lori's professionalism. The process was very organized, dates for the job were given and the workmen arrived promptly, always with a pre-announced phone call. With the pandemic we were obviously nervous about having people in our home, but again, everything was handled professionally. Everyone that came to do the work wore masks and when they didn't have gloves on, they put them on when asked. Lori is wonderful to work with! She's responsive to calls and questions and it's apparent she knows the business. I am happy to refer her and use the Closet Factory again!
It was a pleasure working with Lori on two occasions so far; she is the consummate professional with amazing attention to detail. She's a great designer and her passion and love of her work is evident; she definitely went above and beyond our expectations. We appreciate that Lori listened to our needs, then took the time with us to explore all possible options and ensured we were completely satisfied with our choices before finalizing. We highly recommend Lori and will certainly use her again for future projects.
Usuario de Houzz-480637509
We had Lori Kasten from the Closet Factory do our closets in our new home . This is our second time using the company and we could not be any happier. We are now considering using Lori to to go our garage cabinets and flooring . Her installers are neat and professional . I highly recommend Lori Kasten and the Closet Factory.
Ver todas las 69 valoraciones
Encuentra Empresas de soluciones de almacenamiento y organizadores profesionales para hacer realidad tu proyecto
¿Cansado de leer todos los tutoriales de bricolaje? Estamos para ayudarte. En Houzz contamos con más de 1 millón de profesionales del hogar, por lo que encontrarás al Soluciones de almacenamiento y organizadores profesionales de confianza adecuado para tu proyecto en Deerfield Beach.
Lee valoraciones de particulares como tú en Deerfield Beach
Lee las valoraciones de los propietarios antes de contratar a un Soluciones de almacenamiento y organizadores profesionales que te ayude con un proyecto en Deerfield Beach. Si tiene preguntas, lee las valoraciones de otros propietarios o dirígete a la sección de consejos para obtener una segunda opinión.
Contacta fácilmente con Empresas de soluciones de almacenamiento y organizadores profesionales
Si estás navegando por Houzz y tienes a un profesional en mente, te darás cuenta que solicitar un presupuesto es más fácil que nunca. Desde tu panel de control podrás administrar todas las solicitudes que mandaste a Empresas de soluciones de almacenamiento y organizadores profesionales.
Soluciones de almacenamiento y organizadores profesionales en España
Servicios relacionados