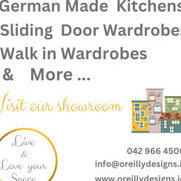 1 premio Houzz
2 insignias Houzz
Contacto:
Kieran OReilly
Carrickmacross
Co. Monaghan
República de Irlanda
Coste medio de los trabajos:
Customized to suit each person, so no set of wardrobes or kitchen is ever the same.
Información profesional:
Contact: Kieran Joan O Reilly, 042 966 4500 facebook: Komandor Carrickmacross www.oreillydesigns.ie email add: kieran@komandor.com
https://www.houzz.es/pro/joanor123 copiada al portapapeles
O' Reilly Designs supply and fit the highest quality German fitted kitchens at affordable prices. We have some of the most modern and stylish designer kitchens which are made to last a lifetime. Our design experts can help you choose your dream kitchen by recommending the style and colour to suit your taste. With many years' of experience, we can help you design your dream living space with our latest software and design experts. We cater for everyone's needs, whether you are wanting to modernise your existing kitchen space or would like us to help you design a contemporary handleless kitchen for your new home. At O' Reilly, we have a wide selection of German quality designs to cater for everyone's requirements and tastes. Our high quality Wardrobes provide practical storage solutions for your home. We can custom design you modern and contemporary design to suit your bedroom. At O' Reilly we can make your design visions come true. Whether you are wanting to furnish a new build or would like to custom upgrade your storage space, our design experts have the solutions for you. O' Reilly are constantly innovating new ideas to give you the best Wardrobes available on the market. Visit our Showroom.
Servicios prestados:
Design & Fitting of Kitchens , Walk in Wardrobes & Sliding Robes.
Zonas de trabajo
Dublin, Cavan, Louth , Monaghan, Meath, Roscommon. We cover all areas.
Escribe una valoración
14 valoraciones para O Reilly Designs
Usuario de Houzz-770786917
I recommend to anyone who is thinking of a new kitchen and sliding wardrobes. I'm glad for their work, quality. It's very good to work together with Kieran and Joan, they are very friendly, helpful and will always suggest what is better .I'm so happy about my new kitchen and sliding wardrobes. THANK YOU SO MUCH!
I had a kitchen fitted including appliances and flooring, all supplied and fitted by O Reilly Designs, and both Joan & Kieran were a pleasure to deal with from start to finish. Their advice, design ideas, quality product and the high standard of work carried out was excellent. I love the new design and extra storage I asked for fits in perfectly, I am delighted with the quality and finish and would highly recommend them.
The product was excellent quality and surpassed our expectations -much cheaper than competitors. We would highly recommend the O'Reillys, their overall professional service and workmanship and will certainly use their services again.

After looking literally around most of Dublin and the West of Ireland we came across this gem in Monaghan. Kieran and Joan have the best kept secret behind the little shop front. We got the best value kitchen we could imagine. It's contemporary and sleek with the latest innovative design. They provide appliances or fit around you own choices. We are immensely happy with our new kitchen and give the highest recommendation.
Our requirement was a walk in wardrobe/dressing room. Very satisfied with the completed project. Great design and build, high quality finish.
The service provided was very professional friendly and efficient. We were very happy with the work carried out and it was of a very high standard.
Excellent service from start to finish. Joan and Ciaran were very helpful in designing the units that we had installed and then worked very timeously on the installation. We are very happy with the final product. We also used this company to install bedroom units approximately 8 years ago and the same service and product satisfaction applies. We wish them every success!
Got sliderobe fitted in my bedroom. Very neat and spacious. Holds absolutely everything. Fast efficient service. I'm delighted with it.

Komandor Storage Solutions
Kieran and Joan are a fabulous team. They are both extremely professional, time efficient and their quality of work is of the highest of standards.
We purchased a fitted kitchen from Joan and Kieran. From the start they were very willing to listen to what we wanted and then to offer advice. The design service was very useful as it was easy to visualise the units in our room. The delivery and fitting were to schedule and Kieran was very particular in ensuring the fit out was to a very high standard. Looking forward to years of enjoyment with it!
Delighted with our new kitchen and kitchen flooring which Kieran installed for us last year. The service from Joan and Kieran was excellent and they were always available and no delays in the installation. We got high gloss champagne kitchen and grey wooden effect flooring which match perfectly and we chose after good advice from Joan. We would highly recommend them for any project.
We got 2 large fitted sliding robe wardrobes in the kids rooms. Kieran fitted both wardrobes in 1 day. Quality materials and great design. We are extremely happy.
25 de Febrero de 2017
Última modificación:

27 de Febrero de 2017
Ver todas las 14 valoraciones
Encuentra Empresas de instalación y reformas de cocinas y baños para hacer realidad tu proyecto
¿Cansado de leer todos los tutoriales de bricolaje? Estamos para ayudarte. En Houzz contamos con más de 1 millón de profesionales del hogar, por lo que encontrarás al Empresa de instalación y reformas de cocinas y baños de confianza adecuado para tu proyecto en Carrickmacross.
Lee valoraciones de particulares como tú en Carrickmacross
Lee las valoraciones de los propietarios antes de contratar a un Empresa de instalación y reformas de cocinas y baños que te ayude con un proyecto en Carrickmacross. Si tiene preguntas, lee las valoraciones de otros propietarios o dirígete a la sección de consejos para obtener una segunda opinión.
Contacta fácilmente con Empresas de instalación y reformas de cocinas y baños
Si estás navegando por Houzz y tienes a un profesional en mente, te darás cuenta que solicitar un presupuesto es más fácil que nunca. Desde tu panel de control podrás administrar todas las solicitudes que mandaste a Empresas de instalación y reformas de cocinas y baños.
Expertos en diseño y reformas de cocinas en España