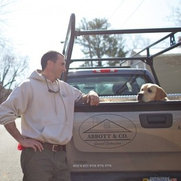 Abbott & Company General Contractors
1 premio Houzz
3 insignias Houzz
Contacto:
Scott Abbott
920 St. Charles Avenue
Charlottesville, VA 22901
Coste medio de los trabajos:
115.000 USD - 750.000 USD

Licencia:
Class A 2705144354
https://www.houzz.es/pro/scottabbotts1 copiada al portapapeles
Class A Construction firm that holds the Commercial & Residential Building Certifications in Virginia, serving the city of Charlottesville, and Greater Albemarle & Nelson Counties.
Servicios prestados:
Custom Homes, Deck Building, Energy-Efficient Homes, Garage Building, Historic Building Conservation, Home Additions, Home Extensions, Home Remodeling, New Home Construction, Porch Design & Construction, Sunroom Design & Construction, Sustainable Design, Universal Design
Zonas de trabajo
Batesville, Charlottesville, Crozet, Earlysville, Free Union, Hollymead, Ivy, White Hall
Premios:
EarthCraft Virginia Green Builder since 2012. EarthCraft Virginia 'Newbie' Builder of the Year 2013
Escribe una valoración
7 valoraciones para Abbott & Company General Contractors

When it comes to renovating your home, you're building experience will not be better with any other contractor than with Abbott & Co, for at least 3 important reasons. The first reason is craftsmanship, and I believe that Abbott & Co expertise stems from a passion to do great work. His staff was committed to excellence and he oversaw ever detail in transforming our property into a livable, and pleasurable, home which we are proud of. The second is experience and understanding. Scott Abbott is a college-educated man, a deep thinker, a shrewd businessman—the kind you want to have managing your budget—and a exceptional listener. He understood what we wanted to achieve in our renovation not just because he is a good contractor but also because he is a smart and informed man. The third reason—and certainly not the last—is personality. Frankly, Scott Abbott is simply an affable guy. In the short few months you are going to spend renovating your home or building a new one, you are likely going to have to spend quite a bit of time with your contractor. I recommend that you make sure that you enjoy this person otherwise your project is likely to be a nightmare. For those of you who are looking to build a new home or construct a commercial building, I feel confident in my recommendation, that these three important reasons apply to new construction as well. You will be thankful that you read this review and chose Abbott & Co as your GC for your project. ________________________________________________ A note about our project. My wife and I purchased a run down, roach-invested bungalow in Belmont. This property required extensive work in every contracting department: new architecture in the exterior and interior, new metal roof, new electricity, new plumbing, HVAC, new windows, insulation, floor restoration, and of course paint both inside and out (They also made sure we weren't roach invested any longer). Abbott & Co worked within a relatively limited budget and even salvaged historic details (by repurposing doorways and trim) and the experience with Abbott & Co left us with a strong desire to do more building projects, and that feeling is a good one to have when all is said and done.
Working with Abbott and Co, was a great experience. Scott was very easy to communicate with and was very proactive about getting our input on decisions well in advance of the timeline for ordering materials. He had very helpful suggestions and creative solutions to adding onto an old house. His team did excellent work and the project even came in slightly under the original budget. We absolutely love our porch and wish we had done the project years ago!
TESTIMONIAL FOR ABBOTT AND COMPANY In summary, people, heave a huge sigh of relief that you have had the great fortune of encountering Abbott & Company. I recently completed the construction of a new residence with Abbott & Company and I am 100% happy. When people hear that I just had a house built, they love to regale me with Contractor Shenanigan Tales and I have to shake my head as absolutely none of these scenarios arose in my experience with Abbott & Company. They were a well-oiled machine, they drove the project, there was always forward momentum, they were on time, professional, on budget. The house they built resonates with quality. Every detail is perfect. Scott is ethical, passionate, knowledgeable, reasonable, energetic, hard-working, flexible, even-tempered. It is refreshing to work with someone who loves his work so much. He deals with the inevitable bumps in the process with absolute equanimity. I feel very fortunate that I chose him to complete this project.
We learned about Abbot & Co. after my father died and left an almost finished home under construction. When I met with Scott Abbott to see what they were doing, I was impressed with the attention to detail and Scott's obvious enthusiasm for doing things not only custom but "right." My father was a stickler for detail. When my wife and I wanted to do a rehab and addition to our home (expanded dining room and complete kitchen remodel with outdoor walls and gardens), there was no question. Abbott & Co. was going to be our contractor! From the beginning Scott listened to our desires, referred us to an architect, and helped us get a plan that was right. Every step of the way the project has been handled in timely fashion with EXCELLENT communications from Scott. His fraternity brother, Matt Ashworth, was on the job every day. And Matt's careful hand and thoughtful mind helped us get a finished product that is not only incredibly attractive, but it is precise down to the smallest detail. My wife and I could not recommend Abbott & Co. more highly. Now we have more things we want Abbott & Co. to do!

Abbott & Co recently finished an extensive remodel of the ground floor of our home. In particular, they transformed our kitchen and the results surpassed our expectations. Throughout the project we were kept fully informed which reduced the stress associated with such an ambitious undertaking. Abbott's standard of craftsmanship and attention to detail were first rate. We are delighted with the results which were achieved on time and on budget. I would recommend Scott and his team without reservation.
Scott and his team were professional from start to end. They delivered a superb product (addition of master suite above garage). We love our new space. Scott is very good at staying on schedule, getting your input, managing well the budget and communicating with customer. The work is if excellent quality !!! So good that we have hired him to redo our kitchen and add a screened porch (project started yesterday).
Abbott and Co. built a beautiful very detailed privacy fence. Scott is very professional and thorough. The work was done in the time frame promised and for the quote provided.
Encuentra Empresas de diseño y construcción para hacer realidad tu proyecto
¿Cansado de leer todos los tutoriales de bricolaje? Estamos para ayudarte. En Houzz contamos con más de 1 millón de profesionales del hogar, por lo que encontrarás al Empresa de diseño y construcción de confianza adecuado para tu proyecto en Charlottesville.
Lee valoraciones de particulares como tú en Charlottesville
Lee las valoraciones de los propietarios antes de contratar a un Empresa de diseño y construcción que te ayude con un proyecto en Charlottesville. Si tiene preguntas, lee las valoraciones de otros propietarios o dirígete a la sección de consejos para obtener una segunda opinión.
Contacta fácilmente con Empresas de diseño y construcción
Si estás navegando por Houzz y tienes a un profesional en mente, te darás cuenta que solicitar un presupuesto es más fácil que nunca. Desde tu panel de control podrás administrar todas las solicitudes que mandaste a Empresas de diseño y construcción .
Empresas de diseño y construcción en España