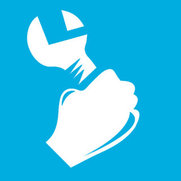 Man with a Wrench - Appliance Repair in Toronto
https://www.houzz.es/pro/appliancerepairtoronto/ copiada al portapapeles
1 premio Houzz
2 insignias Houzz
Coste medio de los trabajos:
80 CAD - 500 CAD
Is your appliance not working properly? Contact us and we'll get back to you as soon as possible with a labour cost plus estimated part cost (if applicable). For any urgent matters, please call us at 1-888-454-4840.
We are committed to providing an excellent service across Toronto, GTA and nearby regions. In our decade of experience, we have learned that you can get your appliances repaired quickly, effectively and relatively inexpensively. Our specialty is to provide quick solutions to all your appliance repairs and to achieve the highest possible customer satisfaction from our services. Our punctual and friendly staff will always provide budget-friendly repairs. WHAT APPLIANCE REPAIR SERVICES DO WE OFFER? "Slow is smooth, smooth is fast." This is our motto because we take exceptional care in locating your appliance's fault to have it fixed within the shortest possible period. We encourage our customers to watch us as we perform the repair and to ask as many questions as possible while we are on site. This will ensure the best service on the market because you will be educated on all of your appliances at no extra cost. We will repair any major appliance and any major brand for: - Refrigerators repair - Stove repair - Oven repair - Washing Machine repair - Dryer repair - Dishwasher repair - Microwave repair We repair all makes and models, we even repair Miele appliances! Other brands we service regularly: Frigidaire, Simmons, Samsung, LG, GE, Kenmore, Thermadore, Whirlpool, Kenmore, Samsung, LG, GE, Maytag, Moffat, Dacor, Fishe and Paykel, Thermador, Electrolux, Bosch, Sub Zero, Amana, Jenn-Air, Wolf, AEG, Magic chef, Viking, Blomberg, Admiral, Westing House, Ariston, MagicChef, Inglis We service Toronto and all surrounding areas. That includes: Toronto, Whitby, Oshawa, Pickering, Scarborough, Markham, Aurora, New Market, Brampton, Bradford, Oakville, Mississauga, Etobicoke, North York, East York, GTA, Burlington, Barrie, Innisfil WHY DO OUR CUSTOMERS LOVE US? Man with a Wrench always provides an above and beyond service because we do not simply tackle the problem at hand. We also find its underlying cause. Most importantly, we provide our customer with education as to how to prevent such problems from occurring in the future. Our budget-friendly repairs are second to none and we will provide you with quick solutions to all of your appliance repair needs. We strive to achieve the highest possible customer satisfaction from our service. We look forward to servicing your appliance repair needs.
Servicios prestados:
Appliance Installation, Appliance Refinishing, Appliance Removal, Appliance Repair, Cooktop, Range & Stove Installation, Cooktop, Range & Stove Repair, Dishwasher Installation, Dishwasher Repair, Dryer Installation, Dryer Repair, Dryer Vent Cleaning, Dryer Vent Installation, Freezer Installation, Freezer Repair, Garbage Disposal Installation, Garbage Disposal Repair, Ice Machine Repair, Microwave Repair, Oven Installation, Oven Repair, Refrigerator Installation, Refrigerator Repair, Small Appliance Repair, Washing Machine Repair
Zonas de trabajo
Toronto, Etobicoke, Mississauga, North Toronto, North York, Woodbridge, Bedford Park, Bendale, Birch Cliff, Centennial Park, Crescent Town, Davenport, Eglinton East, Eringate, Greenwood Coxwell, Junction Triangle, Kensington Market, Liberty Village, Mugg's Island, New Toronto, Niagara, Oakridge, Richmond Hill, Riverdale, Rosedale, The Elms, The Golden Mile, The Kingsway, The Village, Alderwood, CityPlace, Cliffside, Deer Park, Dovercourt, Earlscourt, Financial District, Grange Park, Harbord Village, Henry Farm, Hillcrest Village, Lawrence Heights, Parkway West, Pleasant View, Ryerson University, St. James Town, St. Lawrence, Thorncliffe
Premios:
100% satisfaction guarantee, Up to 1 year repair warranty for parts and repairs
Escribe una valoración
13 valoraciones para Man with a Wrench - Appliance Repair in Toronto
Fecha del proyecto
jun. 2019
Precio del proyecto
Menos de 1.000 €
I have used these guys before and will be use them again if needed. Great office staff great technicians and overall amazing customer service

Comentario de Man with a Wrench - Appliance Repair in Toronto:
Hello Evgeni!
thank you very much for the great review! We are happy to hear that you have enjoyed our service. If you experience any other issues, do not hesitate to contact us and we will be more than happy to help!
Thank you,
Team Man With a Wrench
10 de Julio de 2019
Última modificación:

10 de Julio de 2019
Fecha del proyecto
sept. 2017
Precio del proyecto
Menos de 1.000 €
Very professional, courteous, prompt. It was a burned out sensor which Alex replaced on the spot. He showed me how to prevent it burning out again. While he was there, I also asked him to look at a problem with my dishwasher tipping forward. He took 15 mins to look and fix it as best he could as a piece was broken off and not replaceable. He did not charge me for that time
Fecha del proyecto
abr. 2017
Precio del proyecto
Menos de 1.000 €
I had family coming for passover dinner and my oven decided to stop working at the worst time. I have to say, if it wasn't for Man with a Wrench we'do be eating Macdonald. Alex came by same day and even guessed exactly what the problem was over the phone and had it fixed in under an hour. Thank you Alex for helping me fix my stove and restore my dinner. I recommend these guys for all your appliance problems.
Fecha del proyecto
abr. 2017
Precio del proyecto
Menos de 1.000 €
My fridge was not cooling at all and all my groceries were going bad. Oleg from Man With a Wrench came in for service same day and was able to repair it within one visit. He also provided me with maintenance tips and made sure everything else is within working order in the unit. I would highly recommend Man With a Wrench to all my famil and friends.
Fecha del proyecto
abr. 2017
Precio del proyecto
Menos de 1.000 €
My dishwasher wasn't draining and it was only 2 years old so I decided to fix it. I looked around and found Man with a Wrench online. I gave them a call and Alex was able to quote me right away and fix it same day. I recommend you use these guys because it was the most painless experience I have ever had with an appliance repair company. I recommend them accross the board.
Fecha del proyecto
mar. 2017
Precio del proyecto
Menos de 1.000 €
The guys were really great. Not only did they fix the issue really quickly at a reasonable price but they educated me on the best way to maintain my dishwasher so I could avoid the same issue and other related issues in the future. Great energy!!!
Fecha del proyecto
ene. 2017
Precio del proyecto
Menos de 1.000 €
Asked for quotes from 3 repair guys.. Man with a wrench was best price.. They came on time and did the thing quickly! Nothing more I could ask for.. Hope nothing breaks again but will definitely recommend my friends to Alex and crew.. Reasonable, efficient and effective..
Fecha del proyecto
dic. 2016
Precio del proyecto
Menos de 1.000 €
I had a whirlpool washing machine that wouldn't start its washing cycle. Alex troubleshot the problem within minutes, as one of the switches has gone bad (he said it is a common problem). Alex confirmed and showed me what the problem was using a multimeter, and fixed the problem on the spot without having to come back as he had the part in his work vehicle. Alex is an amazing technician and I was very happy with his service!!
Fecha del proyecto
nov. 2016
Precio del proyecto
Menos de 1.000 €
Alex is a true professional. Punctual, honest and straightforward. My stove repair cost a fraction of what I expected and he was great at estimating and giving an accurate quote. If you need anything fixed, you know who to call. Don't waste your time and give this guy a call.
Fecha del proyecto
ene. 2017
Precio del proyecto
Menos de 1.000 €
Great experience with a repair job on KitchenAid fridge. I tried calling around to a few repair services to see quotes and timelines, and Man with a Wrench was by far the best quote. Setting up a repair time was quick and they were flexible on working around my schedule. The repair itself was efficient and high quality - I could tell they knew what they were doing. And they were very professional and communicated what the technical issue was clearly, as well as how they were fixing it. Thank you, Alex and Oleg, much appreciated!
Fecha del proyecto
ene. 2017
Precio del proyecto
Menos de 1.000 €
I had a very good experience with this company. My fridge (danby model) was leaking water and the super was out of town and could not fix it. The guys that came over from this company were quick, took only 15 minutes to fix a conduit under the frigde, and it was not expensive to fix. Thank you, I will recommend to my friends too.
Fecha del proyecto
ene. 2017
Precio del proyecto
Menos de 1.000 €
I had a leaking dishwasher that flooded my whole kitchen. Oleg came out same day and repaired the issue on the spot, for a very reasonable price. I will definitely recommend the company to all my friends and family.
Ver todas las 13 valoraciones
Electrodomésticos en España