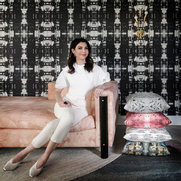 Michelle Dirkse Interior Design
5 premios Houzz
4 insignias Houzz
Contacto:
Michelle Dirkse
1321 E Pine Street
Seattle, WA 98122
Coste medio de los trabajos:
$45,000 - 500,000
Example: Entry level furniture & decor for a living room starts at $35,000. A higher-end living room is closer to $120,000 for furniture and decor. Bathroom remodels start at $40,000 and kitchen remodels start at $80,000.
https://www.houzz.es/pro/michelledirkse copiada al portapapeles
INTERIOR DESIGN AND DECORATING. - High-end interior design and interior decor. - Remodeling construction plans for entire home, kitchens or bathrooms. - New construction collaboration with your architect and contractor.
Servicios prestados:
Bathroom Design, Bedroom Design, Closet Design, Color Consulting, Custom Bathroom Vanities, Custom Blinds & Shades, Custom Bookcases, Custom Built-ins, Custom Cabinets, Custom Entertainment Centers, Custom Fireplace Mantels, Custom Furniture, Custom Home Bars, Custom Kitchen Cabinets, Custom Rugs, Custom Shelving, Custom Walk-in Closets, Decluttering, Dining Room Design, Downsizing, Drafting, Floor Plans, Furniture Selection, Historic Building Conservation, Home Office Design, Home Theater Design, House Plans, Interior Design, Kids Bedroom Design, Kitchen Design, Laundry Room Design, Lighting Design, Living Room Design, Nursery Design, Playroom Design, Space Planning, Sunroom Design & Construction, Sustainable Design, Kitchen Remodeling, Remodeling, interior decor
Zonas de trabajo
Ballard, Beacon Hill, Beaux Arts Village, Bellevue, Bothell, Boulevard Park, Bryn Mawr-Skyway, Burien, Clyde Hill, East Renton Highlands, Eastgate, Fairmount Park, Gatewood, Hunts Point, Indianola, Inglewood-Finn Hill, Kenmore, Kingsgate, Kirkland, Medina, Mercer Island, Newcastle, North Beacon Hill, Rainier Valley, Redmond, Renton, Riverton, Riverview, Seattle, Shoreline, Southworth, Tukwila, West Lake Sammamish, White Center, Woodinville, Yarrow Point, San Jaun Islands, Oregon, Washington, New York, Los Angeles, California
Premios:
2018 Gray Magazine Best Exhibit Space 2018 Gray Magazine Product Design Other Finalist 2018 Best Of Houzz - Service 2017 Northwest Design Awards - Small Design Firm Luminary 2017 Best of Houzz - Service 2014 Best of Houzz- Service
Escribe una valoración
43 valoraciones para Michelle Dirkse Interior Design
I am so glad that I thought to ask Michelle for help with the renovation of a triplex we purchased. It must be amazing to have Michelle's ability to look at a space and immediately know exactly what it needs. She helped me maximize the rent potential of our property through changes to flooring, kitchen layout, and even small cosmetic tweaks while keeping a close eye on minimizing costs. And she is clearly in touch with not only the latest design trends but also what is going to endure and look good decades from now. I am always so thankful to have her guidance when I run into tough design decisions, as she always ensures that my renovation dollars are well spent. She is also a lot of fun to work with and I really appreciate her clear and direct communications style.

Blue Sound Construction, Inc.
From a contractor's perspective, you couldn't ask for a better team to work with than Michelle Dirkse Interior Design. Their plans were thorough and complete, which may sound normal but in actuality is less common than you may think-- making contractors look bad and off the mark. Not so with Dirkse. Everything was abundantly clear and spec'd out well in advance, and when we had questions, their responses were prompt and effective. Our project manager still raves about what a seamless, enjoyable process it was to work with them. The end result is that an urban project that we anticipated being tricky to perform came in under budget and on time, with beautiful, sophisticated results. As builders, we covet using our skills to create lasting, artful projects and a satisfying building experience for clients, and with this team, we were able to achieve all that and more. --Ben at Blue Sound Construction, Inc.




This is a team of superstars. Michelle and her team took the time to understand OUR style and preferences and designed a renovation for our kitchen, living room, bedrooms, and bathrooms that reflected and built on our preferences and the particulars of our house and its setting. This was refreshing because we notice that some designers just replicate the same theme across different customers. Michelle and team don't do that. Although our style was the focus, they provided super creative recommendations we never would have thought of – but which we were wild about that gave our home a finished, gorgeous feel. They were really fun and easy to work with and stuck with the project to the end - meticulous in their planning and oversight. The beauty they surrounded us with fuels our happiness every day, and we are delighted with the outcome. We would enthusiastically use them again, and recommend them to our friends and colleagues.
15 de Enero de 2019
Última modificación:

15 de Enero de 2019
Michelle's sense of style and attention to detail are top notch, plus she's fun to work with too! My wife and I have different styles and Michelle did a great job helping blend ours together. We had a great experience with Michelle and will use her again for our interior design needs.
We hired Michelle to help us plan for a full basement remodel, and I can't recommend her highly enough. She and her team are so creative, professional, and responsive. They do a great job of providing multiple options and visuals of what the finished space will look like with those different options. I never dreamed that I would have a basement that I love as much as ours! She has become a very trusted advisor as we continue to make updates to our home.
Michelle quickly assessed my tastes and created a space that I am quite pleased with. Will hire Michelle and her team again!
Michelle and Vilma supplied the exquisite taste in decorating my new West Seattle townhome that I lack but very much appreciate. Their work was exactly what I asked of them and within budget. They looked for effective cost-savings alternatives throughout the project, without sacrificing the total look and feel. Their work was turnkey, sparing me the arduous task of dealing with suppliers. A perfect choice.
Michelle and her team did a wonderful job! They kept in touch often and helped make the entire project as smooth and easy as possible!
Michelle was such a delight to work with! Her builder knowledge combined with her creative design skills truly enhanced my remodel experience. I do not think the process would have gone half as smoothly without her guidance. She helped us avoid what could have been a lot of pitfalls and delays due to her foresight and planning. I highly recommend consulting her for your next design or remodel plan. Thank you Michelle!

Michelle is first and foremost a lovely professional who's kindheartedness and thoughtful personality transcend into her flawless and skilled decor.
I have never worked with another interior designer that understands their clients so well. Michelle is a pro. She's organized, detail oriented and an excellent communicator. She and her team are respectful of time and budgets and they're just all-around fun and easy to work with.


I've worked with Michelle Dirkse Interior Design on a number of projects. Every one of our clients has been thrilled with the completed projects. As a contractor, I''m greatly appreciative of her understanding of the owner's budget, her thoroughness, and her flexibility throughout; from schematic design to completion of the last finishing touches. She's a true team player and an professional in every respect. She's a great "find" in today's design market.
Ver todas las 43 valoraciones
Encuentra Interioristas y decoradores para hacer realidad tu proyecto
¿Cansado de leer todos los tutoriales de bricolaje? Estamos para ayudarte. En Houzz contamos con más de 1 millón de profesionales del hogar, por lo que encontrarás al Interioristas y decoradores de confianza adecuado para tu proyecto en Seattle.
Lee valoraciones de particulares como tú en Seattle
Lee las valoraciones de los propietarios antes de contratar a un Interioristas y decoradores que te ayude con un proyecto en Seattle. Si tiene preguntas, lee las valoraciones de otros propietarios o dirígete a la sección de consejos para obtener una segunda opinión.
Contacta fácilmente con Interioristas y decoradores
Si estás navegando por Houzz y tienes a un profesional en mente, te darás cuenta que solicitar un presupuesto es más fácil que nunca. Desde tu panel de control podrás administrar todas las solicitudes que mandaste a Interioristas y decoradores.
Decoradores en España
Servicios relacionados