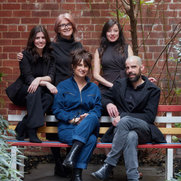 Jasmine McClelland Design
11 premios Houzz
3 insignias Houzz
Contacto:
Jasmine McClelland
519 Brunswick Street
North Fitzroy, Victoria 3068
Australia
Coste medio de los trabajos:
$5,000.00 - 2,000,000
The cost of each project depends on the size and scope of the project. Initial consultation is where we like to start with our clients, this is where we formulate a brief, listen to their hopes and dreams for their home. From that brief we can then accurately quote works going forward and give clear time frames.
Información profesional:
Multi-Award Winning Melbourne based Designers, Specialising in Residential Design
https://www.houzz.es/pro/jasminemcclelland copiada al portapapeles
Encuentra Interioristas y decoradores para hacer realidad tu proyecto
¿Cansado de leer todos los tutoriales de bricolaje? Estamos para ayudarte. En Houzz contamos con más de 1 millón de profesionales del hogar, por lo que encontrarás al Interioristas y decoradores de confianza adecuado para tu proyecto en North Fitzroy.
Lee valoraciones de particulares como tú en North Fitzroy
Lee las valoraciones de los propietarios antes de contratar a un Interioristas y decoradores que te ayude con un proyecto en North Fitzroy. Si tiene preguntas, lee las valoraciones de otros propietarios o dirígete a la sección de consejos para obtener una segunda opinión.
Contacta fácilmente con Interioristas y decoradores
Si estás navegando por Houzz y tienes a un profesional en mente, te darás cuenta que solicitar un presupuesto es más fácil que nunca. Desde tu panel de control podrás administrar todas las solicitudes que mandaste a Interioristas y decoradores.