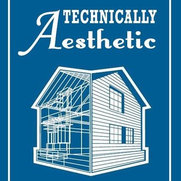 Technically Aesthetic General Contractors
1 premio Houzz
1 insignia Houzz
Coste medio de los trabajos:
5.000 USD - 750.000 USD

https://www.houzz.es/pro/technicallyaesthetic copiada al portapapeles
Technically Aesthetic, LLC is a residential construction General Contractor located in Johnson City, TN serving all of the Tri-Cities that focuses on detail and perfection in all facets of design, new construction, remodeling, renovation, and home improvement. We strive to make sure that our clients get top notch quality as well as hands on mentality that allows them to feel as though they design their own construction project. Our goal is to make sure that our clients feel 100% satisfied with our work at the same time feeling as though they received an excellent bargain. At Technically Aesthetic we make sure that every project is "Technically Built. Aesthetically Pleasing."
Servicios prestados:
Asphalt Shingle Roofing, Basement Remodeling, Bathroom Remodeling, Crown Molding Installation, Custom Home Bars, Custom Homes, Deck Building, Deck Repair, Drywall Installation, Exterior Door Installation, Flooring Installation, Garage Building, General Contracting, Home Additions, Home Extensions, Home Remodeling, House Framing, Kitchen Remodeling, Laminate Flooring Installation, New Home Construction, Porch Design & Construction, Roof Replacement, Shed Design & Construction, Shower Installation, Siding Installation, Sliding Door Installation, Soffit Installation, Stair Installation, Stone Masonry, Tile Installation, Trim Work, Wainscoting, Window Installation, Window Replacement
Zonas de trabajo
Elizabethton, Gray, Johnson City, Jonesborough, Midway, Milligan College, Mountain Home, Oak Grove, Pine Crest, Piney Flats, Spurgeon, Telford, Unicoi, Watauga, bristol, kingsport
Escribe una valoración
8 valoraciones para Technically Aesthetic General Contractors
Fecha del proyecto
mayo de 2020
Precio del proyecto
10.000 € - 49.999 €
Very professional, great communication. Excellent, efficient job. We had Technically Aesthetic install a large privacy fence for us. Unlike other contractors we have used in the past, they were great communicators, showed up when they said they would, cleaned up after themselves, and did a fantastic job. We were so pleased that we were motivated to complete a few projects inside the house since we knew we had a contractor we could trust. Shout out to Jamel, who we dealt with the most. He is super prompt, professional, and great to work with.
Fecha del proyecto
diciembre de 2019
Precio del proyecto
10.000 € - 49.999 €
When my wife and I decided to have a carport built that would blend in with our neighborhood, I did an extensive search for a licensed and competent contractor. We were fortunate to obtain the contracting services of Mr. Tyrone Mitchell, owner and chief operator of Technically Aesthetic General Contractors, LLC of Johnson City, Tennessee. I was impressed with the level of professionalism and attention to detail that Mr. Mitchell displayed. He assisted my wife and I in deciding on a design for the carport and in the location, in compliance with Johnson City Planning codes. My wife and I also had Mr. Mitchell to handle reroofing our home and outbuilding so that it would be the same as the carport's roof. Our projects were completed in a timely manner. Mr. Mitchell and his staff were able to minimize the delays that occurred due to incumbent weather (including an early snow fall). He kept us informed during the construction and patiently listened to any concerns that we had during the construction. Both my wife and I are very pleased with the quality of work that he and his staff did. We would recommend Technically Aesthetic General Contractors, LLC.




Relación
Insurance and I hired them
Fecha del proyecto
julio de 2019
Precio del proyecto
50.000 € - 100.000 €
Technically aesthetic and its owner Tyronne were paid by our mortage company and insurance company to do some work. Also paid by me out of pocket to do some remodel work on our kitchen. So the issues the occurred are as such. Materials were delivered to my property and sat directly on top om the main drain line to the house. It collapsed the drain line, live electrical wire was cut and just left hanging for anyone to get electrocuted by, light covers left of switches, things not painted, unfinished pantry, charged 8k to hang sheet rock in a 200sq ft kitchen. The owner TYRONNE justified this by saying his guys spent hours straightening the bow in my kitchen walls. Well the bow in the wall was NEVER fixed. Multiple people have seen these issues, our countertop company couldn't believe how bad it was. Shutters were never bought or installed. Floor air ducts never installed. To beat it all had tools stolen from the property. Reached out to the owner over and over. He never wanted to fix the issues. Then threatened us and said he was going to put a lien on the property. Like really. Put a lien on a property when you clearly violated a contract with state farm insurance. This guy is a complete JOKE! Save your self the hassle.
Fecha del proyecto
diciembre de 2019
Precio del proyecto
Más de 100.000 €
They consulted with us on a project and came up with some good ideas. We simply could not afford what they suggested.
18 de Noviembre de 2019
Última modificación:

18 de Enero de 2020
Fecha del proyecto
agosto de 2019
Precio del proyecto
50.000 € - 100.000 €
I am not one to write poor reviews. I always like to give people the benefit of the doubt, but I'm at a loss. We've been working with Tyrone since last November (over 10 months). They did work that looks beautiful from afar and in pictures, but doesn't function. My largest complaint is that our shower doesn't drain and as result water stands and mold grows almost instantaneously (forget about the fact that our kitchen fan doesn't work, they installed broken and crooked tiles in our bathroom, installed mismatching wood floors in our kitchen and bathroom, and have been crazy expensive). To Tyrone's credit, they came back to try to fix the shower but unfortunately it still doesn't drain and I had to use left over tiles that weren't the perfectly picked marble tiles I picked the first time. (I was going for grey and these tiles are more brown..unfortunately that's what happens with natural stone.). I'm so distraught I don't know what to do anymore. The only thing I can think to do is warn others. On a bright note, Daniel is wonderful to work with and I really think he tried. I just wish he had been able to fix this very poor work. I should also note that this is the third home I've renovated and I've never had issues like this before with the other contractors I used, which were all in Florida.
Fecha del proyecto
octubre de 2018
Precio del proyecto
Más de 100.000 €
Thank you to Tyrone Mitchell and Technically Aesthetic General Contractors, as well as his fabulous and talented crew, for our gorgeous complete-home renovation. We appreciated their professionalism, their "can-do" attitude, and knowledgeable attention to detail. We couldn't be happier with the final results, and we highly recommend them for all your home renovation needs.



Fecha del proyecto
febrero de 2016
Precio del proyecto
1.000 € - 9.999 €
Very professional, on time, clean and friendly We had a fire at our home and he was able to replace the windows, door and siding that got damaged in the fire in a timely manner. He followed up on everything to ensure we were happy too! Highly recommend Technically Aesthetic!!
Fecha del proyecto
febrero de 2017
Precio del proyecto
1.000 € - 9.999 €
Over the last four years Technically Aesthetic has done a custom bathroom, tiled another shower as well as installed vinyl siding on a dormer and a small plumbing project. The work is always done well and at a reasonable price. Tyrone is always professional and I am very comfortable with him being in my home while my wife and I are away during the day. Whenever someone tells me they have a project in mind I always give them Tyrone's information. He is my go-to contractor. He is honest and does great work. You'll be happy you chose him.
Encuentra Contratistas para hacer realidad tu proyecto
¿Cansado de leer todos los tutoriales de bricolaje? Estamos para ayudarte. En Houzz contamos con más de 1 millón de profesionales del hogar, por lo que encontrarás al Contratistas de confianza adecuado para tu proyecto en Johnson City.
Lee valoraciones de particulares como tú en Johnson City
Lee las valoraciones de los propietarios antes de contratar a un Contratistas que te ayude con un proyecto en Johnson City. Si tiene preguntas, lee las valoraciones de otros propietarios o dirígete a la sección de consejos para obtener una segunda opinión.
Contacta fácilmente con Contratistas
Si estás navegando por Houzz y tienes a un profesional en mente, te darás cuenta que solicitar un presupuesto es más fácil que nunca. Desde tu panel de control podrás administrar todas las solicitudes que mandaste a Contratistas.