Ideas for countertops to go with slate floor/blue cabinets?
Emily M
última modificación:
hace 28 días
Hi! We've been starting to look into redoing our tuscan-style (?) kitchen, which currently has very very hard-to-clean tile countertops, with something that will still be warm and inviting, but fits our style and cleaning needs better.
My ideal look would have been a butcher block countertop and denim-blue cabinets, to go with our variegated slate floor, but we don't think butcher block will work for us. We want a countertop that's low maintenance and can handle placing a very hot pot/pan directly on it, ideally! For this, we're thinking granite is probably the best bet, even though we know that quartz is becoming very popular.
To that end, we've been looking at various granite slabs, etc., to try to choose one that works well with our floor, and which would also look good with cabinets repainted blue.
We're also planning to repaint the walls something other than dark red, color to be determined once we have chosen the countertop. So much depends on the countertop choice, it seems!
I've been out looking at full slabs at places like MSI, and I'm finding myself overwhelmed. So much beautiful stone! We prefer granites with some swirls to them, rather than the ones that are more speckled in appearance, FYI. Can anyone suggest granite that might look good with these parameters? I have attached photos of the current kitchen and some other similar color ideas.
Current kitchen: planning to paint walls and cabinets, with color TBD by choice of countertop material. Likely to remove backsplash/faux exhaust chimney (there's an under-cabinet hood under there).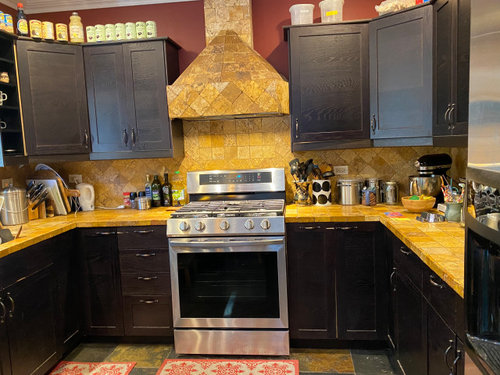 Slate floor. Ignore the red mat and the odd blue streak...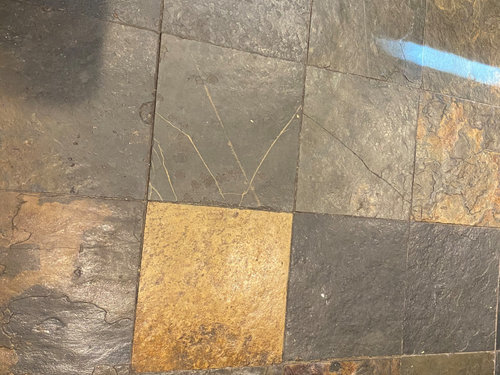 Some granite samples we've been looking at, shown on the floor below:

Savannah Gold granite- top
Santa Cecelia granite- upper middle
New River White - upper middle
Azul Celeste granite - bottom

On left:
Cambria Hawkridge quartz
Viatera Talus quartz
Viatera Alba quartz
Viatera Aria quartz (I actually really look the like of these 4 quartzes, but think we may be better off with the functionality of granite).
Kalix River granite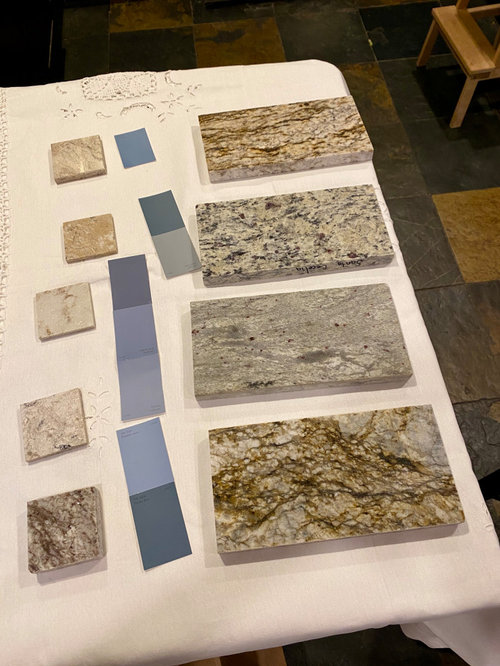 Some quartz samples we were looking at: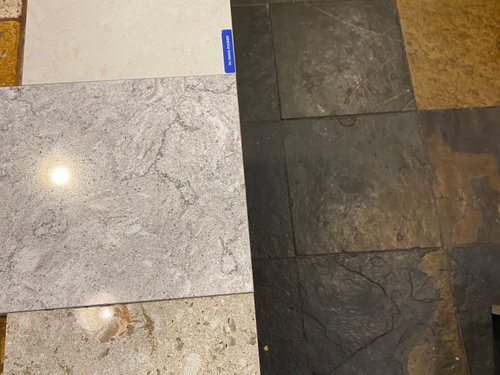 Sooooo.... any suggestions? Thank you very much in advance!