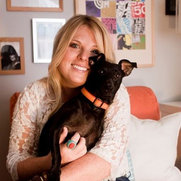 Megan Dearie @ Closet Factory (Fort Lauderdale)
1 premio Houzz
2 insignias Houzz
Contacto:
Megan Dearie
1650 S Powerline Road
Fort Lauderdale, FL 33442
Coste medio de los trabajos:
1.000 USD - 100.000 USD
Every room and need is different. As Designers, our job is to work with you to discover your unique needs, style preferences and budgetary requirements. Everything we offer is 100% made-to-order and cut-to-spec using locally sourced materials, meaning no two designs are ever the same. We allow YOU to control the budget of your project by selecting the components, materials, and accessories that go into your finished design.
https://www.houzz.es/pro/megan-dearie40 copiada al portapapeles
We are the "CUSTOM STORAGE SOLUTION AUTHORITY, and WE DESIGN AROUND YOU." For over 30 years, Closet Factory Fort Lauderdale has been creating custom storage solutions for the entire home - from closets and home offices to entertainment centers and garages (and so much more). Closet Factory is who Builders, Interior Designers, Decorators, General Contractors, Real Estate Agents, and other professionals contact when they need storage design and installation throughout home or office projects. Our approach to design is industry-leading and updated regularly. We carry a vast range of products which allow your vision to come to life. I will partner with you to create your perfect organizational solution from an endless array of materials, finishes and accessories and ensure you'll get competitive pricing. Closet Factory Fort Lauderdale is "the professionals choice": •All of our custom products are fabricated locally in our Deerfield factory by our own skilled craftsmen. •We provide assurance by showing up on time, and doing the project right, when expected. •Our trained installers are employees, not contractors. •We are fully insured and ready the moment we step onto a property. •We can complete spaces for the whole home so your own workers can focus on trim and other details. •We add value to homes by maximizing space usage and increasing storage capacity. •All projects are backed by our Lifetime Warranty. Your complete satisfaction is our number one goal! Get started today with a FREE in-home design consultation.
Servicios prestados:
Bicycle Storage, Closet Design, Closet Organization, Custom Cabinets, Custom Walk-in Closets, Decluttering, Downsizing, Garage Storage, Professional Organizing, Space Planning, Sports Equipment Storage, Man Caves, She Shed's, Entertainment Centers, Wine Storage/Bars, Pantry's, Laundry Rooms, K
Zonas de trabajo
Boca Del Mar, Boca Raton, Coconut Creek, Coral Springs, Deerfield Beach, Delray Beach, Fort Lauderdale, Ft Lauderdale, Ft. Lauderdale, Highland Beach, Hillsboro Beach, Hillsboro Pines, Kings Point, Lauderdale-by-the-Sea, Lighthouse Point, Margate, Mission Bay, Nob Hill Place, North Andrews Gardens, North Lauderdale, Oakland Park, Palm Aire, Parkland, Pompano Beach, Pompano Beach Highlands, Sea Ranch Lakes, Sunrise, Tamarac, Tedder, Terra Mar, Twin Lakes, Welleby Park, Whisper Walk, Broward County, Palm Beach County
Premios:
Bachelors Degree in Interior Design Awards for Space Planning Exclusive provider of "Motor Trend Series" Garages Exclusive Storage Solutions provider for a nationally branded wholesale club
Escribe una valoración
8 valoraciones para Megan Dearie @ Closet Factory (Fort Lauderdale)
Usuario de Houzz-977830447
My garage is the envy of the neighborhood! Megan Dearie designed the perfect space for all my gear, laundry essentials, and cleaning supplies, plus car of course Not only is the space super functional, it's beautiful as well. Everything was neatly and professionally installed in a timely manner with minimum disruption. I love Closet Factory and heartily recommend the company to anyone looking for organizational magic.
Our project involved a complete two-car garage storage make-over. The garage was just the typical cement block shell with a step-up that spanned the entire width of the garage where the hot water heater was located as well as the man door into the house. We inherited three long open wall shelves and two wall cabinets that were re-purposed from what we assume was a kitchen remodel. What we desired was cabinetry that would house all of our garage items out of sight from the prying eyes of neighbors and random workers in the community. So the first week of May 2018 I entered The Closet Factory (Fort Lauderdale) to explore what was available to complete our plan. Luckily, Megan Dearie, who just happened to be in the office at that moment to complete work on another project, stopped and greeted me. After hearing what I was there for, she assured me that a design specialist would be with me shortly. Apparently all of the other design specialists were otherwise occupied, so Megan returned quickly and told me she would be happy to assist me. This was our stroke of luck. Megan took the basic information and arranged to meet at our home two days later on to take measurements, learn what our storage needs were, and to get the layout of the project. Within a week she had a cad drawing of what our garage would look like taking careful consideration as to where each and every item would be stored and where they would best fit. During our design meeting at The Closet Factory, Megan displayed all of the material choices and colors and gave her experienced input as to what she thought would work best for our situation. She also went over the pricing in great detail. And she gave me a tour of The Closet Factory in it's entirety inclusive of the factory itself, which is behind the showroom and office spaces. Very impressed with the cleanliness and organization of the factory. As Megan said, The Closet Factory is very transparent and open to it's clients. Never was any 'hard sell' pressure tactics used. After a few e-mails for additional questions, answers, and financial discussions, we decided that , while this was quite the financial investment, we viewed it as a once in a lifetime expenditure (The Closet Factory offers a lifetime guarantee) and signed the contract. The projected lead time was 4-5 weeks, but our job was ready to install in 2 weeks. The install was to take a two man team two to three days to complete the entire garage, but a four man team arrived and completed the garage between the hours of 9:30am and 6:45pm. Normally a workbench countertop is installed within a week of the garage install, but two of the installers took the measurements and while the other men were finishing other areas, the two returned to The Closet Factory and manufactured the countertop and returned and installed it. The only deviation was that the installers did not follow the cad drawing which called for black headers over the cabinetry, but instead used the same grey of which the cabinets were constructed. At first, not being what we initially decided upon, we wanted it changed, but after living with it for a few days, we realized that the grey headers made the cabinetry blend seamlessly into the grey garage, so we opted to leave it in place - it also was masterfully constructed and it would have been a pity to demolish. We were also pleasantly surprised by a top placed on our shoe cubby that matched our workbench countertop, which was a little surprise added by Megan. The installers returned to adjust some by-pass cabinet doors and complete one of the longer slat walls that exceeded the eight foot length and Megan returned also to check the final result, take photos, and insure that we were satisfied with the finished project. As I stated earlier, we were fortunate to have Megan be in the right place at the right time, as she was the best fit for our needs. And The Closet Factory is most fortunate, and we hope they appreciate and reflect that appreciation, to have such a knowledgeable, personable, caring, genuine, people-oriented employee who obviously loves what she does which shows unmistakably in every project she handles. Take our advise, and no offense to any other Closet Factory designers, ask for Megan Dearie specifically, you will thank us....trust us.
If you are looking to add built ins to your home ;definitely reach out to Megan Dearie. Megan showed up to our first appointment at my home at the exact time she promised. She had so many wonderful ideas for the rooms I needed built ins. She is very professional; and is a talented designer. When I met with her again at the showroom,I was blown away with the selection of choices.Megan did not rush the process; she her took her time to come up with many more creative recommendations for my rooms. It was a pleasure working with Megan;and I love the way my rooms came out !!

Megan was amazing to work with. She really took the time to get to know exactly what our specific needs were so that we would be happiest. She completely transformed the useless closets we had into the best closets EVER! EVER!!!
I recently had my walk-in closet done and I am extremely happy. Megan Dearie, my designer, was most helpful from the very first meeting to the followup after the installation. She listened to what my needs were and made sure they were incorporated in the design. My closet is simply beautiful..... my six year old granddaughter tells me she feels like she is in a dress shop every time she enters my closet. I love my closet so much three months later I called Megan again and had Closet Factory do my husbands closet. Other than being simply beautiful, we are so much more organized. Good quality product. Thank you.
Please reach out to Megan Dearie for all of your Closet Factory design needs. She's a serious professional who truly knows her products. She is smart, creative, always prompt, always responsive. She helped us design a wall bed with closets/drawers for our guest bedroom and we could not be happier with the final results. Just as importantly, everything happened like clockwork. She always showed up exactly when she said she would, the work was done exactly as scheduled, the final product was exactly as promised. Given South Florida's reputation for unresponsive, unprofessional workers, dealing with Ms. Dearie and her company was a delightful surprise.
My wife and I always dreamed on an organized closet with plenty of space and the closet factory delivered. We worked with Megan Ferrer from beginning to end and she was absolutely amazing! Her service was exceptional from the 1st appointment till the last. Anything we ever needed after our install they have been there for us right away with out any questions. Thank you Megan for all you have done for us!
When I met with Megan I instantly knew that I had chosen the right company. She is professional, organized, and knowledgeable. I've always dreamed of a huge master closet. Megan was able to transform an entire room into a magnificent oasis!! I was a bit clueless about how the design should be layed out, but Megan was able to configure a beautiful closet. Thank you Megan and Closet Factory!!
Encuentra Empresas de soluciones de almacenamiento y organizadores profesionales para hacer realidad tu proyecto
¿Cansado de leer todos los tutoriales de bricolaje? Estamos para ayudarte. En Houzz contamos con más de 1 millón de profesionales del hogar, por lo que encontrarás al Soluciones de almacenamiento y organizadores profesionales de confianza adecuado para tu proyecto en Fort Lauderdale.
Lee valoraciones de particulares como tú en Fort Lauderdale
Lee las valoraciones de los propietarios antes de contratar a un Soluciones de almacenamiento y organizadores profesionales que te ayude con un proyecto en Fort Lauderdale. Si tiene preguntas, lee las valoraciones de otros propietarios o dirígete a la sección de consejos para obtener una segunda opinión.
Contacta fácilmente con Empresas de soluciones de almacenamiento y organizadores profesionales
Si estás navegando por Houzz y tienes a un profesional en mente, te darás cuenta que solicitar un presupuesto es más fácil que nunca. Desde tu panel de control podrás administrar todas las solicitudes que mandaste a Empresas de soluciones de almacenamiento y organizadores profesionales.
Soluciones de almacenamiento y organizadores profesionales en España
Servicios relacionados