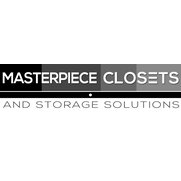 Masterpiece Closets & Storage Solutions
1 premio Houzz
2 insignias Houzz
Contacto:
Ted Wettstein
803 S. Orlando Avenue
, Suite D
Winter Park, FL 32789
Coste medio de los trabajos:
1.500 USD - 75.000 USD

https://www.houzz.es/pro/the1closetman copiada al portapapeles
Masterpiece Closets has been designing and installing custom closets, garage systems, pantries, laundry rooms, home offices, and other storage spaces for over 30 years. Whether you're looking to create small functional spaces or create custom storage for your entire house, Masterpiece Closets has the skill and the experience to take your project from beginning to end. The Company was started by Wayne Clark who recently partnered with Ted Wettstein in order to provide more depth to accommodate the Company's growth. Wayne has over 30 years of experience in the industry and Ted has over 35 years of experience in accounting, financial management, strategic planning, and design. Along with Cris Smith who has over 10 years of industry design experience, the team is well positioned to handle any storage project. Our Process Step 1.Schedule Free Consultation. A talented designer will meet with you in your home to discuss and listen carefully to your needs and ideas, take detailed measurements, and conceptualize your storage solutions. Step 2. Review the Design. We will create a custom design for your review including pricing. Together we will review the design, make any adjustments that are desired, and provide a final price designed for your budget. Included in the design will be the selection of accessories, colors, finishes, and hardware. Step 3. Custom Crafted. When your custom design is complete and your proposal signed, it will be produced to the exact specifications of the design. Step 4. Quality Installation. Your new closet and storage solutions will be installed at a convenient time by treating your home with the up most respect. The job will not be complete until you are totally satisfied.
Servicios prestados:
Closet Design, Custom Cabinets, Custom Walk-in Closets, Space Planning
Zonas de trabajo
Bay Hill, Belle Isle, Conway, Longwood, Maitland, Orlando, Oviedo, Wekiva Springs, Wekiwa Springs, Winter Park, Winter Springs, Heathrow, Lake Mary, Lake Nona, Windermere, Dr. Phillips
Premios:
#1 Readers Choice Custom Closet Company in Central Florida/Custom Closet Company for numerous Parade of Home and Showhouse home winners.
Escribe una valoración
5 valoraciones para Masterpiece Closets & Storage Solutions
Relación
He recibido un presupuesto
I contacted Masterpiece Closets to provide me a proposal for a master closet design. Cris Smith, a sales representative with Masterpiece Closets came out to my home, took measurements, and provided me with a design and price approximately 72 hours later. The proposal from Masterpiece Closets was very basic and included one single line item showing only the price. I received several other bids from other local closet design companies that same week, which Masterpiece Closets was aware of. I made a decision of which design I preferred and contacted Masterpiece Closets to prepare an estimate based on the design that I wished to be installed in my home. Cris submitted the design and responded with a drawing and price approximately 72 hours later. After having received the price from Masterpiece Closets it was still more expensive than a competitor. At the bottom of the Masterpiece Closets proposal it states in part, "Ask about our price and quality guarantee. If you find a better design or one for less money, we will match that design & beat that price by 5%, provided the specs are similar." I contacted Cris and inquired as to what Masterpiece Closets would need from me in order to accomplish the price match and 5% reduction in price. Cris advised that they would need the design and proposal from the competitor, to which I sent both the same day. The following day after not receiving the requested Masterpiece Closets proposal update, I contacted my sales rep, Cris and asked for a status update. Later that afternoon I received an email from the Owner/President of Masterpiece Closets Ted Wettstein. The email in short stated that Cris had already provided me a 'discount' and Masterpiece Closets would not be changing their price (contrary to their price and quality guarantee proposal language.) Buyer beware that this company's guarantee is meaningless, they do not follow through with their own contract language, and does not deserve the public's business with this lack of integrity.

Comentario de Masterpiece Closets & Storage Solutions:
Thank you for reaching out to us. Masterpiece Closets prides itself on the quality of its products and services. I am sorry that we were not able to deliver our quality at the low price you asked us to beat but it did not make economic sense. We price our jobs fairly but do not intentionally try to be the least expensive so that we can deliver the quality our customers seek. We are a well-established company of integrity with an outstanding reputation and very happy customers that have experienced our services. We appreciate your input and have changed the wording on our proposals. We hope that you end up very happy with your new closet.
Ted and his team were professional, knowledgable, and efficient. Our closet is beautiful and is a lovely addition to our home. I would highly recommend Masterpiece Closets.
Jim and Sonya justlittleoleme@hotmail.com
They came quickly, scheduled installation quickly, and installed a quality product with no problems. Their finished product is superior to others in the area and their professionalism is beyond reproach! We may use them for the garage storage also.

We have used Masterpiece closets in many of our projects. They produce a quality product and always on time. I highly recommend Masterpiece Closets. Ferwerda Interior Design
To all those builders, home owners and subcontractors looking to choose a Quality First-Class "Custom Closets" company, you will make the right choice by going with Masterpiece Closets & Storage Solutions! Larry Stuart Hospitality has worked closely with Wayne Clark for the past 10 years. We have had Masterpiece Closets perform services for 3 of our properties. Wayne/Masterpiece Closets are all about Integrity, Honor, Respect and Quality/Value being delivered to their Guests/Customers. They stand by their word, work and service delivery. If you need your closets built out ~ There is only one choice from our perspective ~ MASTERPIECE CLOSETS!!! Please call if you need any further acknowledgements regarding their incredible product/delivery. Respectfully Yours, Larry Stuart President & CEO Larry Stuart Hospitality (407) 721-2400 Cell www.larrystuart.com www.cariberoyale.com www.wylandflorida.com Fox News Hospitality Expert President FL Cornell Hotel Society 76'
Encuentra Empresas de soluciones de almacenamiento y organizadores profesionales para hacer realidad tu proyecto
¿Cansado de leer todos los tutoriales de bricolaje? Estamos para ayudarte. En Houzz contamos con más de 1 millón de profesionales del hogar, por lo que encontrarás al Soluciones de almacenamiento y organizadores profesionales de confianza adecuado para tu proyecto en Winter Park.
Lee valoraciones de particulares como tú en Winter Park
Lee las valoraciones de los propietarios antes de contratar a un Soluciones de almacenamiento y organizadores profesionales que te ayude con un proyecto en Winter Park. Si tiene preguntas, lee las valoraciones de otros propietarios o dirígete a la sección de consejos para obtener una segunda opinión.
Contacta fácilmente con Empresas de soluciones de almacenamiento y organizadores profesionales
Si estás navegando por Houzz y tienes a un profesional en mente, te darás cuenta que solicitar un presupuesto es más fácil que nunca. Desde tu panel de control podrás administrar todas las solicitudes que mandaste a Empresas de soluciones de almacenamiento y organizadores profesionales.
Soluciones de almacenamiento y organizadores profesionales en España
Servicios relacionados