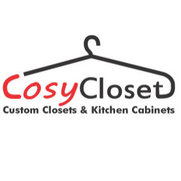 CosyCloset Ltd.
Valórame
North Vancouver, British Columbia, Canadá
3 premios Houzz
2 insignias Houzz
Contacto:
CosyCloset Ltd
North Vancouver, British Columbia v7l 3a4
Canadá
Coste medio de los trabajos:
1.000 CAD - 100.000 CAD

https://www.houzz.es/pro/cosycloset copiada al portapapeles
Everyone is unique and so are their needs. No one understands that better than CosyCloset. Creating custom solutions for your space is a partnership between you and one of our innovative designers. At CosyCloset, we pride ourselves on offering high quality closet systems and home organizing solutions that can fit into any budget. Our selection is vast and our designs are versatile. We offer everything from walk-in and reach-in closets, to garages, pantries, wall beds, offices and much more. No matter how large or small the space—it is our primary goal to create personal sanctuaries for our clients. Our designers have made it their quest to find the highest grade and most durable European wall-mount hardware, which enables an extra degree of flexibility for fast and clean installation. Classic features include rolling drawer glides as well as drawer and door pulls. Our premium option is Prestige Class soft-close drawer glides and hinges. To further customize your home storage solution, we offer a vast selection of accessories such as hampers, valet rods, belt racks, tie racks and much more. To our staff, your storage solution isn't just a science; it is also an art form. At CosyCloset we believe in using the highest quality materials. Our closet systems are built with 45-lb high-density furniture board – the best on the market. Not only is our furniture board sag resistant and warp resistant; it's low in formaldehyde emissions as well, making it an environmentally friendly choice. Our inventory of closet and shelving options is so diverse there is doubtlessly something to fit everyone's tastes; from those clients who have a flare for extravagance, to budget-conscious clients who don't wish to skimp on quality—CosyCloset is a storage solution resource for everyone. CosyCloset is a family owned and operated business and we proudly support domestic industry; we provide a superior product manufactured right here in Canada using only the best materials in the industry—the majority of which originated in British Columbia
Servicios prestados:
Closet Design, Closet Organization, Custom Cabinets, Custom Storage, Custom Walk-in Closets, Decluttering, Garage Design, Garage Storage, Professional Organizing, Space Planning
Zonas de trabajo
North Vancouver, Burnaby, Coquitlam, Deep Cove, Kitsilano, Lions Bay, New Westminster, North Burnaby, North Surrey, Port Coquitlam, Port Moody, Richmond, Sunset, Surrey, Vancouver, West Vancouver, Yaletown
Escribe una valoración
19 valoraciones para CosyCloset Ltd.

They were fast. They came to our house for an in-home consultation and 3 days later we had the designs and price quotes. They changed the designs a couple of times for us until we made the final decision. The installation were quick and clean. No mess left. They even removed my old shelving with no extra cost. I will definitely call them again for my basement .
Abtin was great to work with! Very professional and provided quick turn around time. Such great quality work for the pricing. Don't hesitate to contact them for a free quote! :) Thanks again!

Extremely pleased with our experience with CosyCloset Ltd and Abtin in particular. The quality of our second bedroom closet built-ins couldn't be better. We obtained a couple more quotes for this project and the knowledge and professionalism of Abtin won us over. Price was also very competitive. He kept us in the loop regarding deadline installation. Abtin went over and above when he made some improvements to our existing master closet by actually moving a drawer unit which was being removed from the second bedroom closet he was working on to it. And that was without additional cost. I would be happy to recommend this firm for any closet installation.
Working with Cosycloset was truely a geat experience. We ordered three closets from them – they were reasonably priced, the quality was amazing, and they look fantastic. Obtin the owner, really took the time to show us the different layouts and material options that we had. He also made great suggestions which in turn saved us even more money. We will continue working with them for all our future projects and highly recommend them.


A great experience from start to finish! Abtin was a true professional through the entire process and a pleasure to work with. He respected my time for our meetings, very patient with all my design changes, transparent with time lines and his attention to details when completing the work was very appreciated. I already have another project for CosyClosets and will be calling Abtin soon!
It's my pleasure to be able to say that Abtin was wonderful to work with. We went back and forth with designs for my closets until they worked for me. No matter however many questions I had or how many times I needed to make changes, he was always happy to help and prompt with his replies. We made a good team!
I am very satisfied and happy with the result of the work. A very responsible and 100% recommendable company, thank you cosycloset
Abtin went above and beyond when it came to designing my wife's dream closet. As with many condo developments storage space is at a premium. My wife needed the walk in closet to be able to organize her endless amounts of clothing and countless shoes. He creatively used the limited space to conceive a layout that did just that! Multiple drawers, hangers and design. We couldn't be happier! The quality was second to none with a price that couldn't be matched. We had 4-5 quotes for the same job. I wouldn't hesitate to refer him to any of my friends and family. Thanks again Cosy Closet!
It was a pleasure to work with Abtin! He is professional and delivered on all of his commitments. I reached out to other companies to do my closets and pantry for our vacation home in Whistler. Abtin was the first to respond and followed up quickly with design options and quotes. Great customer service!!! We are very happy with the end result and would highly recommend Cosy Closets.
Excellent, very friendly from beginning to end!! I was very pleased with the entire experience from my initial meeting to the installation with Abtin and Pantia. Abtin asked all the right questions to make sure that I had the space and all of the different design options. I am more comfortable, and I feel more put together when I stand in my new closet every morning!! I would highly recommend a CosyCloset to anyone who is looking to add more value to their home.
Very easy company to work with and communication was timely and responsive. The final quote was competitive and the product installed was exactly as described. Although my project was not overly complex the install was completed quickly and without incident. Definitely would work with Abtin again for any future custom closet work.

Excellent customer service, professional mannerisms, fantastic closets! Thank you so much Abtin, you were terrific to work with. I would recommend this company highly. They built three custom closets for me, one in the guest bedroom, one in the office and one in my daughter's room. They are all perfect.
Ver todas las 19 valoraciones
Encuentra Empresas de soluciones de almacenamiento y organizadores profesionales para hacer realidad tu proyecto
¿Cansado de leer todos los tutoriales de bricolaje? Estamos para ayudarte. En Houzz contamos con más de 1 millón de profesionales del hogar, por lo que encontrarás al Soluciones de almacenamiento y organizadores profesionales de confianza adecuado para tu proyecto en North Vancouver.
Lee valoraciones de particulares como tú en North Vancouver
Lee las valoraciones de los propietarios antes de contratar a un Soluciones de almacenamiento y organizadores profesionales que te ayude con un proyecto en North Vancouver. Si tiene preguntas, lee las valoraciones de otros propietarios o dirígete a la sección de consejos para obtener una segunda opinión.
Contacta fácilmente con Empresas de soluciones de almacenamiento y organizadores profesionales
Si estás navegando por Houzz y tienes a un profesional en mente, te darás cuenta que solicitar un presupuesto es más fácil que nunca. Desde tu panel de control podrás administrar todas las solicitudes que mandaste a Empresas de soluciones de almacenamiento y organizadores profesionales.
Soluciones de almacenamiento y organizadores profesionales en España
Servicios relacionados