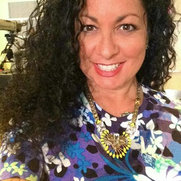 Angelina Miller @ Closet Factory
3 premios Houzz
3 insignias Houzz
Contacto:
Angelina Miller
Fort Lauderdale, FL
Coste medio de los trabajos:
1.000 USD - 100.000 USD
As a Designer, my job is to utilize every available square inch of space and build the right solution for the lowest possible cost. From there we allow our clients to add any aesthetic or design component to achieve the exact look they desire. Very importantly, all projects are designed, and built locally using only Closet Factory employees and are offered with a Lifetime Warranty.
Licencia:
Broward-CC#09-FC-15726-X
https://www.houzz.es/pro/angelina-miller copiada al portapapeles
I truly love what I do! Beautifying my client's homes is something I'm very passionate about. As a Senior Designer, I design organizational systems and create solutions for a host of spaces: Home Offices, Entertainment Centers, Wine Bars, Laundry Rooms, Garages, Craft Rooms, Pantries, Kids Spaces, etc. My Interior Design background gives me the ability to quickly identify necessary and unnecessary objects in a room and maximize each space both vertically and horizontally. We're called the Closet Factory, which is misleading, because we design much more than just closets! For over three decades, Closet Factory has been creating custom storage solutions for the entire home. Our collaborative design approach will allow you to imagine the possibilities for your space. Closet Factory designs with best practices and builds with the highest quality materials, so that you will receive a personalized system that is perfectly functional, completely organized and totally stylish – all within a budget you are comfortable with. Custom designed closets bring more order and beauty to your life. You start and end your day in the closet, it should be a pleasurable experience! Enjoy the benefits of organization.
Servicios prestados:
Closet Design, Closet Organization, Custom Cabinets, Custom Walk-in Closets, Decluttering, Garage Design, Garage Storage, Professional Organizing, Space Planning, Sports Equipment Storage, Home Offices, Wine Bars, Walk In Pantries, Commercial Spaces, Entertainment Centers
Zonas de trabajo
Cooper City, Coral Ridge, Davie, Deerfield Beach, Fort Lauderdale, Ft Lauderdale, Ft. Lauderdale, Lauderdale-by-the-Sea, Parkland, Plantation, Sea Ranch Lakes, Sunshine Ranches, Coral Springs, Weston, Hawks Landing, Delray Beach, Boca Raton, Lighthouse Point, Palm Beach
Premios:
BEST OF HOUZZ 2018, 2019, 2020 Exclusive Custom Storage Solutions Provider for COSTCO members throughout the US. Exclusive provider of MOTOR TREND Series Garages including RaceDeck & Polyurea Flooring solutions.
Escribe una valoración
30 valoraciones para Angelina Miller @ Closet Factory

Angelina was a fabulous designer for our master closet! She helped us maximize space, come up with a beautiful design, and even helped with finishing touches, like the valet rod and the door handles. The quality is unbeatable, the price is worth every penny, and we could not be more pleased to have Angelina's enthusiasm and expertise for every step of the process!

Usuario de Houzz-253942567
Angelina Miller did an exceptional job for me. She patiently helped me pick out the flooring and cabinets colors and configurations and followed through with me on every detail until the job was done. She was always available by phone and came out to take pictures at the end that she can show you. Excellent work! I give her my highest recommendation.
Usuario de Houzz-521090433
I got 3 estimates to have a makeover done on 2 of my closets. From the beginning Angelina and Closet Factory stood out. Angelina was so helpful throughout the process and so accommodating. I was really nervous about the installation as I just renovated my entire home. I was worried about the mess and something getting damaged. The installer was great! Very respectful of our home and the work that had been done. Thank you so much Angelina and Closet Factory!

If I could rate Angelina Miller and Closet Factory more than 5 stars I certainly would. Angelina went over the top to ensure we were well-informed and knowledgeable every step of the way. From the initial meeting at the house to understand what we were looking for, to the design presentation at their office to show us what they recommended for the space, to the follow up before and after, she and the team were terrific. The installation team was incredible. Those 2 young men came at 10 and were done by mid-afternoon. Hard working and meticulous, they didn't take a single break and the install was flawless. We couldn't be happier and would highly recommend them.
I had the pleasure of working with Angelina who was my designer for his/her custom master closets. She was professional and provided exceptional service. I interviewed several other companies and designers and she was by far the most knowledgeable about her product and provided the best design to meet our needs. I would highly recommend her and would definitely use her again for other projects.
I am very pleased with my entire experience with Closet Factory and Angelina. From the initial meeting to discuss and review our garage remodel options until the project was completed in a timely manner all went smoothly. Angelina's help was great, and the installers were very careful and diligent. We are thrilled with the finished product. I would definitely recommend Angelina and Closet Factory.

Relación
Introduced by a friend
So happy and amazing to work with. I was relocating from NYC to south Florida and met Angelina through a friend. She went above and beyond as I asked her to please visit the apartment building before we moved to measure so our closets could be installed as soon as we arrived. She arranged everything with the building and the planned it perfectly. Couldn't be happier. I've already referred her to a friend and will never use anyone else.
I'm extremely happy with Closet Factory We were contacted immediately by our design consultant Angelina Miller who is very professional and made the whole experience easy and stress free. The installation went well. The guys were amazing. Both closets look great. GREAT JOB! We love Closet Factory!!


20 de Febrero de 2019
Última modificación:

20 de Febrero de 2019
Angelina helped us with the design of our walk-in closets. The closets turned out great! The installers with friendly and professional. Thanks so much for all your help!
Angelina was very professional every step of the way. She took her time applying her expertise in designing three new closets for my family. They function very well because she evaluated our current closet situations and made very accurate measurements to max out our space. She took her time to explain the qualities and benefits of hiring this company. The closets were an excellent upgrade to our home and I love the fact that we can always modify it in the future to upgrade it even further.
It was a total pleasure to work with Angelina. She designed for us a wall unit with a bar, and she spent as much time with me as was necessary to assure we were happy with the design. Moreover, she was with me every step of the way during the entire process, from design to installation. She was easy to communicate with and very responsive. I highly recommend her.
I had an amazing experience with Angelina. She is very professional and meticulous. I was very nervous that the design would not house my shoes and clothing but she assured me that it would. Not only did it House all my clothes and shoes but I even have EXTRA space!! I love love my new closet! I can find things I never knew I had. I highly recommend Angelina and the Closet Factory team!!t
Ver todas las 30 valoraciones
Encuentra Empresas de soluciones de almacenamiento y organizadores profesionales para hacer realidad tu proyecto
¿Cansado de leer todos los tutoriales de bricolaje? Estamos para ayudarte. En Houzz contamos con más de 1 millón de profesionales del hogar, por lo que encontrarás al Soluciones de almacenamiento y organizadores profesionales de confianza adecuado para tu proyecto en Fort Lauderdale.
Lee valoraciones de particulares como tú en Fort Lauderdale
Lee las valoraciones de los propietarios antes de contratar a un Soluciones de almacenamiento y organizadores profesionales que te ayude con un proyecto en Fort Lauderdale. Si tiene preguntas, lee las valoraciones de otros propietarios o dirígete a la sección de consejos para obtener una segunda opinión.
Contacta fácilmente con Empresas de soluciones de almacenamiento y organizadores profesionales
Si estás navegando por Houzz y tienes a un profesional en mente, te darás cuenta que solicitar un presupuesto es más fácil que nunca. Desde tu panel de control podrás administrar todas las solicitudes que mandaste a Empresas de soluciones de almacenamiento y organizadores profesionales.
Soluciones de almacenamiento y organizadores profesionales en España
Servicios relacionados