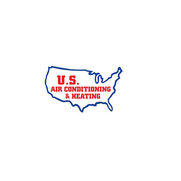 US Air Conditioning & Heating Corp
1 insignia Houzz
Contacto:

5827 13th Ave
New Port Richey, FL 34652
https://www.houzz.es/pro/usacheating2 copiada al portapapeles
Since 1987, U.S. Air Conditioning & Heating has delivered the finest in HVAC repair, maintenance, and installation to customers in and around Tampa Bay, Florida. U.S. Air Conditioning & Heating has developed a solid reputation for prompt, effective services to residential clients. Recognized throughout the Tampa Bay area for superior air conditioning and heating services, U.S. Air Conditioning & Heating illustrates a long list of testimonials from satisfied customers. Through their longtime association with Rheem® Manufacturing Company, U.S. Air Conditioning & Heating has earned high honors for service and sales. In 2009, U.S. Air Conditioning & Heating was awarded as one of Rheem® Manufacturing Company's Top 10 Contractors in North America. U.S. Air Conditioning & Heating currently holds distinction as the largest Rheem® dealer in the Tampa Bay area. U.S. Air Conditioning & Heating is also a member of the Honeywell® Contractor PRO Program, through which they offer Honeywell® HEPA and UV systems, dehumidifiers and whole house air cleaners. Certified by the State of Florida and the Environmental Protection Agency, U.S. Air Conditioning & Heating services the Tampa Bay Area including Pinellas, Pasco, Hernando, Hillsborough and surrounding counties. With options such as the Preventative Maintenance Agreement (PMA), U.S. Air Conditioning & Heating offers complete home comfort and regular checkups for all installed HVAC systems. For more information about U.S. Air Conditioning & Heating and its services, call 727 -233 -4789 .
Servicios prestados:
Air Conditioning Installation, Air Conditioning Repair, Boiler Repair, Dryer Vent Cleaning, Furnace Cleaning, Furnace Repair & Installation, HVAC Installation, HVAC Repair, Heating Repair, Water Heater Installation, Water Heater Repair
Zonas de trabajo
Tampa Bay Area including Pasco, Pinellas, Hernando, Hillsborough, and surrounding counties
1 proyecto para US Air Conditioning & Heating Corp
Escribe una valoración
6 valoraciones para US Air Conditioning & Heating Corp
Usuario de Houzz-193883059
Fecha del proyecto
abril de 2019
Wow! I am breathing better, deeper immediately! The change in air quality was instantaneous. Daniel from US Air Conditioning New Port Richey came today to service the A/C. He is professional, informative, and has a welcoming personality. He took the time to show what was going on with the unit, explained what needed to be serviced or changed and worked efficently to get the work done. After the job was completed, Daniel went over how the system works to ionize the air and the benefits including health benefits that will be experienced. Again I say I was breathing better right when the system was turned on! Thank you Daniel and US Air Conditioning New Port Richey for better quality indoor air.
Fecha del proyecto
septiembre de 2017
Precio del proyecto
1.000 € - 9.999 €
My father purchased a new air-conditioning unit from this company after Hurricane Irma and we have had nothing but issues. We have had to have it serviced a half dozen times because it repeatedly stopped working. Most recently, my father's air conditioning unit stopped working on Sept 4 while I was visiting him while he was in the hospital. A technician came by to fix the unit. Within three weeks, it stopped working again. I immediately called the New Port Richey office for service. That was THREE WEEKS AGO. A technician came by to add freon and indicated he would come back to check/service the unit because he didn't have the right tools to fix the issue. That was TWO WEEKS AGO. We're also concerned that if this isn't fixed, we could have issues with mold. I spoke with someone at the office two days ago and was told they'd schedule for service. Today when I called, I was told they couldn't schedule because the two technicians who could service the unit were too busy. I was given no estimate of when the unit could be serviced. This is unacceptable. I am beginning to think the company is putting me off until the warranty runs out. I need an immediate resolution to this situation or I will be forced to seek legal advice and will be contacting the Better Business Bureau. I am forced to respond through these means because I've received no help contacting the office directly.
Fecha del proyecto
mayo de 2018
Precio del proyecto
1.000 € - 9.999 €
We were having a problem with a musty smell coming from the vents. Mark came out and found that there was mold/mildew in the duct work. We ended up installing a Sani-Fi in our unit and I'm happy to say that the problem has been solved! A big thanks to Mark and US Air Conditioning for getting out here so quickly!! I would highly recommend them if you need help with your A/C!
Fecha del proyecto
enero de 2018
Precio del proyecto
1.000 € - 9.999 €
Tried US Air Conditioning & Heating since they are highly reviewed on google. Turned out to be a great decision! The tech pleasantly greeted and identified himself at the door, vehicles are clearly branded so you know your dealing with a well established company. Jason, our tech, not only correctly diagnosed the issue but made some insightful suggestions on how to keep the mold and allergens out of the ventilation system as my family is allergy ridden. Fixed the problem the first time out, and even gave a follow up call to make certain the unit was performing up to standards. I have no reservations in highly recommending this company!
Fecha del proyecto
septiembre de 2017
Precio del proyecto
1.000 € - 9.999 €
Stanley Lachowicz is a wonderful Technician very professional, kind and polite. He was able to accommodate my schedule and come to my home on a Saturday. I purchased a brand new unit 6 months ago from Stan through financing/PACE program with very low monthly payments and very reasonable pricing. I highly recommend U.S air conditioning. Thank you, Stanley, for all your help.
Fecha del proyecto
mayo de 2013
Precio del proyecto
1.000 € - 9.999 €
This is a great company to use for all your air conditioning and heating needs. My AC unit went out, and they got me up and running in record time. I would recommend them for their professionalism, fair prices and expertise.
Encuentra Servicios de climatización para hacer realidad tu proyecto
¿Cansado de leer todos los tutoriales de bricolaje? Estamos para ayudarte. En Houzz contamos con más de 1 millón de profesionales del hogar, por lo que encontrarás al Servicios de climatización de confianza adecuado para tu proyecto en New Port Richey.
Lee valoraciones de particulares como tú en New Port Richey
Lee las valoraciones de los propietarios antes de contratar a un Servicios de climatización que te ayude con un proyecto en New Port Richey. Si tiene preguntas, lee las valoraciones de otros propietarios o dirígete a la sección de consejos para obtener una segunda opinión.
Contacta fácilmente con Servicios de climatización
Si estás navegando por Houzz y tienes a un profesional en mente, te darás cuenta que solicitar un presupuesto es más fácil que nunca. Desde tu panel de control podrás administrar todas las solicitudes que mandaste a Servicios de climatización.
Servicios de climatización en España