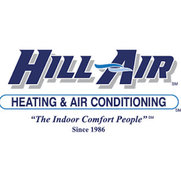 HILL-AIR HEATING & AIR CONDITIONING
3 premios Houzz
2 insignias Houzz
https://www.houzz.es/pro/priscilla3554 copiada al portapapeles
When it comes to indoor comfort, you and your family deserve only the best. But you also want a quality heating and air conditioning system that provides value as well as comfort. This is where Hill-Air Heating and Air Conditioning comes in. We're proud of our years of service in Fairfield, providing residential and commercial customers alike with complete sales, service, and installation of high-quality heating and air conditioning systems from Carrier. Our full-service mechanical technicians are on the job quickly, thanks to our fleet of radio-dispatched trucks. And at Hill-Air Heating and Air Conditioning, we repair all makes and models. Be sure to ask your Hill-Air Heating and Air Conditioning representative about the availability of financing which can help you make your dream of year round comfort come true.
Servicios prestados:
Air Conditioning Installation, Air Conditioning Repair, Furnace Cleaning, Furnace Installation, Furnace Repair, Gas to Electric Conversion, Geothermal Heat Pump, Heat Pump Installation, Heat Pump Repair, Heating Repair, Heating Sales, Heating System Installation, Humidifier Installation, HVAC Installation, HVAC Repair, Oil to Gas Conversion, Thermostat Installation, Thermostat Repair
Zonas de trabajo
Blue Ash, Cincinnati, Deer Park, Evendale, Fairfield, Finneytown, Forest Park, Glendale, Hamilton, Kenwood, Liberty Township, Mason, Montgomery, Mount Healthy, Mount Healthy Heights, North College Hill, Northgate, Pleasant Run, Reading, Sharonville, Springdale, West Chester, Wyoming
3 proyectos de HILL-AIR HEATING & AIR CONDITIONING
Escribe una valoración
143 valoraciones para HILL-AIR HEATING & AIR CONDITIONING
Usuario de Houzz-41143252
Hill-Air made the replacement of our furnace a simple yet reliable task. The sales rep guided us through the selection of the proper model to suit our home and the installation crew was on-time, professional and safe. Hill-Air installed the original equipment when we built our house and we have always trusted them to service and repair our system.
Hill-Air's serviceman did a great job servicing our Carrier unit this spring. We are enjoying the cool this summer thanks to the professional, efficient service. Appreciate this company.

Comentario de HILL-AIR HEATING & AIR CONDITIONING:
Thank you for your positive comments about Hill-Air. We strive to provide excellent customer service, training and support so we can bring you the best service possible. Thank you again for the opportunity and we will continue to work hard to please you and look forward to serving you in the years to come.
We needed to convert from electric baseboard heat and window unit air conditioners to central heating and air conditioning in our existing home. This required all duct work, vents, furnace, central air conditioner, gas line, etc. to be installed new. Hill-Air was the only company I contacted that would do this type of complete installation in and existing structure. Roy H. came out and did a thorough analysis of our home and our needs and presented us several options that would meet our needs. Roy kept in contact throughout the installation and setup of the heating and AC. Ron T. did the complete installation and setup. His work was exceptional. I watched Ron do the majority of the installation and could tell he had extensive experience and the highest quality standards. I would highly recommend Hill-Air for all HVAC needs and services.

Comentario de HILL-AIR HEATING & AIR CONDITIONING:
Thank you for choosing Hill-Air and for sharing your comments on the exceptional work our team did to meet your design needs. As you noted, this was not an easy design and installation. Thus, it required outstanding and experienced HVAC people like Roy and Ron. Both of these men represent the talent and high quality performance of our other Hill-Air team members. Thank you again for your kind words and commitment to Hill-Air. We will share your comments with our team.

I highly recommened Hill-Air for all of you HVAC needs. They originally responded to my service call promptly. After assessing the issue with my 26 year old system (which they originally installed in 1994) I was given a few options and decided to replace both units. Within two days they had a full crew at my house installing both units. I was impressed with their timeliness and attention to detail. Overall, I am thoroughly impressed by Hill-Air and the products/services they supply.
Hill-Air has been our "go to" provider for years. They're always punctual, clean, efficient and courteous! Price and professionalism are second to none.
Knowledgeable technicians, fair pricing very efficient. I've used Hil-Air for the past 30 years. The technician explained the process. Always received free
Very happy Great Prompt Service will use again Clean and Professional Had the correct fan motor on his truck swap out in no time
We were very impressed with how quickly a technician was sent to our home to correct our problem. Once Jesse arrived, he diagnosed what was wrong and fixed it immediately. He also had a wealth of knowledge and was able to sign us up for the yearly Preventative Maintenance Plan that the company offers. We look forward to a long relationship with Hill Heating & Air Conditioning.
Provided a very quick response time when our air conditioner went out. The technician was very professional and quick to provide a diagnosis
New customer for maintenance program. Hill- Air came out in timely manner and performed semi-annual maintenance on our air conditioning unit. Very please with their service.
Great customer service. Very helpful. Technician explained the service/ repairs necessary at the time and why it was needed. Very patient answering my questions.
We called on a Sunday and a technician was at our home within an hour. He was very professional and was able to diagnose and repair the problem within an hour of arrival. We were very impressed with the service!
Ver todas las 143 valoraciones
Encuentra Servicios de climatización para hacer realidad tu proyecto
¿Cansado de leer todos los tutoriales de bricolaje? Estamos para ayudarte. En Houzz contamos con más de 1 millón de profesionales del hogar, por lo que encontrarás al Servicios de climatización de confianza adecuado para tu proyecto en Cincinnati.
Lee valoraciones de particulares como tú en Cincinnati
Lee las valoraciones de los propietarios antes de contratar a un Servicios de climatización que te ayude con un proyecto en Cincinnati. Si tiene preguntas, lee las valoraciones de otros propietarios o dirígete a la sección de consejos para obtener una segunda opinión.
Contacta fácilmente con Servicios de climatización
Si estás navegando por Houzz y tienes a un profesional en mente, te darás cuenta que solicitar un presupuesto es más fácil que nunca. Desde tu panel de control podrás administrar todas las solicitudes que mandaste a Servicios de climatización.
Servicios de climatización en España
Servicios relacionados