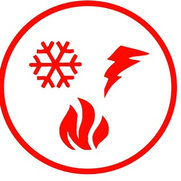 Allred Heating, Cooling, and Electric
1 premio Houzz
2 insignias Houzz
Coste medio de los trabajos:
100 USD - 5.000 USD

https://www.houzz.es/pro/service654 copiada al portapapeles
We serve the Federal Way area and Puget Sound with Heating and Air Conditioning. There are so many options for keeping your home comfortable and safe. Allred Heating, Cooling and Electric is a "one-stop shopping" place for these needs. It is important to Allred is to establish an ongoing relationship with their customers and you'll be impressed with our fast, friendly and fairly priced service. We offer ongoing maintenance services with affordable monthly payments. You will be treated the way we prefer to be treated! We have business hours Monday through Friday or can schedule you in on weekends if you have an emergency. Losing heat or cooling, or worse yet your electrical system isn't something you want to wait two or three days to have fixed. From selection of your equipment to installation to service and repairs, we'll be there for you with honesty, integrity, and skill.
Servicios prestados:
Air Conditioning Installation, Air Conditioning Repair, Dryer Vent Cleaning, Furnace Cleaning, Furnace Installation, Furnace Repair, Heat Pump Installation, Heat Pump Repair, Heating Repair, Heating System Installation, HVAC Inspection, HVAC Installation, HVAC Repair, Thermostat Installation, Water Heater Installation, Water Heater Repair, Electrical
Zonas de trabajo
Algona, Auburn, Covington, Dash Point, Des Moines, East Hill-Meridian, Edgewood, Federal Way, Fife, Fife Heights, Fircrest, Kent, Klahanie, Lake Morton-Berrydale, Lakeland North, Lakeland South, Lea Hill, Milton, Normandy Park, North Puyallup, Pacific, Puyallup, Renton, Ruston, SeaTac, Sumner, Tacoma, Waller, Puget Sound
3 proyectos de Allred Heating, Cooling, and Electric
Escribe una valoración
50 valoraciones para Allred Heating, Cooling, and Electric
Highly recommend this company. Easy to get an appointment and arrives within time frame. Excellent service. I would use them again.
I had a part of the heating system that lights the pilot light replaced. It was very good and fast service to find out the problem and get it fixed.
Matt was very helpful in helping us complete a lighting project in our home including some other electrical work. We were very satisfied with Matt's work. He made sure to address all our concerns and we were very happy with the final result!
We shopped around extensively to find the most reliable company at the best price and found it with Allred. They gave us an estimate first and when we approved they did the work of replacing our under the house furnace and repairing some of the connecting duct works. The workers were fast and efficient, and answered all our questions. And this year after a winter with no complaints whatsoever about our new furnace, Allred contacted us and made an appointment to come out and replace the filter on the furnace, They had promised to do this annually, but we thought for sure we'd have to remind them We coulded be more pleased with their service.
Very professional company. Personnel is knowledgeable, courteous. Responses to inquiries, service requests have always been prompt. Charges are fair, without additional items added to the bill. We are very happy to have them as our go to company when we have a mechanical issue.
We hired Allred to inspect ductwork and replace a furnace and hot water tank. We ended up having them also run gas lines and installing a gas fireplace. They were always professional and respectful of the home and their prices were much less than we expected they would be. We are general contractors who purchase and rehab homes for a living. We absolutely will call them for all our future projects and highly recommend them.

Our furnace quit working and we called Allred and they came out the same day. Got it working again for a very reasonable amount. We were very much satisfied with their work and would call them again if we had any problem.
I had Allred Heating and Cooling put in a Mitsubishi Split Heat Pump in one of our buildings. It was a problem building for me, with the clients running heaters in the winter, and air conditioners in the summer, they were knocking out their computers with heavy power draws. The new heat pump draws way less current, and maintains much better temperature control. As other equipment requires replacement, Allred is my choice to handle the replacements.
They were very nice and very professional. The furnace is very efficient and I'm already seeing the saving on the gas bill. Thanks guys
I was very happy with the furnace tune-up that I received last year. The technician was very polite and arrived on time. He left the work area clean and the furnace has function well.
I have used Allred a couple of times, and in both instances they were professional, prompt, helpful, and got the job done. The second time they came out was a very tricky thermostat replacement which also became a light switch swap too. They went above and beyond to take the extra time to get the job done right - and everything looks and works great now!
Allred Heating did an excellent job of correcting several minor issues with the HVAC in a house we had recently purchased. It was a small job for them but the responded quickly and took care of all the issues immediately.
Ver todas las 50 valoraciones
Encuentra Servicios de climatización para hacer realidad tu proyecto
¿Cansado de leer todos los tutoriales de bricolaje? Estamos para ayudarte. En Houzz contamos con más de 1 millón de profesionales del hogar, por lo que encontrarás al Servicios de climatización de confianza adecuado para tu proyecto en Federal Way.
Lee valoraciones de particulares como tú en Federal Way
Lee las valoraciones de los propietarios antes de contratar a un Servicios de climatización que te ayude con un proyecto en Federal Way. Si tiene preguntas, lee las valoraciones de otros propietarios o dirígete a la sección de consejos para obtener una segunda opinión.
Contacta fácilmente con Servicios de climatización
Si estás navegando por Houzz y tienes a un profesional en mente, te darás cuenta que solicitar un presupuesto es más fácil que nunca. Desde tu panel de control podrás administrar todas las solicitudes que mandaste a Servicios de climatización.
Servicios de climatización en España
Servicios relacionados