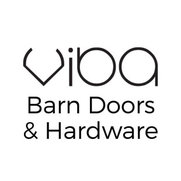 4 premios Houzz
2 insignias Houzz
Contacto:
Brad
Mississauga, Ontario L5J 2K7
Canadá
Coste medio de los trabajos:
140 USD - 1.500 USD

https://www.houzz.es/pro/vibabarndoors copiada al portapapeles
Viba hardware is a direct to consumer sliding door and hardware company. We specialize in internet sales of barn doors and barn door hardware
Servicios prestados:
Custom Interior Doors
Zonas de trabajo
Mississauga, Canada, United States
Escribe una valoración
7 valoraciones para Viba Hardware Inc.
After 6 weeks our doors arrived with all closure equipment. 5 boxes of unassembled doors. This is not for the faint hearted. They say they assemble the doors at the factory and then disassemble them for shipping. Crazy!! Charge the client for shipping the doors assembled! Saves a lot of time and agro. Took 2 skilled contractors 4.5 hours to assemble the doors and instal them in my home. Soft closure instructions poor. Doors look amazing but they are pine and not heavier wood. Be advised. This is a 2 or 3 person install . I would recommend Viba but you must be aware of a 6 week order lead time and the requirement of assembly and install. Thanks for some pretty cool looking doors Brad
20 de Julio de 2019
Última modificación:

20 de Julio de 2019
We looked everywhere to find a high quality reasonably priced sliding barn door. Lo and behold, we came across the VibaHardware website. Here's why they earned 5 stars: 1. customer service - quick responses to email and phone calls; helped guide the process 2. soft close feature - this thing is slick; no slamming of doors or fingers 3. high quality hardware - strong, durable, and relatively easy to install 4. instructions - directions and online videos makes it easy for not-so-handy men 5. beautiful - absolutely gorgeous; door looks better quality than rest of our house! If you know of anyone looking for a sliding barn door, Viba Hardware is the place. I only wish that their website was easier to find on searches.


First off, my sincere thanks to Brad for his phenomenal level of communications and eagerness to build us exactly what we were looking for. Brad instilled confidence in our purchasing online through his company and from start to finish, delivered a high level of service and a superior quality product. I have since recommended Brad's company to several other friends and house contractor companies that I've worked with. I have no hesitation in recommending Brad's services to anyone. You will be thoroughly pleased as we have been.

I would like to thank Brad Elkins for a quick delivery of 2 sets of soft closers and they were a very good quality and a little challenge to install but when the project was all done they look Amazing and works well.This Company is a 5 star in my books.The instructions would be better with a little more info on directions.

Extremely pleased with the service and quality of workmanship I received from Viba Hardware! Very easy to work with, responsive, built my door to spec and the turn around time was impressive. The door was pre-stained perfectly and very easy to transport and assemble. All packaging was professional with all parts required and clear instructions. The soft close feature is a must have and we absolutely love it!
After calling around to quite a few different companies I chose to purchase a barndoor from Brad at Viba Hardware for a few reasons. 1) Viba Hardware had an amazing price that couldn't be matched by other companies 2) The door was ready within days, including custom painting, rather than weeks with other companies 3) Brad was able to work through a tough fit, and came up with a great solution for my unique wall 4) Brad was extremely patient, helpful, and easy to contact - even after the door was picked up - for questions we had with installation. 5) Viba Hardware offered a soft close door - the only company I found to offer it without adding a huge cost to the door. My husband and I installed the door in about an hour and a half (and we aren't handy people at all - really clear and easy instructions) and really enjoy it. It was a great solution for our room, adds a fun design element, and we've already had complements on it from friends. I highly recommend Viba Hardware.
Relación
Found this company online while searching for hardware to hang a barn door.
Brad was knowledgeable, eager to please and responded quickly with our door. Shipped reasonably well considering it had to travel across the country. A couple of fragile wood pieces were damaged but Brad had included a couple of extras in case of damage during transport. Worked out well. The door itself is beautiful and reasonably easy to put together. Will provide photos to Brad.
Encuentra Empresas de puertas para hacer realidad tu proyecto
¿Cansado de leer todos los tutoriales de bricolaje? Estamos para ayudarte. En Houzz contamos con más de 1 millón de profesionales del hogar, por lo que encontrarás al Empresa de puertas de confianza adecuado para tu proyecto en Mississauga.
Lee valoraciones de particulares como tú en Mississauga
Lee las valoraciones de los propietarios antes de contratar a un Empresa de puertas que te ayude con un proyecto en Mississauga. Si tiene preguntas, lee las valoraciones de otros propietarios o dirígete a la sección de consejos para obtener una segunda opinión.
Contacta fácilmente con Empresas de puertas
Si estás navegando por Houzz y tienes a un profesional en mente, te darás cuenta que solicitar un presupuesto es más fácil que nunca. Desde tu panel de control podrás administrar todas las solicitudes que mandaste a Empresas de puertas.
Puertas en España
Servicios relacionados