Sobre nosotros
Greater Los Angeles Area Window and Door Specialist
Agoura Sash & Door is a successful Windows, Doors, Design, Hardware, and home improvement retailer to homeowners, builders, designers and contractors. With over 25 years of contracting and building expertise, we know the products and the installation. Our 10K sq ft design showroom displays all the best from Andersen/Eagle, Kolbe-Kolbe, Milgard, Marvin, Fleetwood, Emtek, AG Millworks, Windsor and much more.
Servicios prestados:
Custom Doors, Door Installation, Door Sales, Exterior Door Installation, Sliding Door Installation, Windows, Window Installation, Skylights, Door Hardware, Cabinet Hardware
Zonas de trabajo
Agoura, Agoura Hills, Brandeis, Calabasas, Camarillo, Casa Conejo, Malibu, Moorpark, Newbury Park, Oak Park, Santa Susana, Simi Valley, Somis, Thousand Oaks, Westlake Village, Santa Monica, Beverly Hills, Pacific Palisades
Premios:
All licensed for contracting and glazing (C & C-17)
Volver a navegación
Nuestros artículos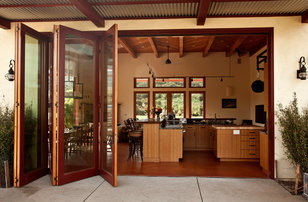 Artículo patrocinado
A Westlake Village window and door expert sheds some light on ways to brighten your space
Artículo 1 de 1
Volver a navegación
Volver a navegación
Credenciales
2 premios Houzz
4 insignias Houzz
Volver a navegación
Escribe una valoración
7 valoraciones para Agoura Sash & Door, Inc.
Puntuación media: 5 de 5 estrellas
5.0
|
7 valoraciones

Agoura Sash and Door has done many different jobs at my house. They replaced my sliders (twice), new front door, hardware and new windows. I would highly recommend them to anyone. This company has a great staff from the time you start with them till the job is complete. The office staff and sales people are extremely knowledgeable about their products. The installers are very professional and leave the job site just as clean as when they started. I gave them a 5 star because I have never in the last 25 years of using them been disappointed with the company.
Agoura Sash &Door is the top shop in the Conejo Valley for windows, doors, hardware and more. Excellent service and selection.

We shopped around at alot of different window and door locations before buying the ones we loved. I have to say the staff and service here is outstanding. We are really pleased to have found them. Thurston family
We had Bi-Folding Sliding Doors installed from Agoura Sash & Door. My husband and I are very pleased with the service & work! The centerpiece doors open up the living room flow into the backyard patio nicely and we are always complimented on them when entertaining. AS&D - Knowledgeable service, great craftsmanship and the installation was efficient.
Relación
Supplier of windows and doors on many projects.
Agoura Sash and Door is a first class business and takes care of their customers by offering the best products as well as professional support before and after the sale. You can see many product options in their beautiful showroom. The Smith family has earned a good reputation and runs their business with integrity.
I hired Agoura Sash and Door recently to replace some very old and useless door handles for my endless amount of french doors. They did an incredible job matching my existing handles quickly and efficiently. Within a week of my calling them to see if they could do the job, they had ordered and installed new, beautiful handles! I have used them repeatedly over the years and have always had the most professional and timely service, no matter how big or small the job is. They really are the best!
Agoura Sash & Door installed all my crown moldings, windows and doors. I also purchased knobs and handles from them. They have an amazing selection of products. They have a welcoming atmosphere showroom with a very knowledgeable staff. The workers who came out to my home for installation were neat, friendly, on time, and professional. I will use them for future home improvement projects and always refer them to friends and family. They have been in my area for years and continue to be because of the quality of materials, workmanship and excellent service they provide.
Volver a navegación
Volver a navegación
2301 Townsgate Rd.
Westlake Village, CA 91361
Coste de trabajo medio 1.000 USD - 2.000.000 USD

Número de licencia B-797957