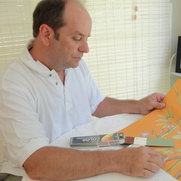 Linke's Painting to Wallcoverings
3 premios Houzz
2 insignias Houzz
Contacto:
Bill Linke
New Milford, CT 06776
https://www.houzz.es/pro/linkespainting copiada al portapapeles
We are a professional residential painting and commercial painting company located in historic Litchfield County in Connecticut (CT). For over 25 years we have been striving and perfecting our craft in all phases of house painting and paperhanging applications to help bring excellence and success into your next paperhanging and house painting project. We have a simple but important philosophy: Value over time. Our results reflect our commitment to developing and maintaining long-term relationships built upon trust. Many of Linke's Painting to Wallcoverings customers are benefiting from a twelve to fourteen year life of a beautiful exterior and interior finish, with minor annual touch ups to maintain the value and attractiveness of their Connecticut homes. The value of our services simply cannot be matched by contractors who don't take the time to do it right. We hope that when you check our references - and those of our competition - you will ask "How long was it before you thought about re-painting?"
Servicios prestados:
Ceiling Painting, Color Consulting, Deck Staining, Decorative Painting, Door Painting, Drywall Installation, Drywall Repair, Drywall Texturing, Exterior Painting, Faux Painting, Interior Painting, Lead Paint Removal, Paint Removal, Plaster Repair, Plastering, Popcorn Ceiling Removal, Texture Painting, Wall Stenciling, Wall Upholstery, Wallpaper Installation, Wallpaper Removal, Pressure Washing
Zonas de trabajo
Bantam, Bridgewater, Brookfield, Gaylordsville, Heritage Village, Kent, Lakeside, New Milford, New Preston, New Preston Marble Dale, Roxbury, Sherman, South Kent, Southbury, Washington, Washington Depot
Premios:
Lead Safe EPA Certification# NAT-87965HIC (Home Improvement Contractor) HIC - 580459
4 proyectos de Linke's Painting to Wallcoverings
Escribe una valoración
8 valoraciones para Linke's Painting to Wallcoverings
Fecha del proyecto
junio de 2019
Precio del proyecto
10.000 € - 49.999 €
This review is long overdue. Bill Linke was highly recommended by friends, and my husband and I are very happy that we followed their advice. We contracted with him to paint our large home, a challenging and difficult job. At his initial visit, he walked around the entire house with us, pointing out what repairs should be made prior to painting. When he sent his estimate, he gave us a tentative start date and estimated duration of work to complete the job, approximately six weeks. His crew showed up on schedule, and the job took slightly over six weeks, only because his crew discovered areas of wood rot that were under the two-story roof-line, requiring additional repairs. The estimate was accurate. Bill was there painting and supervising most days. There was never a day, unless it was raining, that he didn't have someone working on our house. I cannot emphasize enough how professional, considerate and delightful every single person working on the job was. Long-time employees, they were meticulous in their work. They were incredibly neat, and cleaned everything up at the end of every day. Our home is surrounded by gardens, many of which border the house. The painters left not a speck of paint nor dust in the beds, despite having to sand most of the house. Our plantings were undamaged. We appreciated Bill's advice on color choices - he has a wonderful eye for color. We are looking forward to having him return this winter for interior painting and window repairs. Our house is beautiful now!

Fecha del proyecto
enero de 2017
Precio del proyecto
10.000 € - 49.999 €
Linke's Painting to Wallcoverings and Bill Linke are amazing. They went well beyond just painting my 5600 square foot house. Bill helped select the colors and the color coordination. He also advised on other construction and decoration decisions in the house. The job was completed on time and on budget both very important. The work was flawless and he is always available for touch ups. I live in NYC and have contracted several painters over the years in NYC and Westchester County but i have never encountered better quality work and service than i found with Bill . I recommend him enthusiastically and without reservation to anyone and everyone. I am even trying to figure out how to get him to come to NYC to work on my apt.
Fecha del proyecto
abril de 2017
Precio del proyecto
1.000 € - 9.999 €
Bill Linke and his crew are more than top of the line house painters. They are knowledgeable in the "proper" way to fix those ceiling lumps, wall cracks, wooden panels, stuck doors, etc. Then Bill will surprise you with his artistic sense of colors while making sure the client's needs are met. I could not be happier with the superb job they did in making my house look beautiful and new again! Linke Painting is an extremely professional, skilled and ethical contractor to work with. They delivered quality work on time and within budget.
20 de Abril de 2017
Última modificación:

20 de Abril de 2017
Fecha del proyecto
noviembre de 2016
Precio del proyecto
1.000 € - 9.999 €
Bill was very professional, neat, and was very proficient with different types of paper. I had grasscloth installed and could not be happier with the results. Do not hesitate to contact him.


Fecha del proyecto
octubre de 2016
I was very pleased with the work completed by Linke's Painting. They did an excellent job painting my cabinets in the kitchen and removing wall paper and painting the dining room. I would definitely hire them again.
Fecha del proyecto
agosto de 2016
Precio del proyecto
1.000 € - 9.999 €
Bill Linke is a skilled professional, who did a splendid job wall papering and painting our master bathroom. He was meticulous in his preparation and finished within the estimated time frame. It was a pleasure to have such a hard working professional in our home and he was most conscientious in cleaning up after each day's work.
Fecha del proyecto
agosto de 2015
Precio del proyecto
1.000 € - 9.999 €
This was a major kitchen project. I was apprehensive about painting oak cabinets and Bill worked with me from start to finish. He is a master at color selection and I am beyond thrilled with the results. I also had the guys back early this year to do some additional painting. His price was quite competitive and you can't beat the quality of his work. Bill and his crew were professional and courteous.
I am a professional interior designer with a very discerning clientele for forty years. I first met Bill Linke thirty years ago, and he has been my go-to painting contractor ever since. Bill has extremely high standards in terms of his performance and finished product, and in terms of his skilled staff. He has extremely high standards in terms of business practice and professionalism. Bill maintains a very current understanding of painting products and techniques; he is a well-spring of good advice. I have always been proud to introduce Bill Linke to my clients, and they have 100% of the time been extremely pleased with his work. Beside all of this, Bill is a lovely man.
11 de Julio de 2016
Última modificación:

11 de Julio de 2016
Encuentra Pintores y empresas de decoración de paredes para hacer realidad tu proyecto
¿Cansado de leer todos los tutoriales de bricolaje? Estamos para ayudarte. En Houzz contamos con más de 1 millón de profesionales del hogar, por lo que encontrarás al Pintores y empresas de decoración de paredes de confianza adecuado para tu proyecto en New Milford.
Lee valoraciones de particulares como tú en New Milford
Lee las valoraciones de los propietarios antes de contratar a un Pintores y empresas de decoración de paredes que te ayude con un proyecto en New Milford. Si tiene preguntas, lee las valoraciones de otros propietarios o dirígete a la sección de consejos para obtener una segunda opinión.
Contacta fácilmente con Pintores y empresas de decoración de paredes
Si estás navegando por Houzz y tienes a un profesional en mente, te darás cuenta que solicitar un presupuesto es más fácil que nunca. Desde tu panel de control podrás administrar todas las solicitudes que mandaste a Pintores y empresas de decoración de paredes.