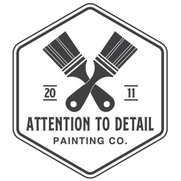 Attention to Detail Painting, LLC
3 premios Houzz
4 insignias Houzz
Contacto:
Juan Romero
St. Petersburg, FL 33704
Coste medio de los trabajos:
2.500 USD - 20.000 USD

https://www.houzz.es/pro/attentiontodetailtampabay copiada al portapapeles
Descubre mi vídeo destacado
St. Petersburg's High Quality Interior and Exterior Painting Services
page_type: prop_plus_profile
Attention to Detail Painting provides high-quality interior and exterior painting, as well as other wall solutions. If you have an idea in mind, we can put it on your walls. If you don't, we can help you with a free, professional opinion on how best to redecorate your walls. Painting is much more than just plain colors. Visit our services page for ideas of what you could do to your house. Sometimes you may want a clean, smooth, simple finish in your living room. Other times, you feel like something creative, to give your space a different spice. We can help you fulfill your ideas in the form of colors and textures. Our management works with very high standards of quality. We don't believe in getting the job done quickly to collect payment. To do that, we would have to cut corners and sacrifice the quality of the finish. We take every step very carefully to not only meet but exceed your highest expectations. A good painter does more than just painting. We promise not only the best application but also the best service. We clean up after ourselves every day as to not interrupt your day to day life. We also promise to adapt to your necessities, schedules, and requests. Your satisfaction is our pride. Call us now, and one of our polite, well-trained professionals will help you visualize the project that will satisfy you most. About the Owner: Juan Romero is the owner/manager of Attention to Detail Painting, LLC. He studied the art of decorative house painting in his country of origin, Spain. There he performed the trade in the popular area of Costa del Sol, in villas and high-end homes of this coastal area. He moved to the United States in 2005 and has performed his skills in the trade in New York, Chicago, Key West and the Tampa Bay, extending his knowledge and experience in the painting business. Juan is always interested in learning new techniques to add to his portfolio. He decided to start Attention to Detail Painting, LLC, where his focus is to deliver an exceptional, honest service to customers who appreciate a good paintjob.
Servicios prestados:
Cabinet Refinishing, Ceiling Painting, Deck Staining, Decorative Painting, Door Painting, Exterior Painting, Interior Painting, Paint Removal, Texture Painting, Wall Stenciling, Wallpaper Removal
Zonas de trabajo
Bay Pines, Clearwater, Feather Sound, Gandy, Gulfport, Kenneth City, Largo, Lealman, Madeira Beach, Pinellas Park, Saint Pete Beach, Saint Petersburg, Seminole, South Highpoint, South Pasadena, Tierra Verde, Treasure Island, West and East Lealman
Escribe una valoración
19 valoraciones para Attention to Detail Painting, LLC
Juan painted the walls, trim and interior doors of my condo. He did a fabulous job and was very easy to work with. I would hire him again and recommend if you are looking for this type of work.
Precio del proyecto
1.000 € - 9.999 €
Juan is a true professional. Loves his work and it shows in both his execution and results. Best painter ever. I had them paint all my inside doors, several colors involved. These are solid 10 foot doors in a two story home. They weigh a ton. All doors were removed for our home, hardware removed, sanded, primed, painted. They really had a tough job to do, and did a perfect job.
Precio del proyecto
1.000 € - 9.999 €
We used Attention to Detail for two projects - refinish wood exterior garage doors & front door - finish new pergola & refinish wood soffit in rear of house. Fantastic job! Very happy with the work performed. Juan and his team are professional and very respectful of your property and your needs. Accommodating with any changes you have as well. Definitely recommend them for whatever your painting and finishing needs are.

Precio del proyecto
1.000 € - 9.999 €
Was referred to Juan by an Industry Partner and could not be more happy with his work and professionalism! I will absolutely use him and his team in the future!

Precio del proyecto
Menos de 1.000 €
Juan did a very professional job painting several walls in my apartment. He was easy to work with and offered helpful suggestions. I would recommend his company to anyone looking for great work at a reasonable price.

Precio del proyecto
1.000 € - 9.999 €
Great company! Great people! I am a busy, long time Interior Decorator with lots of clients looking for as close to perfection as possible in their home remodel projects, and the Attention to Detail painting crew comes through for us every time! I receive incredibly positive feedback from every client who has painting projects done by Mr. Romero and staff! They are also the only painters I will ever let loose on my house, too! Love these guys!

Precio del proyecto
10.000 € - 49.999 €
We started using Attention to Detail for a small job in a rental property in Pinellas Park. The small job quickly grew to all 4 properties we own. No matter the job, Juan and his crew always came through. If there were touch ups to be done, they were completed quickly and without question. They did inside and outside jobs. They did furniture restoration and outside restorations.. They handled wood projects and concrete projects. They even did the work when a pipe broke in a rental and restored the kitchen where the leak was. Floors, walls, ceilings were all painted. Handy work completed to complete any job. They did it all. I recommend Attention to Detail to all my friends and colleagues. We used them for no less than 8 full jobs and several small piece work jobs.
Precio del proyecto
1.000 € - 9.999 €
I hired Attention to Detail Painting to paint a house I had recently purchased. This was a two story house that hadn't been painted in about 15 years so there was a considerable amount of prep work needed, plus a lot of bushes and trees to have to work around. This was not an easy job. Juan and his crew did an amazing job getting everything cleaned up and then painted. Not only were they very reasonably priced, they worked very fast. They found and alerted me to several rotten spots on my eaves and replaced the wood for me for cost. The owner even came out a couple of years later and helped repaint a couple spots that my lawn guys had chipped. Four years later, their work still holds up and looks great! I'll definitely be using them again next time I paint the house. I HIGHLY recommend Attention to Detail Painting!
Precio del proyecto
Menos de 1.000 €
My husband and I have had Juan do work on our house 3 times so far. 1- Painting / texturing our kitchen ceiling. 2- We got our front porch redone and had Juan paint it white. 3- We had our back deck redone and Juan stained it. We are completely satisfied with the work Juan has done. He is incredibly meticulous, he keeps you updated during the process, his pricing is incredibly fair. You'd be doing yourself a disservice NOT hiring him. Seriously, he should be your go-to for all your painting/staining needs.


Precio del proyecto
1.000 € - 9.999 €
My experience with Juan began when he promptly returned my phone call inquiring about painting my hallway, living room and two ceilings in a bedroom and bathroom and sealing the wood on a new casement window. It was the name of his company that attracted me because I appreciate a high quality and have a high expectation in workmanship. When we discussed the project I told Juan that I wanted the doors (7!) in my hallway taken of their hinges to remove the layers of paint (It involved soaking them overnight.) He also said that it was standard for him to remove doorhandles when painting doors. Juan and his assistant, Barrett delivered a product that exceeded my expectations and the price was fair. It was also easy to be around them, they removed what little paint splatter their was, kept work area tidy and they didn't arrive exceedingly early in the morning.
Precio del proyecto
1.000 € - 9.999 €
Couldn't be happier with the work Juan and co. have done for me over the years (the most recent project featured here on their Houzz profile). They live up to their name, the quality of their workmanship is impeccable, and Juan will always find a way to do things the right way. I recommend them with enthusiasm.
Precio del proyecto
1.000 € - 9.999 €
Attention to Detail Painting is not just a slogan. My 1920's downtown Condo was transformed into a beautiful home, previous owners were heavy smokers. Mr. Romero is a true professional as well as artistic. He was very helpful in choosing the right palette. He truly enjoys his craft. The job was done in a timely fashion and kept on budget. I never once had a complaint. Thank you Juan for a job well done.
Ver todas las 19 valoraciones
Encuentra Pintores y empresas de decoración de paredes para hacer realidad tu proyecto
¿Cansado de leer todos los tutoriales de bricolaje? Estamos para ayudarte. En Houzz contamos con más de 1 millón de profesionales del hogar, por lo que encontrarás al Pintores y empresas de decoración de paredes de confianza adecuado para tu proyecto en St. Petersburg.
Lee valoraciones de particulares como tú en St. Petersburg
Lee las valoraciones de los propietarios antes de contratar a un Pintores y empresas de decoración de paredes que te ayude con un proyecto en St. Petersburg. Si tiene preguntas, lee las valoraciones de otros propietarios o dirígete a la sección de consejos para obtener una segunda opinión.
Contacta fácilmente con Pintores y empresas de decoración de paredes
Si estás navegando por Houzz y tienes a un profesional en mente, te darás cuenta que solicitar un presupuesto es más fácil que nunca. Desde tu panel de control podrás administrar todas las solicitudes que mandaste a Pintores y empresas de decoración de paredes.