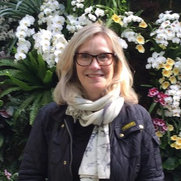 Winston Fayer Landscape Design
1 premio Houzz
3 insignias Houzz
Contacto:
Marsha Winston Fayer
Larchmont, NY
Coste medio de los trabajos:
10.000 USD - 100.000 USD

https://www.houzz.es/pro/winstonfayer copiada al portapapeles
Marsha Winston Fayer has been a passionate gardener for as long as she can remember. She spent several decades as a Fashion Designer in New York City working for many well-known brands before coming to her senses and realizing her true calling as a Landscape Designer. She studied at the New York Botanical Garden and earned her Certificate in Landscape Design. She has been designing gardens for clients throughout Westchester and New York City for over 10 years. Because of her background as a Fashion Designer, she brings a sense of urgency and professionalism to each project, as well as a refined design sensibility and heightened sense of color and texture. Winston Fayer Landscape Design creates gardens of understated elegance by integrating classic design principles that emphasize strong sight lines, color harmonies, contrasting textures and sensory stimulation. We believe that beautiful outdoor spaces enhance and enrich our lives.
Servicios prestados:
Custom Bocce Ball Courts, Custom Fire Pits, Deck Design, Garden Design, Hardscaping, Landscape Design, Landscape Plans, Patio Design, Pool Landscaping, Project Management, Site Planning
Zonas de trabajo
Bronxville, Greenwich, Harrison, Larchmont, Mamaroneck, New Rochelle, Old Greenwich, Rye, Rye Brook, Scarsdale, Purchase
Premios:
APLD (Association of Professional Landscape Designers); LDSA (Landscape Design Students and Alumni of NYBG); Native Plant Center (Westchester Community College); The Garden Conservancy; Sheldrake Environmental Center
Escribe una valoración
11 valoraciones para Winston Fayer Landscape Design
We worked with Winston Fayer Landscape throughout 2018 and 2019 on a full redesign of our landscape, front walk, and gate. Not only did it turn out more beautiful than our wildest dreams, her patience, organization and care made it all a great experience. Each decision from plants to lighting to hardware was clearly presented in terms of design and cost. We moved incrementally (at my request) to see how our family used the space, in preparation for the next project. And the implementation was seamless thanks to her tireless efforts. We can't wait to work with her on future projects.




A garden at the entrance to our property was overgrown and needed to be completely redesigned. Marsha developed a plan, selected plants and oversaw the installation. She was a pleasure to work with and the result of her efforts are terrific. I highly recommend her.
Marsha did a fabulous job with our garden design project in 2018. She spent the time to understand our current landscaping, she listened our objectives and gave us designs that incorporated what we had with her wonderful new idea's. Her designs brought the gardens and pots to life and have created a lasting garden that is such a pleasure to live with.
Winston Fayer did a wonderful job designing and supervising the landscaping of our property. Marsha listened to our needs and provided creative and cost effective solutions to the project. She worked with the crew to make sure the planting were done correctly and followed up with us to trim and make sure everything was perfect.
I worked with Marsha over the course of two years. She knows plants, but her business etiquete leaves a lot to be desired. After spending thousands of dollars on our gardening project, she send a nasty email about not receiving payment for a couple of hundred dollars. Calling us "ridiculous" for not paying. The money was sitting in her Venmo account all along, but she had no clue she had to transfer the funds to her bank account. No apology was forthcoming. She also buys all plants at a profit ( in our case she inflated all plant costs by 33%). The client is not aware of this of course. My husband is good with Excel and was able to pull this up from a spreadsheet she had sent. We continued to work with her despite finding out about this until she had the gall to say she wasn't making any money on our project and would not be finishing the job. I would not recommend her services!

I cant say enough about working with Marsha. She has an exceptional eye and was able to create us a beautiful and modern outdoor living space. From the hardscape to landscape and a fabulous fence Marsha pulled off a complete transformation. She is responsive, a great communicator, resourceful and just a delight to work with. She can work with any space and style and was able to bring in essences of our SoCal heritage into an east coast garden. She also worked with us to find plants that don't attract bees so we could have flowers without the risk of my bee allergy. She took time to really listen to us, to learn how we wanted to use our space to and work with us on all finishing touches including the furniture. She is the best!!!!


Marsha is so easy to work with. She is a collaborative designer and will partner with you to design just the right garden for you. I worked with her on two big projects and have been delighted with the results both times. I am someone who loves things that flower, but I don't want to spend my time gardening. She created a self-sustaining garden for me that blooms all summer long. I could go on and on, but let's leave it that if you hire Marsha, you'll be thrilled with the results.
We hired Marsha to redesign our entire landscaping after our renovation, including front yard, back and side yards, patio and deck area. We knew we were in good hands at our first meeting when Marsha came prepared with a power point presentation on her laptop to review many of the different flowering plants, shrubs and trees that grow in our area. Through this exercise she was able to get a sense of what we liked and disliked and it was a perfect starting point for us. Our project was completed over a year ago and our landscaping looks fabulous! I've reached out to Marsha a few times during the last year with follow up questions and she has been just as responsive and helpful as she was when we worked together. The plants and trees she chose and planted for us are healthy and thriving. Excellent experience from start to finish with Marsha Winston Fayer!
Marsha is a talented professional who brings her fashion design experience to her of garden projects. She has a great design aesthetic and recommends interesting and appropriate plantings. She has done two projects for me - the first design provides interest in the front corner of our property -- a thriving Montgomery Blue Spruce anchors the area and is surrounded by, among other species, brilliant knockout roses. The second project involved walkway beds of native species only (Mountain Mint, Milkweed, Prairie Dropseed, Purple Asters and Salvia). If you are looking for some interesting and sophisticated, chose Winston Fayer.

I hired Marsha when we finished a gut renovation of our home and the yard needed massive help. With all the construction and trucks that entered in our yard, it was a big mess. I spoke with a few landscape designers and ended up hiring Marsha and I am so glad I did. She listened to what I wanted and created a beautiful landscaped yard for to enjoy. We are so very happy and highly recommend her. In fact, a few of my neighbors have used her and loved the results as well. Thank you, Marsha. Our house is now complete.
Marsha is wonderful to work with. She is both knowledgeable and creative. Before working with her, I met with other designers and tried a few suggestions for the landscaping in the front of my house and in the back yard. Nothing seemed to work or grow well. After meeting with Marsha, she came up with a simple plan that transformed my ho-hum back yard into warm and inviting. I get tremendous pleasure from the "new look" she created for my house. In addition to her terrific ideas, she worked with plants I had purchased previously, moved them around, and found better places for them. She then added new plants and a new design concept, and pulled it all together!
5 de Agosto de 2018
Última modificación:

5 de Agosto de 2018
Encuentra Paisajistas y diseño de jardines para hacer realidad tu proyecto
¿Cansado de leer todos los tutoriales de bricolaje? Estamos para ayudarte. En Houzz contamos con más de 1 millón de profesionales del hogar, por lo que encontrarás al Paisajistas y diseño de jardines de confianza adecuado para tu proyecto en Larchmont.
Lee valoraciones de particulares como tú en Larchmont
Lee las valoraciones de los propietarios antes de contratar a un Paisajistas y diseño de jardines que te ayude con un proyecto en Larchmont. Si tiene preguntas, lee las valoraciones de otros propietarios o dirígete a la sección de consejos para obtener una segunda opinión.
Contacta fácilmente con Paisajistas y diseño de jardines
Si estás navegando por Houzz y tienes a un profesional en mente, te darás cuenta que solicitar un presupuesto es más fácil que nunca. Desde tu panel de control podrás administrar todas las solicitudes que mandaste a Paisajistas y diseño de jardines.
Paisajistas y diseñadores de jardines en España