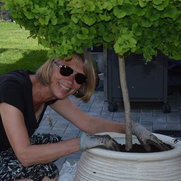 Mary Haggerty Designs
Valórame
Victoria, British Columbia, Canadá
https://www.houzz.es/pro/mary-haggertydesigns/ copiada al portapapeles
2 premios Houzz
3 insignias Houzz
Coste medio de los trabajos:
3.000 CAD - 250.000 CAD

South Vancouver Island's Full-Service Landscape Designer
page_type: prop_plus_profile
Mary Haggerty Designs is a full service Landscape Designer/Contractor in Victoria, BC. With 30+ years experience in the field of architectural drafting and design, kitchen design, interior design and colour theory, and landscape design, Mary Haggerty Designs provides a very high standard of customer service and is extremely detail oriented with an excellent ability to plan ahead and manage time wisely. We are also experienced in many design oriented fields with emphasis on landscape design, kitchen and architectural design and drafting, and materials estimating and specification. We can provide Custom Dynascape CAD work for developers and contractors! Please contact us for more information and samples! Lively, inspired designs based on your needs; with an emphasis on structural integrity, sustainability, and ease of maintenance. We look forward to working with you on your next landscape project! 'A garden is a reflection of the stars in the sky' - Egyptian hieroglyphic
Servicios prestados:
Custom Water Features, Deck Design, Drafting, Drought Tolerant Landscaping, Edible Gardens, Garden Design, Gazebo Design & Construction, Landscape Design, Landscape Plans, Living Walls, Organic Gardens, Patio Design, Pond Construction, Pool Landscaping, Project Management, Shed Design & Construction, Site Planning, Architectural Design, Custom Dynascape CAD Work, Custom Drafting
Zonas de trabajo
Victoria, Sidney
Premios:
Creating Landscapes Diploma (Hons) - University of Guelph, Ontario Peer Tutor - Designing the Landscape - University of Guelph
Escribe una valoración
10 valoraciones para Mary Haggerty Designs
Fecha del proyecto
julio de 2019
Precio del proyecto
10.000 € - 49.999 €
Mary was always accessible, accommodating and listened well to our ideas. She contributed ideas of her own, which resulted in an improvement to our design. We already had a plan worked out (hence 4 stars rather than 5, as we didn't need her design services) but without Mary, we wouldn't have gotten our project done at all. We will recommend Mary and her team to our friends and neighbours in future.
Fecha del proyecto
mayo de 2019
Precio del proyecto
1.000 € - 9.999 €
MARY IS VERY KNOWLEDGEABLE AND PROFESSIONAL. I ENJOYED WORKING WITH HER, SHE IS VERY CREATIVE, SHE PROVIDED US WITH A DETAILED GARDEN DESIGN THAT ADDRESSED OUR SPECIFIC NEEDS AND WISHES. SHE MET ALL THE DEADLINES WE ESTABLISHED, WENT ABOVE AND BEYOND TO SOURCE SPECIFIC PLANTS AND COMPLETELY TRANSFORMED OUR GARDEN. I COULD NOT BELIEVE HOW SMOOTHLY THE PROCESS WENT IN 4 WEEKS WE HAD A LOVELY GARDEN SPACE. I HIGHLY RECOMMEND MARY AND HER TEAM!
3 de Mayo de 2019
Última modificación:

3 de Mayo de 2019
Fecha del proyecto
noviembre de 2018
Precio del proyecto
1.000 € - 9.999 €
My mother was an avid gardener and spent much of her time creating her own little oasis in Oak Bay. When she passed away, we were not able to maintain her garden the way we, and she, would have liked. Mary came highly recommended to me and I am so glad we connected. She has been an absolute dream to work with (and I am doing so from Ontario). She has restored the garden to its former glory and I am so pleased with the results. Mary communicates clearly; she listens well and checks in frequently to make sure she is meeting my needs. I would highly recommend Mary Haggerty Designs!
Fecha del proyecto
septiembre de 2018
Precio del proyecto
Menos de 1.000 €
I am so happy to recommend Mary Haggerty Designs for a residential landscape design. Mine was a very small project and I was reluctant to bother a professional for help. Mary listened to my needs and ideas for plants...deer resistant, low maintenance, evergreen...which had to fit into an existing shared outdoor space. She provided options and worked within the limited space and a small budget. I am totally delighted with the result. My only regret is that I didn't have more space in which to put her natural creative talent to work!



I own my own landscape company and have now worked with Mary for several years on numerous projects. From simple layouts to extremely intricate and complex Mary has handled each and every project with a professional and thorough approach. I have NEVER worked with anyone who makes a project so seamless. THANK YOU MARY!!! And look forward to working with you on future projects.
Fecha del proyecto
julio de 2017
Precio del proyecto
1.000 € - 9.999 €
I am so pleased with the work Mary did on my property. She helped me with landscape design, plant selection and planting. She is very knowledgeable & a great teacher. She was a pleasure to work with & continues to answer my garden related questions. I'm so glad I utilized her services. Thank you, Mary!
Fecha del proyecto
febrero de 2017
Precio del proyecto
1.000 € - 9.999 €
My husband and I worked with Mary to design the landscaping for our new home in Saanich. She took the time to really listen to our ideas and to understand our vision. As a result, the plan she created has been a wonderful template for us to use as we build and grow our little piece of paradise. Mary is a true professional, knowledgeable and very creative, and we highly recommend her services. Lori & Nick Santink
Fecha del proyecto
junio de 2016
Precio del proyecto
1.000 € - 9.999 €
Mary was a delight to work with. She encouraged us to "step out of the box", to be different than all of our other neighbours! The "River Theme" flowed from the top of our front garden and continued along the top of our driveway. Mary placed a large rock part way through the river, which not only added more curb appeal, but leaves a place to sit! We love the wild oats, lilies, Japanese ferns, rainbow spurge, cranesbill, mango tangos, and of course the Accrocona Norway Spruce. The piece de resistance is the lime green "Eye Am" planter. Thanks Mary for your unique design which is admired on a regular basis. The job was completed on time and budget too!



15 de Mayo de 2018
Última modificación:

15 de Mayo de 2018
Fecha del proyecto
abril de 2018
Mary is a pleasure to work with. Responds promptly and worked with me on 2 occasions to design and complete my garden project on budget and on schedule. Would highly recommend her for small or large garden projects.
Fecha del proyecto
abril de 2018
Precio del proyecto
1.000 € - 9.999 €
We have worked with Mary for a while now and she does great work. She is very customer orientated, she shows up on time and stays until the job is done. It's not very often you find designers willing to get their hands dirty, but I continuously see Mary working in the dirt oftentimes weeding gardens that weren't part of the job. We know that whenever she calls us the job is going to be organized, well run and with happy customers. We recommend her highly.
6 de Mayo de 2018
Última modificación:

5 de Marzo de 2019
Paisajistas y diseñadores de jardines en España