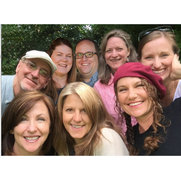 J.Montgomery Designs
Complimentary First Meeting
9 premios Houzz
5 insignias Houzz
Contacto:
J.Montgomery Designs (925) 820-8884
P.O. Box 615
Alamo, CA 94507
Coste medio de los trabajos:
$8,500 - $60,000
Clients set their own installation budgets which start around $250k but can go up to $10mil. Our firm is design only, which means we do not have financial incentives that force our clients to invest more than they are comfortable with. To support this goal, throughout the entire design process we provide constant feedback regarding the implications of construction cost, which puts our clients in the driver's seat of their project investment. INVEST INTO LIFESTYLE Design fees $8,500++
Licencia:
CA License LA 4059
https://www.houzz.es/pro/johnmontgomerylandscapearchitects copiada al portapapeles
Encuentra Paisajistas y diseño de jardines para hacer realidad tu proyecto
¿Cansado de leer todos los tutoriales de bricolaje? Estamos para ayudarte. En Houzz contamos con más de 1 millón de profesionales del hogar, por lo que encontrarás al Paisajistas y diseño de jardines de confianza adecuado para tu proyecto en Alamo.
Lee valoraciones de particulares como tú en Alamo
Lee las valoraciones de los propietarios antes de contratar a un Paisajistas y diseño de jardines que te ayude con un proyecto en Alamo. Si tiene preguntas, lee las valoraciones de otros propietarios o dirígete a la sección de consejos para obtener una segunda opinión.
Contacta fácilmente con Paisajistas y diseño de jardines
Si estás navegando por Houzz y tienes a un profesional en mente, te darás cuenta que solicitar un presupuesto es más fácil que nunca. Desde tu panel de control podrás administrar todas las solicitudes que mandaste a Paisajistas y diseño de jardines.
Paisajistas y diseñadores de jardines en España