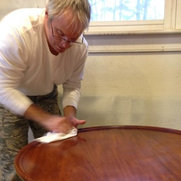 George Garrett Furniture Studios
1 premio Houzz
2 insignias Houzz
Contacto:
George Garrett Furniture Studios
13329 Greenwood Church Road
Ashland, VA 23005
Coste medio de los trabajos:
175 USD - 5.000 USD
Custom handmade furniture, cabinets and other woodworking projects.
https://www.houzz.es/pro/gigwithgeorge copiada al portapapeles
Handmade artist designed one of a kind furniture and other woodworking projects. It was while attending Virginia Commonwealth University from 1978 to 1980 as a student in the Painting and Printmaking Department that George Garrett began a part time job in a respected reproduction furniture shop and a lifelong love of designing and creating with wood. He soon became the shop foreman at Harrison Higgins Inc., and began building pieces that he designed or helped design including a three legged chair purchased by noted furniture art collector Francis Lewis. This new original work was done while he was continuing to do restoration work and reproduction of museum quality antiques. In 1986, George started his own furniture studio. With one partner and little more than a bandsaw, they built the business and soon expanded Garrett/Black Furniture Studios into a large building in Richmond, Virginia's Jackson Ward. All types of work were commissioned including custom office pieces for large corporations, retail store fixtures, reproduction furniture, and his own original designs. The studio was awarded the Baskerville prize for architectural application at the Richmond Hand Workshop show in 1987. George decided to scale down his shop and work from home. In 2002, he moved to Hanover County, Virginia, and resumed woodworking full time. George Garrett Furniture specializes in high end cabinetry and other architectural/construction related projects along with the artist designed furniture that he enjoys most.
Servicios prestados:
Custom Furniture, Cabinet Installation, Cabinet Refacing, Cabinet Repair, Custom Bathroom Vanities, Custom Bookcases, Custom Built-ins, Custom Cabinets, Custom Home Bars, Custom Pantries, Custom Shelving, Custom Walk-in Closets, One-of-a-kind Furniture, Hand Carved Furniture, Handmade Furniture, Contemporary Furniture, Modern Forms, Maple Furniture, Artist Made Furniture, Unique Furniture, Computer Desks, Rocking Chairs, Modern Furniture, Transitional Furniture, Sleek Modern Retro Furniture, Custom Wood Work
Zonas de trabajo
Ashland, Chamberlayne, Doswell, Dumbarton, Glen Allen, Hanover, Henrico, Lakeside, Laurel, Mechanicsville, Richmond, Short Pump, Studley, Wyndham
Escribe una valoración
10 valoraciones para George Garrett Furniture Studios

George made us a beautiful Shaker style vanity for our master bathroom. We were very impressed with how he managed to make it fit perfectly under the existing countertop (that we wanted to keep) and plumbing (posed challenges to the drawers especially). It looks perfect and is obviously good quality - continues to hold up remarkably well to daily use. Would definitely hire again.
George built and installed our kitchen cabinets. He has also designed and built bar stools, tables and a free standing cabinet for us. We are absolutely satisfied with the workmanship, usability and durability of everything he has created. We give him the highest rating for quality and value. The kitchen cabinets were installed in 2010 and the other projects have continued to the present.

I've known George for 16 years and when a moving company damaged some furniture and very large, ornate picture frames that had belonged to my recently deceased mother, I knew just who to call. George repaired the deep gouges and scratches in the side table and the completely broken and splintered frames so that you could never tell there had been any damage. I was more than thrilled with the results. I've seen his beautiful furniture and kitchen installations and know his history of antique restoration. He is a total professional, an extremely talented artisan and as close to a perfectionist as they come. Don't think twice about hiring him, you'll never regret it!
We have several of George's furniture pieces in our home, and we couldn't be prouder. George also crated and installed custom cabinets in out kitchen that are stunning! George is a true artist and an expert craftsman. We have recently commissioned a new end table to complement the one we already have in our living room. Hire this man!
I have hired George Garrett to make several pieces for me. In every case, the furniture he created is not only functional and exactly what I needed, each piece is also exactly what I wanted. George is not just a master carpenter; he is an artist. His pieces are exquisite, he is a marvelous designer, and he is an excellent listener. I was very particular about what I wanted in each of my pieces, and he listened carefully; he then responded with sketches and ideas. His suggestions always resulted in changes that made the pieces better than if he'd done only what I'd asked. He worked with me, not for me. I cannot praise George enough. His craftsmanship, artistry, and respect for both the client and the materials are second to none. An important point: He completed each project promptly, with no delays. We had the pieces even earlier than we'd expected to receive them. Our home is much more beautiful, thanks to George's wonderful furniture. I look forward to adding more of George's beautiful pieces to our home.
27 de Agosto de 2016
Última modificación:

27 de Agosto de 2016
George Garrett is an amazing artist.... he can build anything! I've worked with him for several years and continue to be amazed at this talents. I've never been disappointed.
George is an artist and a perfectionist. We asked him to make an oversized oak screen door to match our old half-glass front door. He crafted a lovely, heavy door with a removable screen/glass. It is perfect for our farmhouse!

25 de Agosto de 2016
Última modificación:

7 de Septiembre de 2016
Our general construction company has used George Garrett furniture studios for custom cabinetry for about 15 years,and have always been pleased with his work. In addition, George has made many pieces of custom furniture for our family, which are substantial and beautiful. His workmanship is unsurpassed, he is pleasant and easy to work with, has creative ideas, but is able to build to exact specifications, as well.


I am an architect and I hired George to construct our Kitchen. George worked to improve the design and then executed the construction with great professionalism. The result was better than we expected. I would hire George again without hesitation.
I am the proud owner of a George Garrett kitchen/dining room table and chairs. George's beautiful chairs remain comfy after marathon family dinners, late night philosophical discussions, epic Risk games, poker nights, and long term laptopping. Who knew that a wooden chair could be so comfortable!?! After 10+ years of heavy use, these pieces have remained beautiful, growing more lovely as the wood deepens and warms.

Encuentra Empresas de mobiliario y decoración para hacer realidad tu proyecto
¿Cansado de leer todos los tutoriales de bricolaje? Estamos para ayudarte. En Houzz contamos con más de 1 millón de profesionales del hogar, por lo que encontrarás al Empresa de muebles y decoración de confianza adecuado para tu proyecto en Ashland.
Lee valoraciones de particulares como tú en Ashland
Lee las valoraciones de los propietarios antes de contratar a un Empresa de muebles y decoración que te ayude con un proyecto en Ashland. Si tiene preguntas, lee las valoraciones de otros propietarios o dirígete a la sección de consejos para obtener una segunda opinión.
Contacta fácilmente con Empresas de mobiliario y decoración
Si estás navegando por Houzz y tienes a un profesional en mente, te darás cuenta que solicitar un presupuesto es más fácil que nunca. Desde tu panel de control podrás administrar todas las solicitudes que mandaste a Empresas de mobiliario y decoración.
Muebles y decoración en España