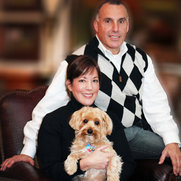 Cohlmia Interiors
Now Offering Virtual Consultations!
Ask about Web Design.
2 premios Houzz
3 insignias Houzz
Contacto:
Jeff and Lisa Cohlmia
1719 N. Rock Road, STE 109
Wichita, KS 67206
Coste medio de los trabajos:
We provide expert advice and guidance along with 30% or more off suggested retail for quality home furnishings such as Bernhardt, Hancock and Moore, Chaddock, CBS, Uttermost and many more.
Descubre mi vídeo destacado
Kansas' High-End Home Furnishings & Award Winning Design Services
page_type: prop_plus_profile
Wichita's choice for quality home furnishings and service. We are a well established retail showroom that provides knowledgable, trusted assistance for everything you desire for your home. Our top selling lines accommodate a variety of styles and budgets. Sound design advice, industry knowledge/experience, and extensive access to custom resources add value to our product. Weather you're on the hunt for that perfect piece of fabric to recover a chair, or you're ready to plan your dream home, we are here to provide a service that reflects your individuality. We offer complimentary design services, 30% or more off retail, customizable lines in a variety of price points, and hundreds of fabric samples for checkout. Among numerous custom resources, we have one of the largest selections of luxurious fabrics, leathers and trims in Wichita. Specializing in residential, office, commercial and second home. Come visit our unique location, conveniently located off of Rock Road behind Haverty's.
Servicios prestados:
Custom Furniture, Custom Rugs, Furniture Delivery, Furniture, Artwork, Lighting, Accessories, Outdoor Furniture, Bedding, Window Treatments, Space Planning, Complimentary Consultations, Rugs, Reupholstery, Remodels, Redesign, Staging, Office, Residential, Commercial/Hospitality
Zonas de trabajo
Andover, Bellaire, Benton, Eastborough, Greenwich, Haysville, Kechi, Mc Connell A F B, Mcconnell Afb, Park City, Rose Hill, Valley Center, Wichita, Hutchinson, Newton, McPherson, El Dorado, Western Kansas, Kansas City, Derby, Mulvane, Southcentral Kansas, Manhattan
Premios:
Numerous First Place Awards from Wichita Area Builders Association Parade of HomesBest of Houzz 2016
Escribe una valoración
21 valoraciones para Cohlmia Interiors

Erin Welner Interiors, LLC
Precio del proyecto
1.000 € - 9.999 €
I am an Interior Designer that works through Cohlmia Interiors. I have found Amazing Furniture and Fabrics for my clients here that I haven't found at other showrooms. And if I can't find it, it's certainly worth asking. Jeff usually can get what I'm wanting to find! Which is the exquisite Designer Lines... American Made and High Quality Workmanship at Respectable Prices.





A'LLURE INTERIOR DESIGN BY RENE
Fecha del proyecto
junio de 2006
Precio del proyecto
10.000 € - 49.999 €
I have used Cohlmia Interiors and Cohlmia's since 1997 when I moved to the area. I have purchased furniture and Decor from both locations and have worked along side them on past design projects. Cohlmia' is the "go to" place for creating a Special Environment and offer those special pieces that anchor any room as a Designer I recommend them highly! I can proudly say that I have been able to acquire a piece or two (wish more) in every room of my home... without Cohlmia additions...my home just might be ordinary. I know that my friends and family have fought over which pieces they want after I Pass on (hopefully that will be much later in life for me - giving me time to enjoy them). That is a testament to their excellent Quality & Style...they are todays heirloom furniture dealer. In my opinion they are the perfect one stop shop for anything a Home or Business needing to make a statement. So, If you are needing the perfect Textiles, Decor, Upholstery, Furniture & Fine Art ...and Scale and Luxury are the goal; these are the Experts to put it all together for you. Stop in (call first just in case they are out on a Design project) and visit their beautiful showroom and introduce yourself to Lisa & Jeff Cohlmia...you will be glad you did. High Quality furnishings and Decor at a Fair price... give you the Ultimate in Shopping with Cohlmia's I wish them many years of success!

Fecha del proyecto
septiembre de 2016
Precio del proyecto
50.000 € - 100.000 €
Jeff has helped me with multiple projects in several houses. Everything has been exactly the way I wanted it. The best part of working with Jeff is that when you are finished the house reflects your taste not his. Of course he guides me so I don't make any huge mistakes, but he also pushes me to take a few chances and those turn out to be the pieces I like best.
Fecha del proyecto
mayo de 2016
Precio del proyecto
1.000 € - 9.999 €
A friend of mine surprised me with a full home redesign from Cohlmia Interiors back in May. Lisa Cohlmia and I sat down to plan out my new home and she was attentive to what I wanted. Overall, they decorated my kitchen, living room and two bedrooms. They used the furniture pieces I wanted to keep along with new ones. I have a very eclectic style and my house turned out exactly as I wanted it!
Relación
I've bought lots of furniture from Cohlmia.
Fecha del proyecto
septiembre de 2002
Precio del proyecto
10.000 € - 49.999 €
Almost all of my living room furniture has come from Jeff's store...and my dining room furniture and some of my son's furniture. Jeff carries only the best and in the past has let me pay on time through layaway. I highly recommend Cohlmia Interiors to anyone!
Fecha del proyecto
enero de 2016
Precio del proyecto
1.000 € - 9.999 €
They helped me select material to recover two of my favorite chairs. They visited my home and made recommendations and then helped narrow down the choices.
Fecha del proyecto
enero de 2015
Precio del proyecto
Más de 100.000 €
My husband and I have been clients of Jeff and Lisa at Cohlmia Interiors for over twenty-five years. Our relationship has grown from professional to a trusted and valued friendship. We appreciate the excellent quality of their home furnishings. When looking for that unique or special piece of furniture, they have always taken the time to find or make just the right piece that has exceeded our expectations. As I write this review, I think about the homes my husband and I have lived in since meeting Jeff many years ago, and the rooms in my home now, and realize that Cohlmia Interiors' furnishings are in each and every room and certainly my favorite pieces. I highly recommend Jeff and Lisa at Cohlmia Interiors!
20 de Noviembre de 2015
Última modificación:

28 de Noviembre de 2015
Fecha del proyecto
enero de 2015
Precio del proyecto
Más de 100.000 €
We were building a new house and I hired them to do the interior furnishings and decorations. They were excellent and I spent close to $500,000 to furnish and decorate a 23,000 sq ft home with them.
Fecha del proyecto
junio de 2000
Precio del proyecto
Más de 100.000 €
My name is Tom Kemp with Kemp Homes. As a homebuilder I have had the Cohlmia's stage a number of homes most over the 1 million dollar price range over the years. Their taste and the quality of the furnishings I know made the buyers final decision much easier in fact there were many instances the buyer purchased all the furniture and décor items as a part of the sell of the home. I would never hesitate to recommend Jeff and Lisa to a friend or customer. over the years I have learned to use their talent and have a great deal of respect for manner in which they conduct there business . My own home is furnished with that Cohlimia's special touch. I consider them both personal friends. if you have a need for furniture or decorating ideas, you can not do better than Jeff and Lisa Cohlimia.
21 de Octubre de 2015
Última modificación:

2 de Noviembre de 2015
Fecha del proyecto
febrero de 2014
Precio del proyecto
Más de 100.000 €
Jeff and Lisa, working with our decorator was very instrumental in the selection and coordination of the furnishing our new home. From the selection to the delivery of the furnishings every detail was professionally attended to. We definitely recommend their services and products!
Fecha del proyecto
julio de 2013
Precio del proyecto
10.000 € - 49.999 €
I have recently done business with Cohlmia Interiors with excellent results! The unique designs and quality of this company plus the personalized, friendly service are truly helpful when decorating your home. I find it very accommodating to utilize my personal ideas with their professional opinions - would definitely recommend Cohlmia Interiors to anyone who wants high quality look and appeal to their home!
Fecha del proyecto
abril de 2015
Precio del proyecto
1.000 € - 9.999 €
I loved the attention to detail and ability for forward planning. KInd and helpful interraction with no pressure. Being sensitive to my needs and big picture while respecting my budget are reasons I would send anyone to Cohlmia Interiors. My dining room is beautiul and only step one in my furnishing needs. Cannot wait to continue.
Ver todas las 21 valoraciones
Encuentra Empresas de mobiliario y decoración para hacer realidad tu proyecto
¿Cansado de leer todos los tutoriales de bricolaje? Estamos para ayudarte. En Houzz contamos con más de 1 millón de profesionales del hogar, por lo que encontrarás al Empresa de muebles y decoración de confianza adecuado para tu proyecto en Wichita.
Lee valoraciones de particulares como tú en Wichita
Lee las valoraciones de los propietarios antes de contratar a un Empresa de muebles y decoración que te ayude con un proyecto en Wichita. Si tiene preguntas, lee las valoraciones de otros propietarios o dirígete a la sección de consejos para obtener una segunda opinión.
Contacta fácilmente con Empresas de mobiliario y decoración
Si estás navegando por Houzz y tienes a un profesional en mente, te darás cuenta que solicitar un presupuesto es más fácil que nunca. Desde tu panel de control podrás administrar todas las solicitudes que mandaste a Empresas de mobiliario y decoración.
Muebles y decoración en España