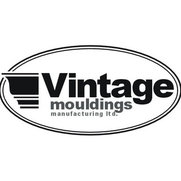 Vintage Mouldings Manufacturing Ltd.
https://www.houzz.es/pro/vintage1021/ copiada al portapapeles
2 insignias Houzz
Atlantic Canada's Leading Mouldings Manufacturer - Showroom Local
page_type: prop_plus_profile
Vintage Mouldings is Atlantic Canada's leading moulding manufacturer and retailer selling direct to the homeowner; developer or commercial contractor. We are moulding specialists fully focused on the world of mouldings. Interior or exterior mouldings, MDF mouldings, polyurethane mouldings, flexible or rigid mouldings, we take pride in working with customers to optimize their project. The beauty of our MDF mouldings is not just on the surface. They are made of the best quality North American MDF that we prime twice, sand and heat treat. With our design choices, the MDF casing can be coordinated to the baseboard, the crown to the chair rail or the wainscoting to the wainscoting cap. Our polyurethane mouldings can be used in either interior or exterior application. Choose with the confidence of knowing that their traditional designs have stood the test of time. We have a full line of stocked mouldings but also do custom profiles for that renovation or commercial application. Columns in wood or polyresin complete our objective to be a complete architectural resource. Our goal is to give you, the customer, what you want - a spectacular product, a great price, and knowledgeable service!
Servicios prestados:
Architectural Trim, Backbands, Baseboards, Blocks, Casings, Chair Rail, Crown Moulding, Flatstock, Headers, Panel Mouldings, Wainscoting, Caps, Window Stool, Polyurethane Mouldings, PVC Trimboards, Door Hardware News, Weslock Entry/Deadbolts, Weslock Knobs/Levers, Emtek, Columns, Flexible
Zonas de trabajo
Nova Scotia, New Brunswick, Halifax, Prince Edward Island, Newfoundland
4 proyectos de Vintage Mouldings Manufacturing Ltd.
Escribe una valoración
8 valoraciones para Vintage Mouldings Manufacturing Ltd.
We use Vintage Mouldings for all of our projects. The service, quality of the material & promptness of delivery is phenomenal.
Relación
He recibido un presupuesto
Precio del proyecto
1.000 € - 9.999 €
Vintage Mouldings has the highest quality mouldings in Halifax. There commitment to quality and great customer service is unmatched. My company CJ'S Custom Trim Specialists has used many different suppliers in the past and have found Vintage Mouldings to be very particular with the materials used, the quality of the finish on there pre-primed mouldings as well as there ability to supply whatever profile needed to make your home beautiful. I Chris Jollimore personally recommend this company to anyone looking to add mouldings to there project!
Fecha del proyecto
may. 2015
Precio del proyecto
Menos de 1.000 €
Vintage Mouldings Manufacturing Ltd. Has been very helpful in their knowledge, product samples and variety of products to assist our company with providing clients with quality products and knowledge. They have helped us to become more to our clients making our company better. Carrigan Interior Concepts
Relación
As a company we buy for ourselves & clients
Fecha del proyecto
oct. 2013
Precio del proyecto
10.000 € - 49.999 €
Their customer service is excellent, from the shipping dept to the sales people who help plan the details. Their custom mouldings take a cookie cutter home and turn it into a show piece that anyone would be proud of. We have used their mouldings in all our homes and projects- clients and friends always comment on our custom homes and we are proud to tell them we got it from Vintage Mouldings. We highly recommend their team and product.

Fecha del proyecto
ene. 2015
Precio del proyecto
10.000 € - 49.999 €
Andrew and his team were able to supply custom mouldings in solid wood to match our customer's specifications exactly. This attention to our requirements as well as their ability to quote and supply our trim orders on numerous projects has made Vintage Mouldings a valuable asset to our company. On our most recent project they were able to supply high quality mouldings, hardware, and specialty exterior products on time and on budget.
Fecha del proyecto
jul. 2014
Precio del proyecto
1.000 € - 9.999 €
Excellent customer service. My husband and I have used this company for all our properties. We just built our retirement home and they were very helpful with assisting me in the design of a coffered ceiling and flat panel wainscotting. We have never had a problem with their mouldings . The quality is superior . We were delighted to accept a tour of their plant in Truro , N.S.
Fecha del proyecto
ene. 2005
Vintage Mouldings has been a dependable supplier for our company for many years. We work together with Vintage Mouldings to create the best, and most beautiful custom trim packages for our Client's and their new home. Andrew and Karla go out of their way to make sure we get delivery of our product as scheduled, every time! They constantly provide updates on their products to make sure that we are current with today's trends.
Materiales de construcción en España