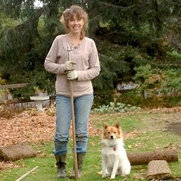 Erin Robertson Landscape Design
I am a landscape designer and project manager of landscape construction. Home owners hire me to design and build landscapes for new homes, outdoor entertaining and relaxation spaces, to solve landscape problems and to add value to their properties. As a project manager I work with builders, landscape contractors, gardeners, masons and electricians to implement the designed landscapes. I am also an architectural designer and draftsperson and have worked with many architects on residential projects from pre-design as built measurements and drawings through schematic design, working drawings, specifications and construction review. I studied landscape design and horticulture at the Institute of Ecosystem Studies in Millbrook, NY and Architectural Design and Drafting in Austin, Texas. I have worked with some very talented architects who taught me lessons of good design and the importance of connecting the residential landscape with the architecture of the home. My landscape design approach is a thoughtful balance between creating designed spaces and protecting and enhancing the natural resources of the site. My focus is to blend client desires and the architecture of their home with the natural elements by using ecological design practices. My goal is to.... work with a design team at the beginning of a house design, lend support to the contractors throughout the building phases to implement the new landscape, make the design/build process enjoyable and to be enlightened by the collaboration of talented people throughout the project. I practice ecological landscape design which is protecting and enhancing the natural elements that benefit the whole ecosystem by using; Organic methods and native plants Sourcing local labor and materials Reducing maintenance and water use Creating rain gardens and meadows Teaching ecological stewardship
Servicios prestados:
Custom Water Features, Deck Building, Garden Design, Landscape Construction, Outdoor Kitchen Construction, Patio Construction, Paver Installation, Pool Landscaping
Zonas de trabajo
Ancram, Ancramdale, Copake, Copake Falls, Copake Lake, Craryville, Lakeville, Livingston, Millerton, Pine Plains, Salisbury, South Egremont, Taconic
Premios:
Certificate in Landscape Design and Horticulture from the Institute of Ecosystem Studies
Escribe una valoración
6 valoraciones para Erin Robertson Landscape Design
Thoughtful. Adaptive to owners preferences, but has and retains an overall vision. Budget conscious. Extremely knowledgeable about native vs. invasive species. A pleasure to work with. Result was great. Definitely recommend, particularly for anyone with a desire to retain a natural, local look.
Erin Robertson is extremely professional. She listens well to client desire, and implements ideas with fascinating creativity. The project Erin did for us was huge: there was absolutely nothing around a brand new house on a hill with 2 acres of basically empty space. The spaces she defined are inviting, relaxing and serene. One year after the initial project Erin came back and we changed a few things and enhanced others. The gardens are absolutely spectacular!
I called Erin on a strong recommendation from friends. They weren't wrong! She has done not only a great job designing and making sense of my landscape, but she is diligent in making sure the contractors complete their work correctly and in good time. Working with her is a delight.
It was and continues to be an absolute pleasure working with Erin. Her creativity, dedication, and flexibility are superb. Erin invested the time to listen and understand our objectives and then presented multiple alternatives with her recommendation on how to proceed. She handled every aspect of the design and implementation process including vetting multiple specialists for tree work, planting, stone work, construction, and fencing. Erin coordinated and managed the project, which became a wonderful success. She continues to be fully engaged and self-motivated to ensure the gardens develop and mature in the most aesthetic and stable way. We provide unequivocally the highest recommendation for Erin Robertson Design.
Erin is an absolute delight to work with. She actually did two projects for us. The first 12 years ago when we built our home and then again 7 years ago when we did an addition. She presented with unique ideas keeping in mind and respectful of our previous discussed likes, dislikes, thoughts and budget. Her vision of our property as a whole has proved to be successful as the gardens and property have matured and grown in tandem with the surrounding woods. The variety in her suggestions and selection of plantings is often admired and praised by our friends. About 5 years ago Erin did a very small project for us. At that time she had some addition thoughts on what we could change and add to improve the overall feel and look of our property. Beautiful work. We are more than pleased.
We hired Erin three years ago to start a long-term landscaping project that included an 1800 square foot deck, outdoor shower, jacuzzi, carport, fire pit, and outdoor storage. Very ambitious. She has been all we hoped for and more. She is timely, efficient, and does things the right way. There are no shortcuts taken in the planting process. She uses quality people who plant properly and to her exact specifications. My plants have all come back and look magnificent after a long, hard winter. My carport is the prize of our project and it is modern and beautiful. She is an excellent collaborator and was open to my ideas. We really saw eye to eye during the entire planning process and she understood and enhanced my aesthetic. Her plans are easy to read and she is great with a planning board. She is an absolute pleasure in every way. I highly recommend her.
Encuentra Jardineros para hacer realidad tu proyecto
¿Cansado de leer todos los tutoriales de bricolaje? Estamos para ayudarte. En Houzz contamos con más de 1 millón de profesionales del hogar, por lo que encontrarás al Jardineros de confianza adecuado para tu proyecto en Columbia County.
Lee valoraciones de particulares como tú en Columbia County
Lee las valoraciones de los propietarios antes de contratar a un Jardineros que te ayude con un proyecto en Columbia County. Si tiene preguntas, lee las valoraciones de otros propietarios o dirígete a la sección de consejos para obtener una segunda opinión.
Contacta fácilmente con Jardineros
Si estás navegando por Houzz y tienes a un profesional en mente, te darás cuenta que solicitar un presupuesto es más fácil que nunca. Desde tu panel de control podrás administrar todas las solicitudes que mandaste a Jardineros.