No tienes que dejar para más tarde el proyecto de tus sueños
Contacta con profesionales online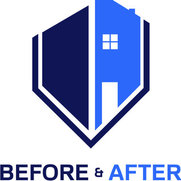 Before and After Home Improvement LLC
1 insignia Houzz
https://www.houzz.es/pro/bshunamon copiada al portapapeles
We here at Before & After Home Improvement LLC. have one question to ask you.. What's your outdoor lifestyle? We are here to give you the yard you've always dreamed of. We offer many services to beautify your yard's space bringing form and function to that lawn that you never used.. until now. Before & After Home Improvement LLC -Landscaping (Mulch, weeding, and bed edging) -Lawn care (Mowing, Aeration, Over seeding, Fertilizer, Lime & Feed) -Hard Scaping (Patios, Retaining Walls offered in concrete or stone) -Pressure washing (Houses, Sheds, Walk-ways, Decks, Patios & Porches) -Exterior Painting & Staining (Fences, Decks & Porches) -Gutter Cleaning (Gutter Guard installation) -Tree & Bush Trimming/Removal (Trees small to medium, Dead trees, limbs & brush) -Water Features (Ponds, Waterfalls & Fountains) -Yard Clean up (Brush removal, Yard clearing & Overgrowth removal "We pretty much do it all, so don't hesitate to call!" FREE ESTIMATES Contact: Brandon Shunamo
Servicios prestados:
Concrete Construction, Concrete Repair, Deck Repair, Fence Installation & Repair, Landscape Maintenance, Lawn Mowing Services, Masonry Construction & Repair, Mulching, Paver Installation, Shrub & Tree Pruning, Snow Removal Services, Sod Installation, Trellis & Pergola Construction, Weed Control
Zonas de trabajo
Falmouth, Fredericksburg, Spotsylvania, Spotsylvania Courthouse, Thornburg, Stafford
Escribe una valoración
4 valoraciones para Before and After Home Improvement LLC
Fecha del proyecto
octubre de 2014
Precio del proyecto
1.000 € - 9.999 €
A stone wall was installed around our landscaped areas in the front of our home. The job was professionally done, completed quickly and with lots of extra personal touches. We are very pleased with the work and highly recommend Before & After Home Improvement.
Fecha del proyecto
junio de 2014
Precio del proyecto
1.000 € - 9.999 €
Before & After is great!! He was able to come in quickly after another company let me down. He was responsive to my questions and always got back to me in a timely manner. The yard has never looked better and I'll be sticking with Before & After. Looking forward to the spring!
Relación
I am a professional Landscape Designer who has hired this company for multiple installations of my design work.
Fecha del proyecto
octubre de 2014
Precio del proyecto
1.000 € - 9.999 €
I have hired Brandon with Before and After Home Improvement for several landscaping and hardscaping installations over the past year and I have been 100% satisfied with their work. Everyone who works for Before and After is very professional and respectful and strive for complete customer satisfaction. I would recommend Before and After to anyone looking for a quality contractor that does what they say at a reasonable price. They have been a true joy to work with and I will definitely be using them again for future landscaping and/or hardscaping jobs that I design and sell to my customers. Carrie Luttrell Luttrell Landscape Design Owner/President
Fecha del proyecto
septiembre de 2014
Precio del proyecto
Menos de 1.000 €
They came out and gave me an estimate on installing a fence in my backyard. Answered all my questions and gave me good price. Work was done fast and on my schedule. Will definitely use them again!
Encuentra Jardineros para hacer realidad tu proyecto
¿Cansado de leer todos los tutoriales de bricolaje? Estamos para ayudarte. En Houzz contamos con más de 1 millón de profesionales del hogar, por lo que encontrarás al Jardineros de confianza adecuado para tu proyecto en Spotsylvania.
Lee valoraciones de particulares como tú en Spotsylvania
Lee las valoraciones de los propietarios antes de contratar a un Jardineros que te ayude con un proyecto en Spotsylvania. Si tiene preguntas, lee las valoraciones de otros propietarios o dirígete a la sección de consejos para obtener una segunda opinión.
Contacta fácilmente con Jardineros
Si estás navegando por Houzz y tienes a un profesional en mente, te darás cuenta que solicitar un presupuesto es más fácil que nunca. Desde tu panel de control podrás administrar todas las solicitudes que mandaste a Jardineros.