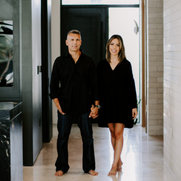 Studio 818 Design + Build Management
https://www.houzz.es/pro/restore818homes/ copiada al portapapeles
1 premio Houzz
4 insignias Houzz
Coste medio de los trabajos:
150.000 USD - 2.000.000 USD
Optimal return on investment can be expected from our full-service Design + Build Management with a home valuation of $1-million+. Our systems work most efficiently with budgets of $500k+ for new construction, $300k+ for whole-house renovations & $150k+ for luxury kitchens. These are construction budgets only exclusive of building lot, landscaping, furniture & soft costs (design, plans & permits.) Our floor plan reconfiguration packages work for a wide variety of budget ranges.
Empresas de diseño y construcción en España