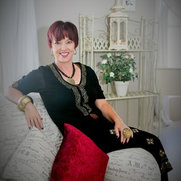 1 premio Houzz
2 insignias Houzz
Contacto:
Ilze
Alkimos, Western Australia 6038
Australia
Coste medio de los trabajos:
AUD - 90
$150 Per Hour, but free measure and quote on Blinds and Curtains
Información profesional:
License Number: 45352504073
https://www.houzz.es/pro/ilze39 copiada al portapapeles
Interior Design with a difference? Let me introduce you to the amazing world of colour and design. Coming from Africa where I have experienced nature's most beautiful displays of colour, I can make your interior design journey so much more enjoyable! As your personal decorator, I have created a design process that is simple, practical and tailored to suit your needs and budget. Whether utilising your own existing furnishings or creating a new concept, Tru Unique Interiors will create a beautiful ambiance for you and your family. With more than 20 years of experience, I believe your home design is more than bricks and mortar – it should tell the story of the people who live there. My aim is for you to fall in love with your home each and every time you walk through your front door, because your home is the ultimate reflection of you. Interior design isn't just my profession; it's a way of life, and there's no greater pleasure than to love the way you live! Attention is given to the finest detail and every stage of the design until completion. As a result of the highest attention given you can be confident that the finished design meets Tru Unique Interiors's high standards and create a warm and welcoming atmosphere for your home.
Servicios prestados:
Bathroom Design, Bedroom Design, Colour Consulting, Custom Blinds & Shades, Decluttering, Dining Room Design, Downsizing, Furniture Selection, Hallway Design, Home Office Design, Home Staging, Interior Design, Kids Bedroom Design, Kitchen Design, Kitchen Renovating, Lighting Design, Living Room Design, Nursery Design, Playroom Design, Sunroom Design & Construction, Wardrobe Design
Premios:
Diploma in Interior Design
5 proyectos de Tru Unique Interiors
Escribe una valoración
6 valoraciones para Tru Unique Interiors
Ilze has given us great decoration and layout advice for every room and outside when we moved into our house. Her ideas are very creative and practical. We highly recommend her.
So extremely happy with my rooms. They look stunning! Ilze took so much time to get the feel and fit right. Such good personalized service. Totally recommend this company!!
Ilze provided exceptional service from the first meeting to the completion of the project. Her attention to every detail and eye for design are amazing. I was able to trust her completely and found her rates were very reasonable as well. What Ilze does so well is she listens to the client and understands the brief given, then translates that brief into a beautiful design. Ilze is one very talented designer who is so pleasant and easy to work with. I highly recommend her service. She will transform your place from an ugly ducking to a beautiful swan!
I was looking for some replacement blinds for an old home and sought out a number of quotes. Ilze Rautenbach from Tru Unique Interiors turned up very promptly and I found her to be a delightful person to deal with. She came to my home with a large range of samples and was very helpful with colours and styles. I found Ilze to be a very professional person. I think she has a flair for interior designing and colours. She is easy to work with (which I believe is very important) and I am more than happy to recommend Ilze for any design work in your home.
Ilze gave me superior service, advice and guidance when I was stuck in revamping our house! I have implemented her suggested changes and our house looks stylish and beautiful! Thank you Ilze, you are my life saver when it comes to difficult decisions where I do not have any experience
It was pleasure to choose Tru Unique interiors. I was very happy with the service and completion of my job in my house.Ilse was very proffesional and my kitchen looks awesome , definetly more modern. Im very happy.I will highly recommendet her to anybody. Val
Encuentra Interioristas y decoradores para hacer realidad tu proyecto
¿Cansado de leer todos los tutoriales de bricolaje? Estamos para ayudarte. En Houzz contamos con más de 1 millón de profesionales del hogar, por lo que encontrarás al Interioristas y decoradores de confianza adecuado para tu proyecto en Alkimos.
Lee valoraciones de particulares como tú en Alkimos
Lee las valoraciones de los propietarios antes de contratar a un Interioristas y decoradores que te ayude con un proyecto en Alkimos. Si tiene preguntas, lee las valoraciones de otros propietarios o dirígete a la sección de consejos para obtener una segunda opinión.
Contacta fácilmente con Interioristas y decoradores
Si estás navegando por Houzz y tienes a un profesional en mente, te darás cuenta que solicitar un presupuesto es más fácil que nunca. Desde tu panel de control podrás administrar todas las solicitudes que mandaste a Interioristas y decoradores.
Decoradores en España
Servicios relacionados