Sobre nosotros
Cambria is the first and only family-owned, American-made producer of quartz surfaces. Established in 2001, Cambria was built on 70+ years of manufacturing experience in Minnesota. Cambria employs more than 2,000 in the U.S. and Canada, including 700 skilled craftsmen and women at the company's nearly 1 million square foot manufacturing facility. Making Cambria entails high-level craftsmanship, innovation, creativity, and meticulous attention to detail, to continuously create a high-quality product. With state-of-the-art facilities, unsurpassed design innovation, and work ethic of experienced employee teams, Cambria has rapidly become an industry leader and continues to grow at an accelerated pace. Cambria operates 32 facilities across the U.S. and Canada, including its production center, fabrication and distribution centers, and Cambria galleries. Headquartered in Le Sueur, Minn., Cambria is sold through an exclusive network of premium, independent specialty retail and trade partners that can be identified at CambriaUSA.com.
Servicios prestados:
Quartz Countertops
Zonas de trabajo
USA, Canada
Premios:
Best of Houzz 2015, 2016, & 2017 Service Awards and 2018, 2019, 2020, & 2021 Design Awards.
Volver a la navegación
Nuestros artículos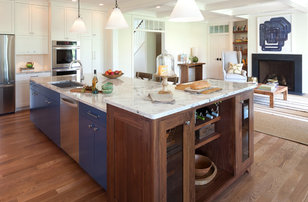 Artículo patrocinado
Kitchen islands perfectly marry form and function. Design the island of your dreams using these tips from Cambria
Artículo patrocinado
Style a sleek, modern space with innovative surfaces using these tips from Cambria
Artículo 1 de 2
Volver a la navegación
Volver a la navegación
Volver a la navegación
Escribe una valoración
96 valoraciones para Cambria

When we are planning a full home remodeling for our clients our even with some modern architects, during the development of the kitchen cabinets the main point is, which would be the best countertop to go forward. There's no shadow of a doubt Cambria is the best choice. Thank you market-rep Lorali to give us all support with samples and more.
I've never written an online product complaint, but we are in a horrible bind with our Cambria order and as a result have been displaced from our home and our remodel delayed over 6 weeks. We've had to incur thousands of dollars in housing and rental car costs, and there is still no resolution in sight. We ordered two of the Britannica Warm slabs which were due to be installed mid Nov. They arrived and were so far apart in color that our fabricator rejected them because they'll both be used in our kitchen. No slabs were available so new ones had to be produced with a ETA of 12/11. The 2nd set of slabs arrived and SAME problem AGAIN. fabricator returned slabs and told us that Cambria's response was "you shouldn't order this if you require two slabs in a kitchen." Which our developer says is crazy because that is not atypical. Cambria is supposedly sending some new slabs now from MN...but "no promises" and the install date is now post Christmas (12/28)...6 weeks overdue and we can't be in our home because all countertops were being replaced and we have no sinks and all other work now delayed by countertops. It's unacceptable for Cambria to not take accountability and just say "you shouldn't order two slabs." Even our installers are asking us to consider changing countertop suppliers, but we spent so much time finding what we want that we don't want to settle.

I have specified and sold many Cambria countertops over the years and am a big fan, the colors and patterns get more realistic every year. The whole experience working with Cambria is fantastic, they really care about both their products and services.



Cambria Countertops are always beautiful and come in such wide vareity. I recommend Cambria frequently to our clients and look forward to more collaboration with them.

Cambria has been a trusted vendor and partner to Kitchen Magic for many years. Their high quality quartz product & beautiful designs elevate our brand offering. Their quartz is not only durable but instills a luxurious look to our final kitchen designs.



Stone Works Marble & Granite LLC
Broad unique color selections, make this company a good option for our clients. Our company has been a supplier for a while.

Weeks and Mitchell Construction
Cambria is a wonderful company that offers stunning quartz countertops. Everyone in the showroom is very knowledgeable and helpful when questions arise. Highly recommend!

Karin Ross Designs loves Cambria quartz! As a designer I only want to offer products to my clients that I feel good about it and Cambria is on top of my list. With their Limited Lifetime warranty and NSF International certification for having a safe and nonporous surface, this is the only countertop surface I offer period. With Cambria I know my client will be taken care off beside having a good looking countertop. Can't wait to see more new colors!

New Life Bath and Kitchen
As a kitchen and bathroom remodeler, we love using Cambria products. They have a wide selection of quartz countertops, and all of their designs are beautiful and unique. While quartz countertops are a man-made product, Cambria makes theirs with 93% quartz and only 7% resin - a higher natural material ratio that what other companies offer.

As a custom home builder in Rochester, MN we love Cambria and their products. As a company we recently did the tour of their manufacturing facility and distribution center and it was so interesting and educational. We highly recommend them to clients who are building with us and we often use their products in our model homes too.
Our brittanica was installed on Monday. I was REALLY looking forward to it. I've been a huge cambria fan and a repeat customer. I even read their published magazine. During installation, I noticed there was a 3.5 ft of countertop space void of any pattern that is awkwardly placed and part of the lines go in different directions then the rest of the kitchen. . I stopped the installation and called cambria. It catches your eye every time you look at the countertop as being off. I love the rest of it but that one area is so noticeable. They evaluated it and their panel said there was nothing wrong with the esthetics of it. I spoke to Tom and a regional manager named Chris and and VERY disappointed with customer care. Chris was very dismissive and was not willing to work with me to remedy this AT ALL. This was a huge purchase for us and I just want those certain pieces right. So so disappointed with Cambria, I was a huge fan. This could have been avoided I believe and I don't see the brittanica running like this in the magazines. Why can't they work with me to make a customer happy???



Krystal Threlfell - Redl Kitchens
From quality, to warranty, to colour selection. They are a top quartz brand that I highly recommend to my clients.
Volver a la navegación
Volver a la navegación