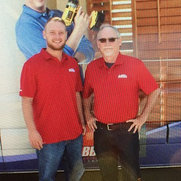 Budget Blinds of New Caney and Huntsville
https://www.houzz.es/pro/bbnewcaney/ copiada al portapapeles
1 premio Houzz
Coste medio de los trabajos:
100 USD - 10.000 USD

Budget Blinds proudly serves the local community by offering high quality and stylish window coverings for residential and commercial applications. Budget Blinds of New Caney & Huntsville is a new franchise and is proudly serving the communities of New Caney, Splendora, Cleveland, Shepard, Livingston, Coldspring, Point Blank, Willis, New Waverly, Onalaska, Corrigan, Moscow, Huntsville, Hempstead, Chapel Hill, Navasota, Waller and other far Northeast and Northwest communities. For customer convenience we offer Free In Home Consultations with one of our expert Sales Consultants who can provide professional measuring and installation. Our goal is simple; to provide you with the best Products and Services in order to enrich your home environment. Our lavish selection of window treatments includes shutters, blinds, shades, custom draperies, solar screens and even window films. Regardless of the window shape or size you can rest assured that we have a customized window coverings solution ready for you. Contact us today for more information, we would love the opportunity to earn your business!
Servicios prestados:
Blind Installation, Custom Blinds & Shades, Motorized Blinds, Plantation Shutters
Zonas de trabajo
New Caney, Patton Village, Plum Grove, Porter, Roman Forest, Splendora, New Caney, Huntsville, Waller
Escribe una valoración
3 valoraciones para Budget Blinds of New Caney and Huntsville
Fecha del proyecto
jul. 2019
Precio del proyecto
1.000 € - 9.999 €
Amazing professionals handling the job. David was always on time for appointments and had great communication skills. The customer service is over-the-top. The quality of the product is what was promised and met my expectations.
Fecha del proyecto
may. 2019
Precio del proyecto
1.000 € - 9.999 €
We Love our Budget Blinds! They came out to our house measured our windows and showed us different samples. The installation was fast and professional. We choose the style without those dangling cords and our blinds lift up and pull down effortlessly. Our house now looks beautiful inside and out!
Fecha del proyecto
mar. 2018
Precio del proyecto
1.000 € - 9.999 €
I don't know why I waited so many years to replace my faux wood blinds with shutters!!! They made a big difference. We also used shades in our livingroom with automatic controls. David was knowledgeable and very helpful with recommendations. The installation was handled efficiently and professional. We are very happy with Budget Blinds of New Caney and would recommend.
Cortinas, persianas y estores en España
Cortinas, persianas y estores en Madrid
·
Cortinas, persianas y estores en Barcelona
·
Cortinas, persianas y estores en Valencia
·
Cortinas, persianas y estores en Sevilla
·
Cortinas, persianas y estores en Zaragoza
·
Cortinas, persianas y estores en Málaga
·
Cortinas, persianas y estores en Murcia
·
Cortinas, persianas y estores en Palma de Mallorca
·
Cortinas, persianas y estores en Las Palmas de Gran Canaria
·
Cortinas, persianas y estores en Bilbao