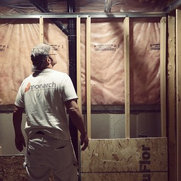 Stanislav Kulisek Renovations Ltd.
https://www.houzz.es/pro/kulisek-renovations/ copiada al portapapeles
1 insignia Houzz
Coste medio de los trabajos:
CAD $10.000 -

We are a home construction and renovation company with proven results since 2003. Whether you're planning on extensive renovation or just a small bathroom makeover, we cover it all and create stunning interiors across the GTA and Barrie area. We are dedicated to providing innovative design solutions. The projects we take on are both environmentally mindful and highly focused on each client's individual needs. Our thorough team organization and integrity guarantee to complete every project on time with full satisfaction.
Servicios prestados:
Attic Conversion, Attic Restoration, Barn Design & Construction, Baseboard Installation, Basement Remodeling, Bathroom Remodeling, Countertop Installation, Crown Molding Installation, Custom Home, Custom Home Bars, Demolition, Drywall Installation, Electric Fireplace Installation, Fireplace Installation, Floor Leveling, Flooring Installation, Gas Fireplace Installation, General Contracting, Home Additions, Home Extensions, Home Remodeling, Home Restoration, House Framing, Insulation Installation, Kitchen Remodeling, Laminate Flooring Installation, Lighting Installation, Linoleum Flooring Installation, Outdoor Kitchen Construction, Project Management, Range Hood Installation, Shower Installation, Sliding Door Installation, Spray Foam Insulation, Stair Installation, Staircase Design, Stone Installation, Stone Siding, Stretch Ceilings, Structural Engineering, Stucco Installation, Stucco Repair, Subfloor Installation, Sustainable Design, Tile Installation, Trim Work, Vinyl Flooring Installation, Wainscoting, Wood Floor Installation, Custom Homes
Zonas de trabajo
Toronto, Barrie, Oakville, Mississauga, Etobicoke, Richmond Hill, Aurora, King City, Muskoka, North York, Scarborough, Burlington, Grimsby, Hamilton
2 proyectos de Stanislav Kulisek Renovations Ltd.
Escribe una valoración
11 valoraciones para Stanislav Kulisek Renovations Ltd.
Fecha del proyecto
jul. 2016
Precio del proyecto
Más de 100.000 €
Stan was referred to us by our neighbours who had used his services for full renovations to not only their house but to their various rental properties as well. We are pleased that we used him for two rounds of renovations to our custom waterfront home before we moved in as well as a subsequent kitchen and bathrooms renovation after we moved in. The delay in the next reno was at Stan's suggest to make sure we lived in the house to see if we still had the same plans in mind for the kitchen and bathrooms. He was right- we changed our minds and were glad we waited. Stan and his crew were very professional in providing recommendations with a holistic approach to the overall property. He has fine craftsmanship and an excellent understanding of how the design elements and materials to pull it all together for a pleasing result (see my pictures--sorry about the lived in look!). He worked within our budget and timelines with no surprise cost overruns. As well Stan stands behind his work and will come back if any final touches are required even after the job is done. We'll be using him for some additional touches we'd like to add to our home

Fecha del proyecto
oct. 2018
Precio del proyecto
Más de 100.000 €
Stan is very professional and responsive. Call backs are not an issue. He assisted us with design ideas and best practices. His company is small enough to ensure customer satisfaction and not too large where he becomes unresponsive. We are very happy with our new home.
Relación
Fitz by Design works with Stan and his team.
Fecha del proyecto
abr. 2017
Precio del proyecto
Más de 100.000 €
Stan and his team of professionals have completed two major renovations in my home. The first in 2015 was a full demolition including removal of walls on my main floor resulting in a full open concept kitchen with massive island open to family room. The second in 2017 was the complete demolition of an office adjacent to my master and its conversion to an ensuite with large walk in glass shower, heated floors, and custom vanity compete with chandelier. Stan completed both projects on time and on budget. I would recommend Stan and his team for any home project. From start to finish the attention to detail was evident from all trades. I now have the home of my dreams!!
Fecha del proyecto
sept. 2018
Precio del proyecto
50.000 € - 100.000 €
Stan and his team of professionals were great to work with. I had the main floor completely renovated. Our kitchen was gutted to make room for new cabinetry, an island and new flooring. The remainder of the main floor was painted and the popcorn ceiling removed. Stan's team did an awesome job which I will love for years to come. I would not hesitate to recommend them to my family and friends.
Fecha del proyecto
may. 2017
Precio del proyecto
Más de 100.000 €
I was recommended to hire to Stan to complete my home renovation through a designer and I was not disappointed. The renovation included re-design of the main floor and basement reno. Stan and his team did amazing work. They were all courteous and met the deadlines. Stan was very creative and a great problem solver as well. The workmanship of the team was detailed and precise. I was very impressed with the overall service, quality of work and would definitely hire Stan again.




Fecha del proyecto
feb. 2019
Precio del proyecto
1.000 € - 9.999 €
Stan has completed two projects in my home in the last two years. He is easy to work with, knowledgeable, makes great recommendations, pays attention to details and gives honest quotes and work within one's budget. I have been extremely pleased with the quality and esthetics of his work in the four bathrooms he has renovated for me. These projects involved tearing out and installing a shower with a glass enclosure, cabinets, sinks, tiled floors, new toilets, lighting, bathroom fans, plumbing, faucets, as well as drywall, painting and caulking work. He also has a network of expert contractors that he deals with to properly get jobs completed and to bring in the best materials. I trust him and plan to continue using him for future projects.
Fecha del proyecto
jul. 2017
Precio del proyecto
50.000 € - 100.000 €
Very good work with good attention to detail. Trustworthy, knowedgeable and reliable. Thorough quotations. Pleasant and likeable personality. I would hire Stan again and recommend him to family and friends. In fact, Stan was recommended by my 2 daughters, having done work for both of them!
Fecha del proyecto
oct. 2018
Precio del proyecto
10.000 € - 49.999 €
The company lives up to their time line and comes within budget. The standard of workmanship is high and any deficiencies are dealt with promptly. The company has completed 3 major projects to our home and we have been completely satisfied with the finished product. We hope to have them back and highly recommend their services.
Fecha del proyecto
oct. 2017
Precio del proyecto
Más de 100.000 €
Stan and his team were amazing to work with to complete our renovation and addition. They were professional, easy to work with and their standard of work was phenomenal. We are thrilled with the end result and Stan went out of his way to make sure that we were completely satisfied with all of the work. We couldn't have asked for someone better to partner with to help create our forever home.
Fecha del proyecto
may. 2018
Precio del proyecto
10.000 € - 49.999 €
SK Renovations are excellent contractors and I have used them numerous times for a variety of projects. Many of the projects they did for me were challenging and SK Renovations did a great job of delivering them on time and on budget with very little disruption to us. they would always leave the project site clean and tidy which I always appreciated. I would not hesitate to recommend Stanislav Kulisec Renovations for any household project!
Fecha del proyecto
mar. 2018
Precio del proyecto
50.000 € - 100.000 €
I have had the pleasure of working with Stan on two major renovations. House and Condo. I have found Stan's work to be outstanding. He meets his deadlines and is on budget. He is very professional and i have referred him to family and friends for their renos with positive feed back from them.