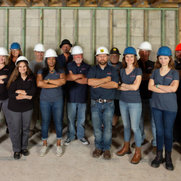 Nelson Construction & Renovations, Inc.
4 premios Houzz
5 insignias Houzz
Contacto:
Dominique Nelson
1174 Court Street
Clearwater, FL 33756
Coste medio de los trabajos:
$100,000 - 10,000,000
Also offering Design-Build Packages starting at $7000, which can include land surveys, feasibility studies, architectural blueprints stamped and sealed by a Florida state-certified architect, time with our in-house designer, and we can work with you to keep your home design within your budget.
https://www.houzz.es/pro/nelsonconstructionrenos copiada al portapapeles
Encuentra Contratistas para hacer realidad tu proyecto
¿Cansado de leer todos los tutoriales de bricolaje? Estamos para ayudarte. En Houzz contamos con más de 1 millón de profesionales del hogar, por lo que encontrarás al Contratistas de confianza adecuado para tu proyecto en Clearwater.
Lee valoraciones de particulares como tú en Clearwater
Lee las valoraciones de los propietarios antes de contratar a un Contratistas que te ayude con un proyecto en Clearwater. Si tiene preguntas, lee las valoraciones de otros propietarios o dirígete a la sección de consejos para obtener una segunda opinión.
Contacta fácilmente con Contratistas
Si estás navegando por Houzz y tienes a un profesional en mente, te darás cuenta que solicitar un presupuesto es más fácil que nunca. Desde tu panel de control podrás administrar todas las solicitudes que mandaste a Contratistas.
Contratistas en España
Servicios relacionados