Sobre nosotros
Ganador de 6 Best of Houzz
Los Angeles Leading Kitchen & Bath Remodeler | Best of Houzz
As the top rated General Contractors in Southern California, serving both Los Angeles and Orange County, Luxe Remodeling strives to tailor each project to meet the unique needs of its clients, while striving to surpass their expectations. Our team of professional contractors oversee and manage each project effectively through on-site preparation, on-time scheduling, budget and cost management, quality craftsmanship, and consistent client communication. Luxe Remodeling is a licensed and bonded General Contractor specializing in residential remodeling projects.
Servicios prestados:
Accessory Dwelling Units (ADUs), Bathroom Remodeling, Countertop Installation, Flooring Installation, Foundation Construction, Garage Building, Home Additions, Home Extensions, Home Remodeling, Kitchen Remodeling, New Home Construction, Outdoor Kitchen Construction, Pool House Design & Construction, Project Management, Roof Installation, Tile Installation, Window Installation, Window Replacement, Wood Floor Installation, Backsplash Installation, Cabinet Installation, Cabinet Refacing, Cabinet Refinishing, Custom Bathroom Vanities, Custom Cabinets, Custom Countertops, Custom Kitchen Cabinets, Custom Walk-in Closets, Shower Door Installation, Bathroom Design, Kitchen Design, Remodeling
Zonas de trabajo
Bel Air, Beverly Hills, Brentwood Los Angeles, Burbank, Culver City, El Segundo, Encino, Glendale, Hollywood, Huntington Park, Inglewood, Lake Balboa, Los Angeles, Marina Del Rey, North Glendale, North Hollywood, Pacific Palisades, Playa Del Rey, Reseda, Santa Monica, Sherman Oaks, Studio City, Tarzana, Universal City, Valley Village, Venice, West Hollywood, La Canada Flintridge, La Crescenta, La Crescenta-Montrose, Montrose, Hermosa Beach, Rolling hills, Palos verdes, Rolling hills estate, Torrance, San marino, Orange County, Manhattan Beach, Laguna hills, Rancho Santa Margarita, Ladera Ranch
Premios:
EPA Lead Safe CertifiedLiability and Workers Comp Insured
Volver a navegación
Nuestros artículos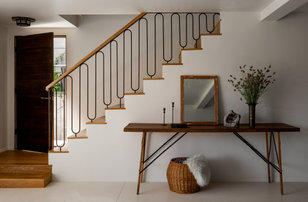 Artículo patrocinado
Ease your way toward a smoother renovation using these tips from a Los Angeles contractor
Artículo 1 de 1
Volver a navegación
Volver a navegación
Volver a navegación
Valoración destacada

Highly committed to your satisfaction, professional, and adept at quality remodeling within any budget. You will find the result you are looking for with Luxe Remodeling just as I did. They remodeled and redesigned my home from start to finish.
Leer valoración completa
Escribe una valoración
79 valoraciones para Luxe Remodel
Puntuación media: 4.9 de 5 estrellas
4.9
|
79 valoraciones

My aunt recommended Luxe Remodel to me, she had her home remodeled, and I planned on visiting again but her words were pretty convincing so I decided to give Luxe a chance. A redesigned kitchen, floors, living room, and bathrooms. We spent a lot of time discussing making preparation and I found this stress-free because their communication was bliss. Luxe Remodel is very attentive to their client, my suggestions are always heard even though they are professionals. My home was remodeled to my taste, I had to call my aunt for recommending Luxe Remodel to me and it's my turn to recommend them to you.

I knew I had to put my money to use after getting too many comments from friends, colleagues, and families to remodel my kitchen. I got so many recommendations, but I ended up hiring Luxe Remodel on a hunch. I didn't have a specific design and I never did take it seriously. During our meeting, I only emphasized getting a modern, classy, vibrant design and I got way more than I expected which is amazing. Ever since remodeling, I've been getting several comments from everyone. It's so nice to try something and get it done once.

This contractor is remarkable! Mine was a remodel with structural changes and room addition. I wanted to increase the square footage with a new room and remodel the entire house. Found Luxe Remodeling and that was it. Consulted with Alex at first and then met Rudy and the entire team. They were committed to seeing my goals through. They worked within my budget, translated my plans into a beautifully designed home, and were on the job all day every day to make it special. It was a refreshing and rewarding experience working with Luxe Remodeling. Highly recommended.

Luxe Remodeling is a company that stands for something. You can tell if you pay close attention to how they work and why they work. Throughout their time working on my family home, you could tell how passion and commitment they displayed towards the results we wanted. Mike was especially committed to our satisfaction. He ran every option by us and made sure we knew where the project was heading at all times. The results even speak for themselves. My parents are overjoyed with the results and express their joy every day.

A friend of mine always keeps bringing up a conversation about my kitchen remodeling, she recommended Luxe Remodel for me. It was my first time getting the service of remodeling so I did little research about the latest designs, pricing, and all then I had a budget, saved up to the amount and I contact Luxe Remodel. I sold my idea, it was modified and presented, I wasn't expecting anything lesser from the digital model I was shown. They executed it beyond my expectation, I don't know much about remodeling or construction but I know who to call when I need one. I'm grateful.

Since I moved into my newly purchased apartment with my spouse, we've had this feeling to improve the design. I visited a friend that recently got his apartment remodeled and that was the moment I knew I have got to get the contractor contact that got the job done for my friend. To cut it short, as I'm writing this review, I'm in my remodeled home and I'm so satisfied with the job. I don't usually leave reviews on products or services after purchase but this is too impressive to not appreciate. Thanks, Luxe.

I always wanted to drop a review because I rarely write reviews on platforms and I have been procrastinating this particular review. Luxe Remodel renovated my roof, kitchen, and changed my flooring some months back which I loved. You might be wondering why I'm dropping my review now, well it's because of the constant compliment I've been getting from several people, this is the least way I can appreciate the great work they have done, really grateful Luxe. I will be doing some remodeling soon.

My wife and I wanted to work the kitchen, and painting (interior and exterior) remodeling so we hired Luxe Remodel after contemplations, recommendations, and surveys and they didn't disappoint rather they awed us. They did the jobs quickly, with superior finishes, and professionally. I am not the review kind of person but I need to appreciate this awesome work, my wife always compliments and appreciates the great work done most especially in the kitchen.
Our experience with Luxe remodel is that they offer spec home quality for custom home prices, and have a serious ongoing integrity problem.
We researched remodeling companies at length and interviewed three contractors in person before we decided on Luxe to remodel our kitchen. John was the best listener and we could tell he was very good at his job/had tons of experience. My husband and I are very detail oriented and wanted everything to be perfect. John (and his crew!) were insanely patient with us and went above and beyond to make sure we were happy with the end result. Our custom cabinets are a work of art. We even visited the cabinet maker's factory. Luxe brought our dream kitchen to life; we highly recommend this company!!
Currently working with Ben as our project manager at Luxe and could not be happier. We're doing a sizable renovation in Pasadena and Ben has been a great partner throughout. We started this project when my fam was still in MI so doing this initially remotely was challenging but Ben was amazing. So easy to communicate with and avail any day or time we needed him. Now that we are local it's been even better. He's on top of all the details and specifics. Really just a pleasure to work with. Would def recommend! We're not done yet but can't wait to see final product!
I wasn't planning a kitchen remodeling project any time soon, but a water leak caught me by surprise. When the remediation team was done I was left without a kitchen. This happened in April, when much of the city was shut down amid COVID crisis--probably the worst timing possible. I spoke to several potential contractors but Luxe Remodel really stood out due to great reviews and their positioning as a designer builder. Turned out it was the right decision--the team that I worked with were smart, professional, courteous, flexible, and super nice. The project manager, John McIntyre, coordinated and executed with poise and a great sense of humor. John also went above and beyond in providing really valuable design recommendations throughout the project. The end result is a kitchen that looks and functions exactly as I want it to. I feel this is a team that I can trust and rely on in my future remodeling projects, and would highly recommend Luxe Remodel to my friends and family.

Great company, great culture. Expect amazing results from this contractor because that is exactly what you will get. I've worked with Luxe Remodeling in the past developing houses for clients but never really left a review. Even though I don't normally leave reviews for business partners, I felt compelled to write one. Firstly, the people behind this company are some of the best people I have worked with so you will get your dream home. Second. The team is composed of skilled and experienced contractors, architects, and designers all passionately looking for the next challenge. And thirdly they have an admirable work ethic and culture. You are in good hands.

Our family house was in dire need of a remodel, it was almost 10 years now since it was remodeled so it was due for a makeover. Just who would handle that makeover was what we were about for weeks. The former contractor shut down so we had to start from scratch. Lucky for us we didn't spend time with different contractors. The first recommendation we got was for Luxe Remodeling and after some research we hired them. They took charge of everything and wowed us with their work ethic, commitment, and passion for customer satisfaction. We should have done this a long time ago. Thankful.

Highly committed to your satisfaction, professional, and adept at quality remodeling within any budget. You will find the result you are looking for with Luxe Remodeling just as I did. They remodeled and redesigned my home from start to finish. No shortcomings or mistakes. They did a solid job and I am grateful for it. It took about five months of consistent and continuous work but sooner than I expected, they completed the job with time to spare. The results are fantastic and welcome. My wife, family, and friends are loving the new look and will certainly hire for their next job.

Thanks to the efforts Ran and Mike put into our home we were able to meet our goals with a fully remodeled kitchen, new floors, and a remodeled bathroom, everything looks spectacular. Hiring Luxe was half the battle, but thankfully we found them. Came a long way filtering contractors and doing background check but it all came together. They came through beautifully, displayed an outstanding level of skill and experience to deliver the kind of results we were looking for. Very much recommended and trusted.
I've been through my share of remodels and almost all of the experiences took more time, more money...you know the story. And then my mother's condo had water damage which was uninhabitable. Despite solid insurance, the moment the tests came back positive for mold and sewage, we knew this was going to be a complete move out, demo and remodel. I had 5 bids come back and chose Ben with Luxe Remodel. He and Fernando are my heroes. Open communication, direct eye contact, honest opinions, quick problem solving, and most of all, they took care of us when COVID hit and the building shut down to all contractors. Even though we had weeks left on our schedule to get the job done, I was able to have the Board give us 5 days so that my mother could move back in and they made it happen without any changes to the original renderings. Ben's communication was impeccable with immediate responses to every question and request. Most importantly, the craftsmanship is PERFECTION! Thank you Ben!!!

Comentario de Luxe Remodel:
Hi Royce, thank you so much for taking the time to leave your feedback. Ben and Fernando are very ecstatic to head about your review. We're very happy that we were able to help you and your mother achieve your dream space. Thank you for trusting Luxe Remodel! Please stay in touch.

Luxe Remodeling is a phenomenal remodeling company. They are one of the best here in LA and for good reason. I had options to pick from but my first point of contact with Oren was so compelling I had to sign up immediately. They are not just different from other contractors in name alone, but also in process and results. My experience with Luxe is certainly one of the highlights of my remodeling history and that's saying a lot for a developer. Worthy of your time and money. You will get your money's worth.

I've been a fan of Luxe Remodeling for some time now. Because this contractor has everything. Superior staffs, from the top-level staff to the craftsmen, all are professionals. Compelling development process; they are fully committed and involved in realizing your dreams. And experienced. All the time I worked with Luxe Remodeling I felt at home with their remodeling process and how they approached problems differently. The experience I had with my home and now an addition is just spectacular. This is a united front and it shows. Highly recommended.

I was a bit skeptical about this one but I was compelled to trust them because the person who recommended them was a friend I hold in high esteem. So, I had high expectations and I'm glad they didn't disappoint. The new addition is flawless and the interior remodel is perfect. After we completed the addition and I was already a fan of their services and work ethic. I'm just glad I followed through on the recommendation. In all, outstanding customer service, first-class execution, and constant communication. Very fun to work with.

I have known Oren for 4 years now, he was the contractor who built my home, and even back then I experienced all the quality Luxe Remodeling had to offer. So, without a doubt, I already knew which contractor to call on now that I want to remodel my parents' home. I reached out to Oren and hired Luxe Remodeling for the job. Throughout the project, it was a milestone after milestone as they completed one major aspect of the house to another. We had no issues at all and it was even more superior service than the first. I love their service again and will keep working with them.
I met with several contractors for 2 bathroom remodels in my home; and I decided to work with John McIntyre. John and his team were easy to work with and really did an excellent job. I am pleased with their work and will consider them for future projects too.
Professional, detail-oriented and very reliable. Hired Luxe Remodel to remodel my 2 bathrooms and kitchen. We completely remodeled everything and gutted all three rooms. The entire process was very easy as they constantly communicated and were transparent with me. The quality of work is impeccable and I'm very happy with the outcome. I love being home and cooking now!

Ben and Mike are absolute winners! I have so much to say because this was a great experience for me, I'm still in disbelieve as I write this because the design, the execution, and the craftsmanship are sublime. They transformed my home out in Glendale for a reasonable price and within a short period. Ben handled everything from securing renovation documents and permits to helping me select preferred materials. All the sub-contractors and staffs are super talented and all worked together to help me achieve the goal I wanted to achieve. I'm so glad I hired Luxe Remodeling.

Comentario de Luxe Remodel:
Celina, thank you so much for leaving us such amazing feedback. We really love what we do, so it gives us great encouragement to know that you are also very satisfied with our work. I'll be sure to pass along your feedback with the rest of the team! Thank you so much for trusting us with your home!
This was our second renovation with John McIntyre of Luxe remodel. It went every bit as well as the first. This was a kitchen remodel from the floorboards up. John is very easy to deal with and contributes a lot of value added ideas to the design. We do not live locally and he's very flexible in dealing with us by email and video conference and handling stuff for us. Attention to detail is very good and luxe ensures that there are no loose ends at the end. We highly recommend him.

This is a first for me but I knew I had to give this contractor a spanking good review. Oren and his team did a phenomenal job. We wanted to change the entire flooring of the house and also add a new room so we have been scouting for contractors ever since. Our search for a contractor ended once we met with Luxe Remodeling, once they heard our ideas and plans, they were quick to establish a development plan that fits our budget perfectly. Also, they nailed the aesthetics and functionality we were going for. They handled our home as if it was their own and delivered fantastic results.

This contractor is truly setting the standard for quality building. I am glad you can still find contractors like this, Open, honest, transparent, and all for you. they took client satisfaction and communication to a whole new level. My previous experience out in Miami was very different, though not bad, the contractor had a few loose nuts to tie before getting to this level of execution and communication. Luxe Remodeling transformed my home into a beautiful and functional living space.
Consummate professionals. Pure and simple. It was John, my project manager, who clinched the deal for me: of the many people who visited to quote my job, John was the only one who listened, took time to understand what I wanted, and did everything to make it work. (I was tired of all the people who came round trying to tell me what THEY think I should do). Revealing anecdote: John actually quoted me twice for the job, a year apart. Both times, within 3 days of his visit, I had received a professional, written quotation, complete with explanations, details of the work, an outline of the stage payments. Also, after submitting the first quote, he did not chase me at all. The first quote was more than I was planning, and I didn't feel comfortable with the other people who quoted me, so I put the job on hold. A year later, I tried again, getting more quotes, with more people either not showing up, being late, showing up and telling me what they could do rather than saying they would do what I wanted. None of them provided written quotes. One office even chased me by phone a week after visiting and didn't even remember what they quoted me. By then, I had had enough. I called John again. He visited to quote a second time, remembered everything, listened, and sent me a professional assessment within 3 days. Now there was no question. I got Luxe on the job. The work speaks for itself. John coordinated his consummately curated team of professionals - who must surely be among the best in the LA area - and they did a peerless job. Thanks Carlos, Oscar, Sal, Giovanni, Henry, George, Angel (whose tiling is probably the best I've ever seen), and anybody else I didn't get to meet. Faultless work. A second revealing anecdote: I live in a high-end condo building in WeHo and, before finding Luxe, went to ask the HOA for recommendations. They wouldn't give any; they had been burned too many times in the past by disgruntled owners unhappy with any contractor recommendations. As it turns out, once I hired Luxe, half way into the job, I found out the HOA had approached John and asked him to quote for some other work that was needed in the building. The HOA also told me that Luxe had been one of the best contractors they'd had in the building for a long time, obeying all the HOA rules and regs, not to mention unflinchingly laying down 250 feet of ram board through the common areas every week. I know now that remodeling is a potentially stressful thing requiring care, planning, lots of attention, thought, you're spending more money than usual, making lots of decisions. But doing it with Luxe was utterly enjoyable. I had NO sleepless nights. NONE! How much is that worth to you?





Ben Salomon did an AMAZING job for us. We redid our entire kitchen and it looks gorgeous. They were easy to work with, super responsive, and very affordable compared to everyone else. They also installed our flooring, removed popcorn from the ceiling, installed washer dryer hookups and installed our flooring. We will be hiring them for future projects. Can't wait!



Ben is amazing! He came by in June to look at the house and give an estimate and we clicked right away. Very calm and competent and a straight shooter, he gave us a ballpark and the written estimate was pretty close to what we had discussed. The Luxe team demo'd basically an entire house, redid two bathrooms, re-floored most of the house, added new stairs and finished the upstairs room, installed HVAC, and completely rewired and replumbed the whole house in 3 and a half or 4 months! VERY fast, in my experience! All problems that popped up, and there are always problems that pop up with even small remodels, were handled quickly and to my satisfaction; even the ones that were caused by vendors/delivery companies! These guys are more expensive up front than many contractors, but they did not go over expected budget (setting aside project creep-my fault- and the unexpected- see having rewiring the house above) and the job was completed quickly and with no "cut corners" that you might experience with someone else to keep costs down. If you value up-front pricing and honest work, you'd do well to give Luxe a call for an estimate.
I bought a place in LA so that I could visit my girls more often. The condo was in shambles, and we began our process while we were in escrow. We needed permits for the electrical and plumbing and they made it so easy for us. We remodeled the entire place, I did custom cabinets for the kitchen, they helped me pick out the tiles for the backsplash. We did a custom vanity for the bathroom that is absolutely stunning, I could go on and on. I want to spend more time in this home than my current, I highly recommend them.
I have a historical home, this company will be transparent with you from the beginning when it comes to price. The result was exactly what I asked for in terms of design. They kept the integrity and charm of this home, while looking brand new. Can't recommend them enough.

Very Great and we have PICTURES!!! They were recommended from a friend who found them through another professional site a few years back and now they are a Top Rated company so we were very pleased to learn this. Wasn't rushed through the process and everything we wanted was just as we hoped. Had our drop ceiling FINALLY removed! Yeah! Old brick removed from walls. Yeah! Wood Panel removed from kitchen. Double Yeah! Opened up entire home and had beautiful textured custom painting done throughout! Beyond all YEAHS!!! Great experience and great company! For home renovations we give Luxe Remodeling Company High recommendations!



I have used Luxe Remodeling for several of my own projects including my roof and they have also completed roofs for some of my friends as well. I have always received excellent pricing, service, and quality during each interaction. They work very hard and go out of their way to ensure that the work they do is top quality and I would highly recommend them to everyone.!

This is one of the best and honest contractors you can hire and I personally would recommend them to anyone who wants the job done right.

We finished! The best experience and journey you can imangine! Not only do they have the top and finest workers in their customer service dept but their workers that are assigned to the crews are amazing and talented! We started this journey almost 2 months ago and we are about to end on the 3rd and final stage in our kitchen and it is beautiful and open and finished! Plus just in time for CHRISTMAS! I have everyone coming over and yes I am cooking! Have to show off! Best Christmas present to ourselves ever! Thank you everyone at Luxe! Chelsea your the BEST!!
they did a fabulous job. kitchen looks great. As for getting to site on time all time, well 15 minutes here and there is no big deal... you know LA traffic. We really like this company and appreciate all of the workers that were a part of our kitchen plans.

Worked with Luxe Remodeling to remodel our master bathroom. We are having many family members come to our house this thanksgiving so we were under extreme pressure and stress as to when to to the project, before or after the up coming event. Either way we made some calls and met with a few contractors and these guys pushed their schedule around in order to accommodate our unusual circumstances. We felt assured and confidant in their scheduling of tasks at hand that we decided to go for it and sign with them. They finished the remodel in less than a month and did a spectacular job. The bathroom now looks like a 5 star hotel or spa. We cannot speak highly enough about this company and their entire crew. The thing that really sticks out about them is their service and genuine care for their customers. We now have the perfect bathroom to escape to while our families arrive and we are still 3 weeks ahead of the game.
Installed all new windows in our home plus did exterior and interior paint and finish work. Everything looks wonderful and vibrant and the craftsman skills if that is what its called are detailed and very clean. We again are impressed and really do recommend them to all our neighbors and family.
This was a total kitchen remodel..and I could not be happier with the results. Every single person at Luxe remodeling was professional, the work was done as promised..on time..on budget. Jacob was accessible, answered my queries quickly, and was fabulous to work with. Harry was extremely helpful with the kitchen design and had great suggestions to improve the functionality and aesthetics. Every single person who worked on my kitchen was courteous, worked hard and did an amazing job. I have no complaints and would not even consider another company for future work.
We had our master shower remodeled last year by Luxe and couldn't say enough great things about them all. From the beginning they gave us a fair estimate, both in terms of pricing and in terms of timing. They finished on time and their work was top notch! We had some questions months after the service was performed and it was like calling on old friends. They were always available to help us without any problem. Even some small jobs we called them back for knowing it was way below their standard of project sizes. You wouldn't know though cause they acted as if we were the most important job they had, yes even installing new appliances and laying down a new floor. Just real good folks. We couldn't be happier!

I have gone through several contractors to get my kitchen redone. Each and every one of them has either given me outrageous pricing or hasn't even shown up to give me an estimate...it's almost as though people don't want to work. Then I called Luxe, and from the get go they were friendly and courteous. The consultant put up with my million questions and emails and never once gave me an attitude. The job they did was beautiful, the crew was courteous and understood my limitations as a homeowner and just worked with me through the whole job. I would recommend this company to anyone who needs renovations, big or small.
After our initial meeting and design consult we hired Luxe to commence on our Dream Kitchen Remodel. Signed off end of June and the work crew showed up on time first day scheduled out and as promised 3 weeks later (1 day under 3 weeks actually) and our Dream Kitchen was Complete! It turned out more beautiful then I imagined and I find myself catching my breath for a moment every time I walk in and turn on the lights! Great company to work with, best experience in remodeling so far. Will highly recommend them to anyone.
Luxe Remodeling and Design are the BEST! They go above and beyond to work with a client to fulfill all their wishes. Our Contractor was incredible and listened to all our desires, wants, needs and must haves regarding before, during and after. He Got IT! Great understanding of design concepts. They are prompt and efficient with highly qualified craftsman to help in the build of your project. I would recommend Luxe to any and all of my friends. I couldn't be more please with our results. Thank you Luxe for a fantastic Kitchen! All my friends rave about it! Your entire crew was a pleasure to work with.
I have had a few contractors come into my home but I never have been quite so pleased. The company Luxe called me back shortly after my initial call and was friendly, personable, and flexible. The information that they sent us to prepare is informative and clearly understandable. Once the consultant team arrived they got right down to business and worked diligently and carefully at capturing our wants and not wants! The final estimate was spot on and we were ready to begin. The day they came they got right down to work and did an amazing job at keeping the area clear and free of debris or clutter! When they were done they had me inspect the work before they left to make sure it was "perfect" even insisted on ensuring that I had all the resources to call them directly if I foud something they missed later. They were highly professional but oh so likable too!! So I would highly recommend this company to do your next remodeling job.
Let's face it, the bar is low with contractors. Out of the 4 bids we got for a kitchen remodel in our condo, one never gave us a bid, one took two weeks to get back to us (after missing the first visit time), and the third clearly didn't know how to do the job. Luxe Remodeling was none of those things! They responded to my initial inquiry which was via email within a couple of hours. We scheduled the appointment and they showed up on time for the estimate. They were patient when we went back and forth about the scope for months due to our indecisiveness. When we finally decided to go for it, they responded, on a weekend, within an hour. Every morning during the job, the crew was not only on time, but early. The quality of their work was excellent! They were willing to work with us on a few tasks we could do (like painting), and when we screwed up one part of the remodel we were doing ourselves, the was extremely nice about helping us fix our error. Note to self: next time just pay the Contractor to do it all. The project ended up being more work once they opened up the walls and got started, but they still met the estimate and didn't go over! We won't hesitate to use them again.
We searched for a while before selecting our contractor. We chose Luxe remodeling. They proved to be a professional company with great workers. We are happy with the results and price. Will use them again.
Provided timely services and good prices. We remodeled our patio/deck off of our bedroom and master bathroom and they gave us the lowest price and were able to pull permits and complete the project within their promised schedule. We would recommend them.
Total remodel of master bathroom, removed walls, floor, tile, toilet,sink, fixtures, and stripped down shower completely rebuilt bathroom and shower, installed new tile, vanity, wall cabinet, medicine cabinet, toilet, all fixtures and lighting. Bathroom feels like a five star hotel. Project went well, stayed within budget, stayed within time frame, quickly addressed any issues, Would use again, will recommend.
We had our floors and walls done added windows and paint texturing through out. Had Lighting changed in our home as well. Our walls are more open now and the color on our walls is exactly how we pictured it. We will use Luxe Remodeling in the future when we are ready to do our kitchen. They proved to be on time and knew exactly what they were doing through our adventure. When we called they answered our calls and met all our answers. Good company.
Major bathroom and kitchen remodel. New banisters and added a wall. Excellent source for true and reliable contractors in the Los Angeles area.
Kitchen remodel was well crafted. The workers were on time and proficient. Kept area they worked in safe and hazzard free. General contractor kept to agreed budget and dealt with complications that arised in a timely manner. Good business to work with.
Luxe Company has installed doors and completed a bathroom renovation in my small home. Great work, quick and reliable. I finally had a good experience with a contractor in LA!
Luxe Remodeling provides great service and fair prices. We are about half-way thru our complete home renovation and they have been nothing but honest with us about the progress of the job. We are very pleased we selected this team out of the 5 we interviewed. So far so good!
Relación
He recibido un presupuesto
We were just starting to plan a kitchen remodel, and were considering taking out a wall. In order to determine whether or not it is load bearing, we gave Luxe a call to come check it out. They were able to come out within a day and provide their professional opinion. I was adamant that we pay him for his time, but he refused to accept it, saying it was just a quick visit. We will definitely be contacting him for our future needs.

Wanted to review earlier, hooked up on Angies list. Shout out to a great company. Luxe Remodel company remodeled our bathroom and kitchen!!!! Would use and recommend them to everyone.

First and foremost, I'll say that they did a great job for a good price. Now to break down the details... At first, I'll admit that I was a little caught off guard in talking with their lead contractor. Here's the reason why. I'm used to talking to contractors that when you start in on telling them about your work/problem, then they will respond pretty quickly and start to tell you everything that they think about your project. He didn't do that. There was a pause after every time I would tell him something and I wasn't used to it. The thing is, he is actually listening to you and everything that you have to say before he thoughtfully responds. I realized that after he came out in person and each place I would show him something, he would definitely pause and take a really good look at everything so that they were paying attention to all the details. That's remarkable and I really appreciated it once I got used to not being steamrolled like some other contractors might do. After he took a look at the work I had, he was able to fit me in to his schedule since my project was just a couple days worth of work even though he was booked out 4 weeks with bigger projects. He even was able to push up his start date a day which was great because it gives me more time to paint and prep before my carpet was going in. Every time, both he and his employee were there within probably 10 minutes of when they said they would be which is pretty spot on whenever you're dealing with traffic in the LA area. The work was definitely done to my satisfaction and they made sure to communicate expectations for the project accordingly. One of the things I wanted was for him to patch up some drywall and texture and he made sure to let me know that if I just want a patch that it won't be seamless, but that it'll be pretty damn close. In order to be seamless, you basically have to strip away all the existing stuff and redo the whole room which would obviously be a lot more cost and I didn't need that level of perfection. Anyway, I'm definitely pleased with the result and I appreciate that he set the expectations ahead of time. The other thing that stood out is that when we were going over all the work that we had agreed to previously, he asked if I wanted something else done that they would throw in since it would only take an extra 15 minutes. I said sure. Then he asked if there was anything else and I pointed out a couple other small things that I had just been planning on doing myself. He threw those in as well for no additional charge. Overall it may have been an additional 45 minutes of time and he did it all for free since it was all going to fit in the two days he'd allotted for the work anyway. That was the icing on the cake. Lastly, I'll just throw this out there. I actually had my neighbor ask me how I "did it" when it came to finding good contractors. I asked him to clarify since I wanted to make sure I knew what "it" was. He said, "you find all these great people while you usually hear horror stories about contractors." I told him that my secret was asking lots of questions and letting them just talk. It has worked pretty well for me so far.




Very happy with the quality of work at the price. We bought our house July of 2013 and having only one small bathroom its been a tight fit. Finally ready to renovate and knots were turning in our gut over the what ifs. Given that we only had the one bath to count on. They were able to adjust to our schedule to get our small job done on time. We barely went with out. He's a nice guy and easy to work with. Yes we are happy.
I highly recommend Luxe Remodeling, and his team is excellent. They are professional, respectful and skilled. The lead contractor was super patient and very helpful while we considered many different options during the planning stage of our kitchen remodel. His expertise and and advice guided us through the project as we made decisions and ultimately ended up with the perfect kitchen! We couldn't be happier and as far as I'm concerned...he is the only contractor in Luxe! We have used Luxe Remodeling in the past...and intend to in the future!

We replaced our kitchen and bar countertops with 3 cm River Bordeaux granite and beautiful flooring. In the process of selecting the contractor we interviewed 5 tradesman and the manager at Luxe was the ONLY contractor that understood our needs. He guided us towards the right product to accomplish our goal of perfection. I would recommend them to a friend and would exclusively use this company for future work in our home.

Had one meeting and described all the work I wanted done in our bathroom remodel - all the work was done to my EXACT specifications. The bathroom was GORGEOUS I still plan on hiring them for a kitchen remodel in our other unit and I have no doubt they will yet again make my vision become a reality.
They did a real good job and were dependable. Good to see them growing in the local area. Will use them again with confidence.
Luxe did a major remodel of our master bathroom and did a bunch of other small jobs around the house for us. He was always easy to get a hold of and quick to stop by our house any time we needed to meet or have concern. This is a very good company.
I'm writing this review in response to the quality of service this company do. I was in need of a renovation, but unfortunately I am just too far away from the area of coverage of the first company we selected. I got a call the next day from them letting me know the reason why they could not help me out, but instead of just leaving me with the wolves, he recommended a company he trust. Luxe Remodel. I looked them on on Angies list and found good reviews. Then hired them. Very happy with the earnest response from them and patience with me. Very good service Sir, keep it up. My kitchen looks very good. I am very happy.
We wanted to give our house an update. Luxe Remodeling did an amazing job. I entrusted the whole project to them since I had to be out of town, and they chose all the colors and materials. Our contractor did much of the work including new bathroom cabinets himself, and he mastered the perfect look for the flooring, painting, and counter tops. Everything was all done in about three weeks: completely new master bathroom, new carpeting, wood laminate flooring where there'd been carpeting, new paint, some new lighting fixtures, etc. It looked terrific -- unrecognizable -- when they were done with their transformation. My investment of a little over $33K increased the value of my house by more than twice that! It truly was a pleasure to deal with all the crew and office staffing. I would highly recommend Luxe Remodeling.
I worked with the Luxes kitchen remodeling crew to re-face my cabinets, add new flooring and install new stainless steel appliances, and they did an outstanding job. Highly recommended! Top notch people, beautiful work and there were no surprises. Happy to review their company and give them an earnest thumbs up. Love my new kitchen!

Real good. We had our floor re done in tile and new sink installed with a beautiful oak cabinet. Our mirror was an antique and looks Brilliant!! We absolutely love our new bathroom and are very pleased to share our experience for others. Very true to their word company. Happy clients all around.
We worked with Luxe Remodel a few years back and had a great outcome. To this day our countertops and flooring look amazing. We are happy to write a review to share our past experience with the company. Pleasant attitude, a we can do it approach, clean and organized, and on budget. We recommend them and will use them again if we ever need remodeling done. Would like to wish all who worked on our kitchen a happy Thanksgiving and upcoming Christmas. Tony.

Very happy clients. We hired Luxe to do a kitchen renovation based on the recommendation of a good friend of ours. Randomly picking a contractor can be a huge gamble so finding one that had proved their performance in the past and was highly recommended and one where we got to see the work was our best route. Glad we did. Our kitchen turned into our dining room and bedroom. In addition to this, we had new modern tile and backsplash put in our guest bathroom. The price was definitely fair, the work turned out great, and it was all on budget. Daily cleanup is taken seriously by the crew, and the lead manager constantly communicated what was going on through out every step, wanting to make sure we were okay with it. The huge kitchen we had made our kitchen job a little tedious, but Luxe never stopped until their work was done. Without question, we would use them again, or recommend them to family and friends as they were recommended to us. Glad to see them branching out.
Luxe did a great job on our small guest bathroom. They showed us their designs and when we approved the one we liked, everything was installed quickly. It looks great and we would recommend using their premium cabinets to anyone looking to remodel. Our bathroom looks great!! We will be using them again for our future renovation projects.
Just hired them after meeting with 3 different contractors. We chose Luxe because we felt all our answers were met and the contractor took his time to explain all steps in detail from start to finish! Looking forward to a new look after the holiday coming up!! First Turkey the weekend Face lift!!! Excited to start!! Will update soon!! UPDATE- Dec 2, 2014 completed our kitchen. Here is all we can say. Amazing! We are so very pleased and very happy that we selected Luxe Remodel to be the company we hired for our Kitchen project. We originally wanted it done before Thanksgiving but the timing wasn't the best and we appreciated the honesty and the straight forward handling of our dream project. Our kitchen is not only now complete it is GORGEOUS! And we cant wait for Christmas to come. Recommend them from the crew to their office staff!

Having owned our home for as many years as we have, we have had several frustrating and one awful experience in dealing with contractors. Our last project was a total rehab of the master bath, and working with Luxe made it the easiest project we've ever been involved in. We would not hesitate to recommend them to anyone.
Have to give a solid report. The guys who came to install our new garden tub and shower deserve to get some praise. They cleaned up after themselves perfectly and did a great job. I cant say enough about how beautiful our master bathroom turned out and keep telling everyone about it.
We don't usually sign up to write reviews but after dishing out over $120K on a Major kitchen and Bathroom Renovation we feel its a must do. Excellent customer service. Always answered our questions and when they couldn't they got the answers for us. Kept us in the loop from day 1 to finish! We are extremely pleased and happy with the new look of our home!! We now entertain with style and confidence. We love showing off the work we put into our home. Very happy clients, will use them again!
We had our Bathroom completed gutted and built back up. Incredible service and amazing attention to details!! Recommend this company to everyone.

this is our 2nd review on this company in almost 2 years, one for our kitchen and patio and now our roof and YES we are official friends at this point. Re-Cap so in 2014 they did our kitchen and patio, amazing! Now they just replaced our entire roof and it was just as smooth as before and was finished in 4 days after all the material arrived. Exceptional workers and lead man! Thinking we may need to add a pool in back! Hmmm We found the good guys! and just in time for the brand new year! Lets show everyone who is best and on top this new year here Houzz! HOUZZ the best professionals do it? Always the right way! Neighbors its going to be a great year!!
We recently had our kitchen floor done. So we are well experienced now with how dirty and unreliable crews can be. We wasted lots of time waiting around for guys to not show up when they were supposed to. What, like our time is less important than theirs? rubbish. But Luxe Remodel and their crews were different, they take it very seriously to be to the minute on time, impeccably clean, and at the end of the day, the best granite installers in town. They gave us the best of 4 quotes on price, and the job was done beautifully and on time. We LOVE our black pearl granite and marble backsplash . The counter and backsplash are impressive, to say the least. But the over all experience after our last one is 5 star excellence to say the least. Finally we are happy and found a renovation company we have faith in.




We had a small bathroom project, not real big but everything went very well. We were very pleased with the workers and the ethics of this company. If we ever have another project we won't hesitate to contact them. Good Company.
We had our bathroom tiled and our shower changed out last month. The workers and crew were very polite and on time as well as completed a great job. We are very pleased with our bathroom. Greatly recommended.
Volver a navegación
Volver a navegación
329 N. Wetherly Dr.
Suite 205
Los Angeles, CA 90211
Coste de trabajo medio $15,000 - 800,000

Número de licencia 993473