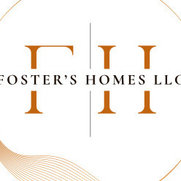 Foster Home Improvement & Remodeling
1 premio Houzz
2 insignias Houzz
https://www.houzz.es/pro/martinfosterremodeling copiada al portapapeles
Descubre mi vídeo destacado
Greater Albemarle County's Successful Kitchen & Bath Remodelers
page_type: prop_plus_profile
Fosters Home Improvement & Remodeling has 18 years of experience in designing, remodeling, and building. One of our key factors to being so successful is listening to our clients wants and needs with the intent of building their dream home. Our scope of work can be as small as a light kitchen remodel, to building a home from the ground up. We have the tools, and the experience to making your dreams come true.
Servicios prestados:
Attic Conversion, Baseboard Installation, Basement Remodeling, Bathroom Remodeling, Cedar Siding, Countertop Installation, Crown Molding Installation, Custom Home Bars, Custom Homes, Deck Building, Drywall Installation, Energy-Efficient Homes, Exterior Door Installation, Fiber Cement Siding, Fireplace Installation, Flooring Installation, Garage Building, Gas Fireplace Installation, General Contracting, Green Building, Home Additions, Home Extensions, Home Remodeling, House Framing, Kitchen Remodeling, Laminate Flooring Installation, Lighting Installation, Linoleum Flooring Installation, Outdoor Kitchen Construction, Pool House Design & Construction, Porch Design & Construction, Radiant Floor Heating, Shower Installation, Siding Installation, Siding Repair, Site Preparation, Skylight Installation, Sliding Door Installation, Soffit Installation, Stair Installation, Subfloor Installation, Tile Installation, Tiny House Construction, Trim Work, Vinyl Siding, Water Heater Installation, Water Treatment System Installation, Window Installation, Window Replacement, Wood Floor Installation
Zonas de trabajo
Charlottesville, Earlysville, Free Union, Hollymead, Ivy, Keswick, Lake Monticello, North Garden, Palmyra
Valoración destacada

Precio del proyecto
50.000 € - 100.000 €
He worked with us through our brain storming and cocktail napkin idea phase and helped us bring those ideas to fruition. Scheduling, communication, and attention to detail were above our expectations
Leer valoración completa
Escribe una valoración
4 valoraciones para Foster Home Improvement & Remodeling
Fecha del proyecto
febrero de 2020
Martin Foster just finished our bathroom shower & our kitchen remodel & he & David are awesome! We recommend Foster Home Improvement & Remodeling to everyone!!

Fecha del proyecto
noviembre de 2019
Precio del proyecto
50.000 € - 100.000 €
We used Houzz to send out inquiries to local contractors on our kitchen remodel. We chose Foster Home Improvement and remodeling because we were impressed with the response time and felt that Mr. Foster has a good grasp of what we were trying to accomplish. He worked with us through our brain storming and cocktail napkin idea phase and helped us bring those ideas to fruition. Scheduling, communication, and attention to detail were above our expectations. They have a good network of reliable subcontractors that handle those aspects of the job that they don't handle. We couldn't be more pleased with the final product and are happy to provide an enthusiastic endorsement.




Fecha del proyecto
febrero de 2011
Precio del proyecto
50.000 € - 100.000 €
I have used Foster Home Improvement for a number of projects over the years and been very happy with the work done. Martin has done a number of built in cabinets/shelves/bookshelves which look great. Ones in living room, bathroom and sitting room. The sitting room has a window seat with storage underneath as I had wanted. He has been good with working with what I wanted and had suggestions as well. The largest project was a major addition to my home, which involved taking down the rear exterior walls of the house. The addition was to the entire back of the house, extending 3 rooms and adding a second bathroom. This involved new rooms, and then putting hardy plank siding around the entire house and new windows for the entire house. The entire exterior of the house was painted as well. The new roof line was complex, but he was good at designing new design for this, with a skylight in the kitchen. This also involved having electric and plumbing work contracted which went well. I also had 3 old stained glass windows that I wanted to figure out how and where to install them, so Martin did a great job with this. They definitely add something a bit different to the design! Again, Martin was good at listening to what I wanted and working with me to obtain this. He and his crew also painted the whole interior of my house at one point. This went well and I have been very satisfied with the results. One of the rooms involved a complex color scheme with the window sills and frames and doors as well and they did a good job on meeting my desires. This past December I had all the original old pine floors removed and replaced with oak for the entire house Martin and his crew did the whole job which involved moving furniture all around from room to room- a BIG and arduous job! So it was a "double" job done well with good attitude. The floors look wonderful! There was much measuring done for exact fit and Martin is very precise with his work. I have had a number of other smaller projects done such as storm doors, plantation shutters for the whole house installed, and all these have been done well. Over all the common factor is that Martin takes pride in his work, and is patient and listens to requests and suggestions with good attitude. He pays attention to detail. And I have been very pleased that with all the various projects the job site is always left as neat as possible at the end of the work day! Importantly too is the issue of having workers in the home that I can trust. This means a lot to me, as I am gone most of the time the work is being done and I want to feel my house is in good hands. I am very comfortable with having Martin doing the work! I have more projects I want to address coming up, so will be using Foster Home Improvement again for sure!!!
Fecha del proyecto
febrero de 2009
We are extremely happy with Foster Home Improvement, they remodeled our kitchen, added decks, built a sun Room, put flooring in our home. I would recommend this Company and would certainly use them again when we need them.
Encuentra Contratistas para hacer realidad tu proyecto
¿Cansado de leer todos los tutoriales de bricolaje? Estamos para ayudarte. En Houzz contamos con más de 1 millón de profesionales del hogar, por lo que encontrarás al Contratistas de confianza adecuado para tu proyecto en Charlottesville.
Lee valoraciones de particulares como tú en Charlottesville
Lee las valoraciones de los propietarios antes de contratar a un Contratistas que te ayude con un proyecto en Charlottesville. Si tiene preguntas, lee las valoraciones de otros propietarios o dirígete a la sección de consejos para obtener una segunda opinión.
Contacta fácilmente con Contratistas
Si estás navegando por Houzz y tienes a un profesional en mente, te darás cuenta que solicitar un presupuesto es más fácil que nunca. Desde tu panel de control podrás administrar todas las solicitudes que mandaste a Contratistas.