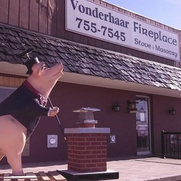 Vonderhaar Fireplace Stove & Masonry
1 premio Houzz
1 insignia Houzz
Coste medio de los trabajos:
99 USD - 10.000 USD
We do a wide range of service from simple inspection to completely remodeling your hearth.
https://www.houzz.es/pro/vonderhaars/ copiada al portapapeles
We take pride in being a locally owned company that can handle any customer's needs whether it be refacing a fireplace, masonry repair, installing gas lines and gas logs or perhaps a new wood, gas or pellet burning stove or furnace. Vonderhaar's is also the place to call for your yearly chimney cleaning, and inspection.
Servicios prestados:
Chimney Construction, Chimney Inspection, Chimney Repair, Custom Fireplace Mantels, Custom Fireplaces, Fireplace Installation, Fireplace Repair, Fireplace Sales, Gas Fireplace Installation, Gas Fireplace Repair, Pellet Stove Installation, Pellet Stove Repair, Wood Stove Installation, Wood Stove Repair, Chimney Sweep
Zonas de trabajo
Amberley, Beckett Ridge, Blue Ash, Cincinnati, Deer Park, Elmwood Place, Evendale, Fairfax, Fairfield, Finneytown, Forest Park, Glendale, Golf Manor, Greenhills, Hamilton, Highpoint, Kenwood, Landen, Lockland, Loveland Park, Madeira, Mariemont, Mason, Middletown, Montgomery, Mount Healthy, Mount Healthy Heights, Mount Repose, Mulberry, New Burlington, North College Hill, Norwood, Pleasant Run, Pleasant Run Farm, Reading, Rossmoyne, Saint Bernard, Sharonville, Silverton, Sixteen Mile Stand, Skyline Acres, South Lebanon, Springdale, Terrace Park, The Village of Indian Hill, West Chester, White Oak, Woodlawn, Wyoming, Finneytown
2 proyectos de Vonderhaar Fireplace Stove & Masonry
Escribe una valoración
4 valoraciones para Vonderhaar Fireplace Stove & Masonry
Fecha del proyecto
marzo de 2018
Precio del proyecto
Menos de 1.000 €
DO NOT USE. Our fireplace stopped working at the end of winter. We had them come to do an inspection. $189 later they said our fireplace was unfixable and we would have to get a new gas insert at the tune of $1000 (or more, depending on what you wanted). I waited until now to get quotes from other companies. Ended up going with Bromwall who was $700 and could install within the week. They are here now and as they took it out said it would have been an easy fix to replace the gas line that was in the fireplace (it was snapped and that is why it didn't work). Although the fireplace grate was rusted, it could have been fixed with a simple gas line. Since I had already paid for the work, we are having it replaced, but am livid that we could have had an easy inexpensive fix, but I relied on their inspection. I will never use them and hope other folks read this and don't use them. We even waited for the "expert" Michael Hooser to do the inspection since I was told he was the one who trains everyone else. If that is the service you get from the expert, I can only imagine the others are worse.
Fecha del proyecto
mayo de 2017
Precio del proyecto
Menos de 1.000 €
During a major storm the cap on our fireplace blew off on a Friday night. We called our insurance company looking for a referral. By Monday we had not heard from our insurance company so I called them and they said they would refer us to someone who came over later that day. We also called the roofing company that had put a new roof on our house 3 years ago. Meanwhile rain was coming in from our fireplace. The ceiling grew a large wet spot.. We decided to call Voderhaar Monday afternoon since we hadn't heard from anyone. Greg Vonderhaar was climbing on our roof 2 hours later. He identified the problem and said he would have someone there to fix it in the next day or two. Less than 24 hours later their technician had completed the job which was good news since we are expecting a major storm tonight. Oh - our roofing guy did call and said they could send someone May 11th. We understand when there are big storms roofing people get frantic calls. Doesn't help when it is YOUR ceiling or fireplace. The whole experience from the first phone call to the last was efficient, professional and I am delighted to write the check and recommend this family owned company.
Fecha del proyecto
junio de 2015
Precio del proyecto
1.000 € - 9.999 €
Very professional, knowledgeable, office staff very helpful . Will refer them to everyone who is in need of brick work chimney repairs.
Fecha del proyecto
enero de 2015
Precio del proyecto
1.000 € - 9.999 €
Hank and Brian removed our existing wood fireplace and replaced it with a gas one (and removed the mantel). They were professional and careful. My husband even saw them take the gas fireplace back out, make a small adjustment, and put it back in so it was installed absolutely correctly -- no shortcuts. Brian, the project lead, also had a good working relationship with the tile supplier who did the tile surround after the fireplace was installed. The project was completed on time and on budget. Brian answered all our questions, and we were quite comfortable with his knowledge as well as with Vonderhaar's owner who came out to do the initial estimate. We went with Vonderhaar because my husband had so much confidence in the owner after that initial consultation. We were not disappointed.
Encuentra Empresas de chimeneas para hacer realidad tu proyecto
¿Cansado de leer todos los tutoriales de bricolaje? Estamos para ayudarte. En Houzz contamos con más de 1 millón de profesionales del hogar, por lo que encontrarás al Empresa de chimeneas de confianza adecuado para tu proyecto en West Chester.
Lee valoraciones de particulares como tú en West Chester
Lee las valoraciones de los propietarios antes de contratar a un Empresa de chimeneas que te ayude con un proyecto en West Chester. Si tiene preguntas, lee las valoraciones de otros propietarios o dirígete a la sección de consejos para obtener una segunda opinión.
Contacta fácilmente con Empresas de chimeneas
Si estás navegando por Houzz y tienes a un profesional en mente, te darás cuenta que solicitar un presupuesto es más fácil que nunca. Desde tu panel de control podrás administrar todas las solicitudes que mandaste a Empresas de chimeneas.