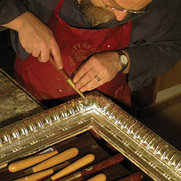 P. H. Miller Studio, frame-makers, inc.
2 premios Houzz
2 insignias Houzz
Coste medio de los trabajos:
300 USD - 12.000 USD
All frames are hand made here in the studio. Prices for hand made frames and mirrors are based on over all size, extensiveness of carvings and amount of gilding to be done. Furniture, home accessories and gilded surface restoration services are offered, each carrying their own set of parameters for pricing.
https://www.houzz.es/pro/peter-miller1092 copiada al portapapeles
The P. H. Miller Studio was founded in 1983. The studio specializes in making hand carved and water gilded frames and home accessories in traditional and modern styles. The traditional water gilding methods used in the making of gold leaf frames at the studio are the same as those used by gilders during the Italian Renaissance Period. Much of the inspiration for P. H. Miller's frames and objects is rooted in the Italian Renaissance period as well as the American Frame Makers in the late 19th and early 20th Centuries in Boston, MA and Bucks County, PA
Servicios prestados:
Custom Framing, Water Gilding, Restoration
Zonas de trabajo
Berryville, Bluemont, Millwood, Round Hill, White Post, Middleburg, Purcellville, Winchester
Premios:
commissioned to exactly reproduce 5 frames from the Oval Office for the recreation of the Oval Office for the Bush Presidential Center in Dallas, TX
2 proyectos de P. H. Miller Studio, frame-makers, inc.
Encuentra Artistas y artesanos para hacer realidad tu proyecto
¿Cansado de leer todos los tutoriales de bricolaje? Estamos para ayudarte. En Houzz contamos con más de 1 millón de profesionales del hogar, por lo que encontrarás al Artistas y artesanos de confianza adecuado para tu proyecto en Berryville.
Lee valoraciones de particulares como tú en Berryville
Lee las valoraciones de los propietarios antes de contratar a un Artistas y artesanos que te ayude con un proyecto en Berryville. Si tiene preguntas, lee las valoraciones de otros propietarios o dirígete a la sección de consejos para obtener una segunda opinión.
Contacta fácilmente con Artistas y artesanos
Si estás navegando por Houzz y tienes a un profesional en mente, te darás cuenta que solicitar un presupuesto es más fácil que nunca. Desde tu panel de control podrás administrar todas las solicitudes que mandaste a Artistas y artesanos.
Artistas y artesanos en España