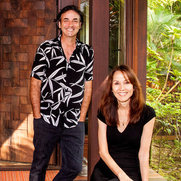 Tropical Architecture Group, Inc
5 premios Houzz
4 insignias Houzz
Contacto:
Michael McLychok
KILAUEA, HI 96754
Coste medio de los trabajos:
500.000 USD - 5.000.000 USD
The above range is the cost of design and construction together. We only do the design, and our fees are quoted by the square foot size of the home, rather than 10% of the cost of construction. We don't feel that it's fair to the client to charge more if a project goes over budget or for us to charge less because the project costs less to build. Our fees are based on the scope of work provided. Since each project is different, each is individually evaluated.
https://www.houzz.es/pro/tropicalachitecturegroup copiada al portapapeles
Encuentra Arquitectos para hacer realidad tu proyecto
¿Cansado de leer todos los tutoriales de bricolaje? Estamos para ayudarte. En Houzz contamos con más de 1 millón de profesionales del hogar, por lo que encontrarás al Arquitecto de confianza adecuado para tu proyecto en KILAUEA.
Lee valoraciones de particulares como tú en KILAUEA
Lee las valoraciones de los propietarios antes de contratar a un Arquitecto que te ayude con un proyecto en KILAUEA. Si tiene preguntas, lee las valoraciones de otros propietarios o dirígete a la sección de consejos para obtener una segunda opinión.
Contacta fácilmente con Arquitectos
Si estás navegando por Houzz y tienes a un profesional en mente, te darás cuenta que solicitar un presupuesto es más fácil que nunca. Desde tu panel de control podrás administrar todas las solicitudes que mandaste a Arquitectos.
Arquitectos y diseñadores de edificios en España