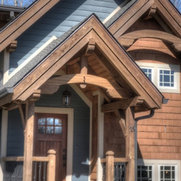 Harrison Homes Enterprises, Inc.
https://www.houzz.es/pro/julieannharrison/ copiada al portapapeles
1 premio Houzz
2 insignias Houzz
After owning independent construction companies, Seth Harrison and Dana Bobilya combined businesses in the first quarter of 2007 as business partners. Seth owned and operated Harrison Homes building an array of single family homes, while Dana owned and operated Carolina Construction restoring, remodeling, and selling older houses. With 28 years of combined construction experience, they have worked on various projects from large commercial, timber-frame & stick built residential, and a variety of restoration projects. Seth and Dana have built Harrison Homes through referrals one customer at a time, and have earned the reputation as a trusted company that provides customers in Asheville area with the highest quality workmanship.
Servicios prestados:
Energy-Efficient Homes, Garage Building, Green Building, Home Additions, Home Restoration, Log Home Construction, New Home Construction, Project Management
Zonas de trabajo
Black Mountain, Fairview, Montreat, Old Fort, Ridgecrest, Swannanoa
Premios:
Best of Houzz Service Award, 2016Members of the National Association of Home Builders and Asheville Home Builders Association
Escribe una valoración
15 valoraciones para Harrison Homes Enterprises, Inc.
Fecha del proyecto
abr. 2007
Precio del proyecto
10.000 € - 49.999 €
We have hired Dana Bobilya and Seth Harrison of Harrison Homes Enterprises for multiple home renovations over the past 12 years. I appreciate their willingness to work with us throughout the project and help us determine what would be best for our situation vs. what might be in their best interest. In other words, despite how large or small the project is, they work closely with you to ensure your satisfaction and the quality of the project. We have used them for deck renovations, exterior covered porch, bathroom remodel and current kitchen remodel. They and their crew are skilled craftsmen and their subcontractors are excellent. We highly recommend Harrison Homes for everything from new construction to home remodel/ renovations.
Fecha del proyecto
mar. 2010
Precio del proyecto
Más de 100.000 €
Worked with Harrison Homes on a renovation of a home in Black Mountain. Great work and a great team! One of the best group of contractors I've had the opportunity to work with on a renovation. It's not often that you complete a project and walk away with good friends too!
Fecha del proyecto
oct. 2015
Precio del proyecto
Más de 100.000 €
Harrison Homes helped me to build my most recent home & I couldn't have been happier with the quality of work and the process of working with them. Everyone at Harrison Homes is extremely professional and easy to work with. I would recommend them highly to anyone looking to build a new home or have work done on an existing home!
Fecha del proyecto
dic. 2014
Precio del proyecto
Más de 100.000 €
We worked with Harrison Homes to build the house of our dreams in Black Mountain. The entire project was expertly managed by Dana and Seth. From the closing to moving in, they were always completely up front and explained each step of the process with intricate details. I would not hesitate to work with them them again and I would also highly recommend them to anyone that is looking to build a home in the Black Mountain area.
Fecha del proyecto
jun. 2014
Precio del proyecto
Más de 100.000 €
I was thrilled to discover lots being developed in Black Mountain by Harrison Homes. The company was highly recommended to me by several professionals in the area. Harrison Homes built a custom designed home for me that I enjoy everyday. As a new development, it has been exciting to see acres of woods transformed into attractive homes occupied by contented new comers. Harrison Homes met each challenge with honestly, integrity and positive outcomes. Their talented design team created exactly what I wanted in my new home. I highly recommend this company for their professional approach, high quality craftsmanship and outstanding work ethic.
Fecha del proyecto
oct. 2015
Precio del proyecto
Más de 100.000 €
When I decided to move from Ohio to western North Carolina there were obviously huge decisions to be made, and the first was the most important: where would I live? When I decided to build my home, I was referred to Harrison Homes and I never looked back. Building a home (and a custom home to boot) was a new experience for me and I honestly didn't know what I didn't know. Harrison Homes was just beginning to build a new development and I was excited to get in on the ground floor. Here I am one year later as a happy homeowner in a very special neighborhood. From lot purchase, to introducing me to an architect, and ultimately to partnering with me every step along the building process, Seth and Dana were my guides, advocates, and creative problem solvers. Although this project was not easy, it was certainly an amazing learning experience, and I'm thrilled with the end result. I would be proud to have my home featured on Houzz and would be happy to send you pictures!
21 de Diciembre de 2015
Última modificación:

21 de Diciembre de 2015
Fecha del proyecto
ene. 2006
Precio del proyecto
Más de 100.000 €
The executives of Harrison Homes have assisted our corporation with: site selection for company officials exploring expansion or re-location; competing with other states, regions and/or counties for major economic-development projects; the management of seventeen corporate tenants; commercial and industrial renovations and retrofitting so; physical-plant maintenance; utility extensions; farm management; commercial logging operations; government and public relations; media relations and marketing. The Harrison Homes executives are men of integrity, delivering quality products with exceptional customer service. They are consummate gentlemen, professionals and diplomats, always applying fundamental fairness in all conditions, circumstances and relationships without ever compromising their Christian principles. They have worked for us since 2006.
Fecha del proyecto
dic. 2014
Precio del proyecto
50.000 € - 100.000 €
I am a licensed professional engineer. Before that I was able to attain licensed Master status in three trades; HVAC, Electrical and Gas Fitting in the State of Maryland. It is tough to be my contractor. When we bought a vacation home that needed extensive renovation in Asheville we went through a couple of contractors. No big deal, our expectations were pretty low so we weren't disappointed with some really bad work, unreliable people. THEN Adam Johnson, a Realtor in Black Mountain, told us about the renovation he was getting completed by Harrison Homes.....in the house he was living in with his wife and children.....and he was still married!!! We were impressed and met the Harrison crew who assigned Dana Bobilya to our project. Wow. Let's see, we are on our 5th project at the house with these guys and each one is better than the last. Artists, craftsmen and managers. Right here in Asheville. But get in line. My Daddy always taught me not to hire the contractor who can start tomorrow. In some cases we've had to wait a bit for other folks projects to get finished before the crew could get back to our place. Wait a minute....did I say "contractor that finished." What a concept.
Fecha del proyecto
abr. 2013
Precio del proyecto
1.000 € - 9.999 €
I have known Seth and Dana for many years. They have completed a number of projects for me including a gut remodel of a cottage and bathroom remodel. Harrison Homes does incredible work with great craftsmanship at a fair price. Dana and Seth are men of integrity that do right by their customers. They do a good job of communicating and managing projects. I highly recommend Harrison Homes and would gladly do business with them again.
Fecha del proyecto
oct. 2014
Precio del proyecto
Más de 100.000 €
I 100% endorse Harrison Homes Enterprises for those looking to build a custom home. I had the pleasure of working with Dana and his team in 2015 to rebuild a home that was burned down the previous year. To say that we were in shock was an under statement. Dana was unbelievable!! As we collected and spent time with recommended home builders, Dana from Harrison Homes basically jumped in the car with us and gave us a tour of all the projects he was working on to give us a taste of their work. He even took us into his own home to take a look at his work!!! WOW, did we get a lot of ideas. Based on his phenomenal customer service, great communication skills (as we are in Florida having to rebuild in NC), his products that he was able to show us, and his price, it was a no brainer to go with them. We could not be happier!!! From the extraordinary large decks that over look the mountains and town, stone fireplaces, wooden floors, and outstanding trim work we are extremely happy with Harrison Homes and would by far recommend them over any other builder in the area!!!!

Relación
I bought my lot from them
Fecha del proyecto
may. 2015
Precio del proyecto
10.000 € - 49.999 €
I bought my lot in a Harrison Homes development, and when I wanted to build small and solar, they helped me find someone who could build with that criteria for me on their lot. The whole process of acquiring the land, deciding about the plans, and determining the builder was the perfect blend of personal attention and flexibility and professional acumen. All of my subsequent times with the organization have continued with that balance of personal/professional. They are creative, willing to share ideas for problem-solving and always are accessible for questions and feedback. Working with Seth and Dana has made my home-building experience fun and satisfying.
Fecha del proyecto
sept. 2011
Precio del proyecto
Más de 100.000 €
Harrison Homes built us a beautiful vacation home in Black Mountain. The home is EXACTLY what we wanted and included some very nice touches like sky lights, light tubes, jetted tubs, hardwood floors and a huge deck. We have seen many of the homes built here in Black Mountain by Harrison homes and can attest that the quality craftsmanship we experienced is a hallmark of their business.
Ver todas las 15 valoraciones