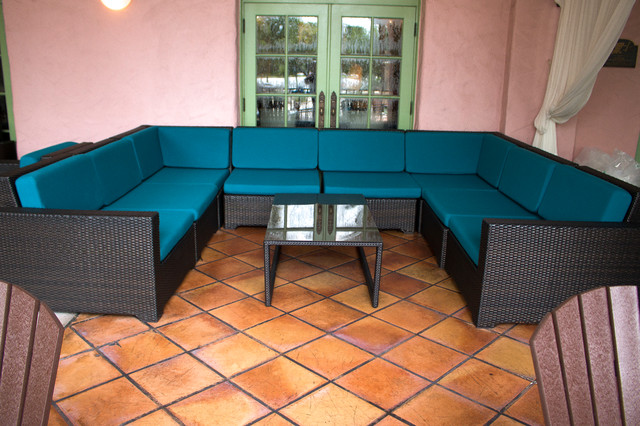 Custom Sunbrella waterproof cushions refresh St. Petersburg resort
Located in the heart of Downtown St. Petersburg, the Vinoy Renaissance Resort & Golf Club is one of the city's most iconic hotels. This downtown gem can easily be distinguished by its salmon color and Mediterranean Revival style architecture. Situated right on the bay, this luxury resort is just a short walk from all of the area's major attractions such as the Dali Museum, Beach Drive, and the Mahaffey Theater.

The Vinoy was constructed in 1925 and has been through a long history of renovations and construction within its lifetime. Efforts are constantly being made to preserve the hotel's historic past while still providing guests with a unique, comfortable, and luxurious experience. With that being said, it was recently announced that the hotel will undergo a three-year $50 million plan to improve several aspects of the property.

Patio Lane took part in these upgrades by designing and producing custom cushions for two locations on the property: the veranda and smoking area seating. We fabricated a total of 187 custom cushions with 13 different configurations for the hotel: dining chair seat, lounge chair, love seat, center sectional, end sectionals, as well as ottomans. Patio Lane directly competed with the original furniture and cushion manufacturer for this project. However, being an essential part of St. Petersburg, the resort appreciated a local vendor with strong initiative to earn their business.

As far as the project requirements, the Vinoy needed something that will hold up through the harsh sun and storms of Central Florida. Typically, cushions in a commercial setting will last a few years depending on the human traffic. For a luxury hotel, such as the Vinoy, these cushions should have been replaced within 3 years.

To ensure that they would have high performing seating for their guests, they chose cushions fabricated with Sunbrella Rain performance fabric. This fabric is 100% waterproof and specifically made for outdoor spaces that endure heavy rainfall or any kind of moisture. Sunbrella Rain eliminates drying time after wet weather. Resort staff can simply wipe the cushions down and their guests are ready to continue lounging and relaxing.

The Vinoy's original cushions used a polyurethane foam that had since lost its strength and was no longer providing a comfortable seat. (When we initially surveyed the Vinoy, we witnessed many customers doubling up on cushions to place behind their backs!) Numerous cushions had ripped at the seams and the zippers were non-functional. Dry-fast foam, the preferred option for cushions fabricated with Sunbrella Rain, was the perfect choice with the 4 in. thick seats & 5 in. thick backs because it will provide a firm seat and support for years to come.
Temas de fotos relacionados
Lo que dicen los usuarios:
Patios con colores similares