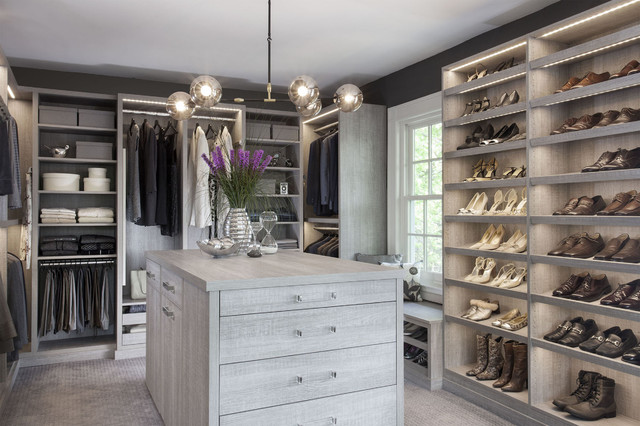 Chic Dressing Room - Brooklyn, NY
When you first walk into this dressing room, it's the lighting that jumps out at you first. Each shelf is illuminated to show the brilliant colors and texture of the clothing. Light even pours through the big windows and draws your eye across the rooftops of Brooklyn to see the NYC skyline. It creates a feeling of brightness and positivity that energizes and enlivens. It's a dressing room where you can look and feel your best as you begin your day.

Featured in a modern Italian Melamine and tastefully accented with complementing Matte Nickel hardware and Clear Acrylic handle pulls, this Chic Brooklyn Dressing Room proves to be not only stylish, but functional too.

This custom closet combines both high and low hanging sections, which afford you enough room to organize items based on size. This type of mechanism offers more depth than a standard hanging system.

The open shelving offers a substantial amount of depth, so you have plenty of space to personalize your room with mementos, collectibles and home decor. Adjustable shelves also give you the freedom to store items of all sizes from large shoe and boot boxes to smaller collectibles and scarves.

A functional key to closet design is being able to visualize and conveniently access items. There's also something very appealing about having your items neatly displayed - especially when it comes to shoes. Our wide shoe shelves were purposely installed on a slant for easy access, allowing you to identify and grab your favorite footwear quickly and easily.

A spacious center island provides a place to relax while spreading out accessories and visualizing more possibilities. This center island was designed with extra drawer storage that includes a velvet lined jewelry drawer. Double jewelry drawers can add a sleek and useful dimension to any dressing room. An organized system will prevent tarnishing and with a designated spot for every piece, your jewelry stays organized and in perfect condition.

The space is maximized with smart storage features like an Elite Belt Rack and hook as well as Elite Valet Rods and a pull-out mirror. The unit also includes a Deluxe Pant Rack in a Matte Nickel finish. Thanks to the full-extension ball-bearing slides, everything is in complete view. This means you no longer have to waste time desperately hunting for something you know is hiding somewhere in your closet.

Lighting played a huge role in the design of this dressing room. In order to make the contents of the closet fully visible, we integrated a combination of energy efficient lighting options, including LED strip lights and touch dimmers as well as under-mounted shelf lights and sensor activated drawer lights. Efficient lighting options will put your wardrobe in full view early in the mornings and in the evenings when dressing rooms are used most.

Dressing rooms act as a personal sanctuary for mixing and matching the perfect ensemble. Your closet should cater to your personal needs, whether it's top shelving or extra boot and hat storage. A well designed space can make dressing much easier - even on rushed mornings.
Diseño de vestidor unisex, clásico renovado, grande, con armarios con paneles lisos, puertas de armario con efecto envejecido y moqueta — 
Houzz
Temas de fotos relacionados
Lo que dicen los usuarios: