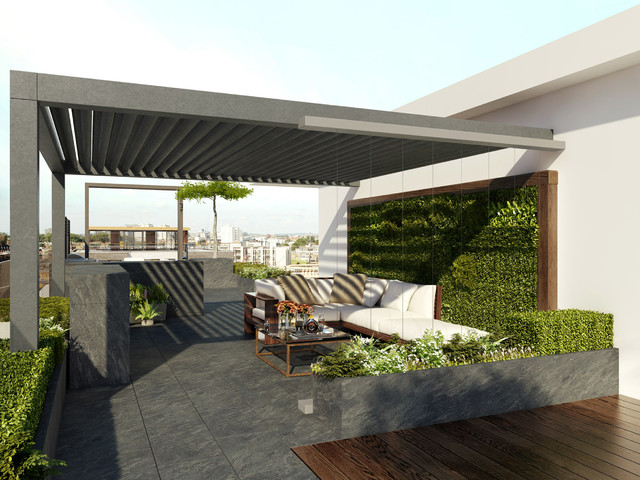 Chelsea Creek Penthouse Roof Terrace
Chelsea Creek is the pinnacle of sophisticated living, these penthouse collection gardens, featuring stunning contemporary exteriors are London's most elegant new dockside development, by St George Central London, they are due to be built in Autumn 2014

Following on from the success of her stunning contemporary Rooftop Garden at RHS Chelsea Flower Show 2012, Patricia Fox was commissioned by St George to design a series of rooftop gardens for their Penthouse Collection in London. Working alongside Tara Bernerd who has designed the interiors, and Broadway Malyon Architects, Patricia and her team have designed a series of London rooftop gardens, which although individually unique, have an underlying design thread, which runs throughout the whole series, providing a unified scheme across the development.

Inspiration was taken from both the architecture of the building, and from the interiors, and Aralia working as Landscape Architects developed a series of Mood Boards depicting materials, features, art and planting. This groundbreaking series of London rooftop gardens embraces the very latest in garden design, encompassing quality natural materials such as corten steel, granite and shot blasted glass, whilst introducing contemporary state of the art outdoor kitchens, outdoor fireplaces, water features and green walls. Garden Art also has a key focus within these London gardens, with the introduction of specially commissioned pieces for stone sculptures and unique glass art. The linear hard landscape design, with fluid rivers of under lit glass, relate beautifully to the linearity of the canals below.

The design for the soft landscaping schemes were challenging – the gardens needed to be relatively low maintenance, they needed to stand up to the harsh environment of a London rooftop location, whilst also still providing seasonality and all year interest. The planting scheme is linear, and highly contemporary in nature, evergreen planting provides all year structure and form, with warm rusts and burnt orange flower head's providing a splash of seasonal colour, complementary to the features throughout.

Finally, an exquisite lighting scheme has been designed by Lighting IQ to define and enhance the rooftop spaces, and to provide beautiful night time lighting which provides the perfect ambiance for entertaining and relaxing in.

Aralia worked as Landscape Architects working within a multi-disciplinary consultant team which included Architects, Structural Engineers, Cost Consultants and a range of sub-contractors.

Modelo de terraza contemporánea, pequeña, en azotea, con jardín vertical y pérgola — 
Houzz
Temas de fotos relacionados
Lo que dicen los usuarios: