Is marble subway tile more difficult to tile than other tile?
I'm really annoyed. Called my contractor 6:45 am to stop work on the tile. I have only ONE shower/tub in the house and it's been a month with not being able to use it. We are all bathing in the kitchen sink. This was supposed to take 8 work days, or 10 max he said. He said I'd be without a tub only a week... and the shower would be longer as they tiled higher. Well it's a month in and not even to the tub yet! Photos will come here of what they did. They are CROOKED. He didn't use spacers on some of the edge and they are butted together. They are JUTTING out. They are not level to each other. I checked the tiles to see if they were uniform thickness and they ARE. The wall is flat and level. So I am guessing then the problem is some have too much mud on them??? They are also discolored from the others. I don't know if they were a bad batch, if they haven't "cured" yet or if they used a different mud that went through the porous stone? The "designer" said you were supposed to seal BOTH sides of the tile so it won't absorb a non white substrate. I tend to agree but they never did this. Hundreds of tiles on the wall now at over a dollar each? The contractor saw the first wall they did and saw how uneven and then said two things: 1) Yeah, it's hard working with marble and no marble tiles like these are will look perfect and it's character and 2) the grout will cover a lot of this. Yeah. I'm sure. NOT. I think he realizes he's now going to LOSE money on this job. Oh and I realized today that they did not put in the edging in the corner and there's no space for it now! So POOR job. Tell me... are marble tiles that aren't beveled and slick on the back/ie no ridges (smooth) harder to do than other tiles? Should any be jutting? Crooked? Do they slip? Are chipped tiles "character"? Here's some photos... I think no to all this. But I need something to go into my letter to Lowe's to show I'm not being a control freak or something. Am I? Two other people walked in and shook their heads and I didn't even say anything. MY husband and son went in and thought it was a bad job. My neighbor said "Is that supposed to be like that?" So I am thinking not.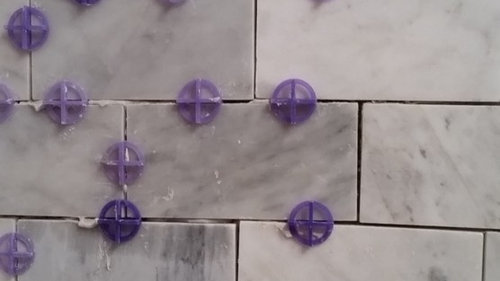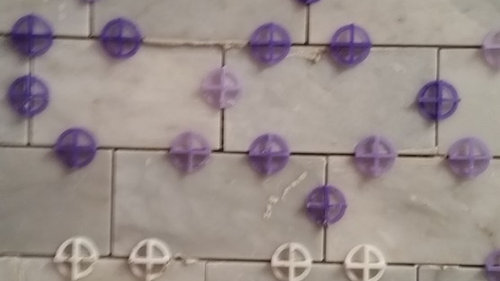 On this photo above, you can see a couple of the tiles have no spacers and are butted up to each other. Also, the top tile is jutting outwards. As it the bottom greyish tile. I didn't take a photo but will not of the YELLOW tile they put in there... who the heck puts in all grey and white tile and leaves one yellow one.