Combining two sided fireplace to create one see-through gas fireplace
We recently moved into an 1880 era which has two back-to-back fireplaces. Each fireplace has a gas line going to it and the previous owner used vent-less gas logs. At some point, the chimney was boarded up in the attic before it exits the roof so there's no way we can vent through the roof with the chimney. So, despite the problematic nature of vent-less gas fireplaces, I think we are going to have to go this route.

Here is the question. We are opening up the house, which is highly compartmentalized, and would like to combine the two separate back-to-back fireplaces into a single see-through fireplace.

Each fireplace has a 25" width opening which tapers to 21" inch in the back in a trapezoid configuration. Each opening is 28" high and the fireplace depth is 13" for each of the two fireplaces. As best I can tell, there is also about 10" of brick sitting between the two fireplaces. So, the total distance from the front of one fireplace to the front of the other fireplace is 36" (13+10+13).

I'd like to basically combine the two fireplaces to create an opening which is still 25" inches wide and 28" inches high on each side, but the depth is now 36" from one side of the see-through fireplace to the other. I would put in a large single stack of see-through gas logs into the center of this single fireplace.

Does this seem feasible? My concerns are: a) do I need to reinforce the new fireplace with some kind of steel or other framing since I'll be taking out bricks when combining the fireplaces as well as removing the trapezoid tapering, b) will the see-through gas logs even be visible in a fireplace that has a depth of 36."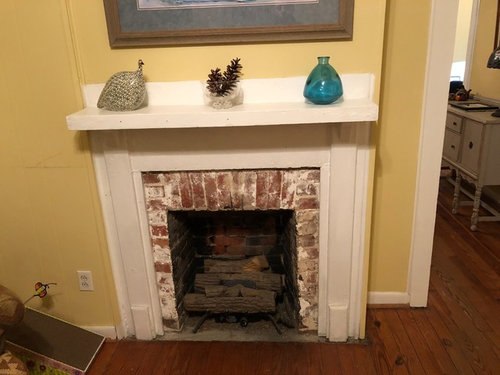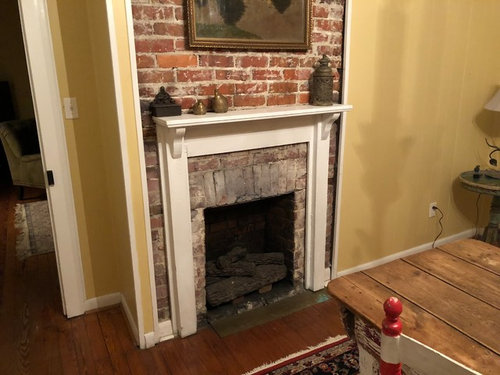 Thanks very much.